Add Stylish Touches to Customize Your Ready Made Wall Bed
Perhaps one of the best things about installing a ready made wall bed in your extra room is that you can easily customize the style and details as you wish. This is possible with any of our Murphy beds, but you can even take that concept a step further and opt for a completely custom wall bed system.
In this article, we'll take a look at the various ways you can turn any of our ready made wall beds into something spectacular – when it's in the open position. Why should it only look great when folded up into the frame? Shouldn't you or your overnight guests enjoy beautiful surroundings when in the bed? Here are a few options to consider.
Add Style to the Wall
When you open a Murphy bed and pull down the mattress, there is a blank wall behind the bed, within the frame. This is the perfect area to add stylish appeal.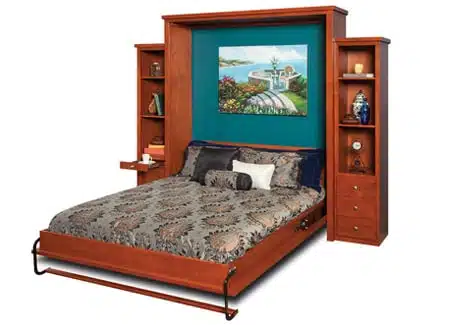 How about covering it in a pretty, patterned or textured wallpaper? In a kid's room, you could use a Disney border along each edge. Or, in a contemporary guestroom, you could opt for a metallic finish. Then again, a traditional floral print might work well in your extra room. Another idea? How about a printed outdoor scene? Popular right now are stick-on panels that resemble subway tile – another option for a unique look.
But don't stop there. Why not add a piece of artwork? Framed photographs, a fabric wall hanging, a clock, removable decals or a printed picture are some suggestions. Just be sure that whatever you hang over the bed is securely fastened to the wall.
Add Style to the Bed
One way to stylize your ready made wall bed is by installing a headboard. This is something you can easily make yourself. Or, ask us to design a headboard that matches the frame and install it for you. Whether it's just a simple piece of upholstered wood or something in a unique shape covered in paint or wallpaper, this one little addition makes a big difference.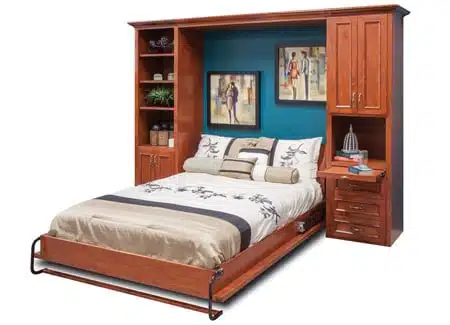 And while you're at it, why not pick out some gorgeous bedding to put on your stylish Murphy wall bed? Opt for luxurious fabric for the comforter or duvet cover, plus lots of pillows and a matching sheet set with a high thread count for ultimate comfort. You can either stow the extra pillows in a storage drawer (attach a set of side piers with storage or wardrobe space), or tuck them under the comforter so they stay in place when the bed is closed.
More Options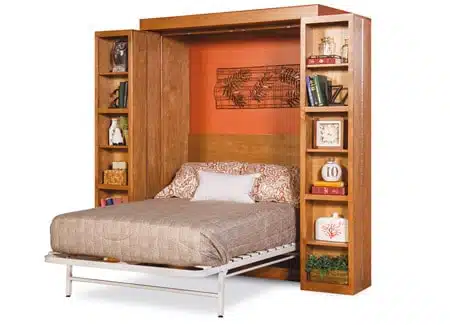 Those side piers mentioned above? They are a great addition, especially in a room that serves multiple functions, and come in a wide variety of configurations. Actually, the options are nearly endless since we can customize them to your needs. Just a few examples include a wardrobe, shelving, drawers, file cabinets, desk, work area, even a pet bed. Whatever you can imagine, we can make it happen.
Your ready made wall bed needn't be boring or unadorned. Use these ideas to make it something special and oh-so-stylish.