How to Fit a Full Size Bed in a Small Space
What is the biggest piece of furniture in a bedroom or guest room? It is the bed, of course. When you live in a home with constrained space, utilizing a full size bed often means there is room for little else. Fortunately, there are solutions to the problem of a big bed in a small room and they are called a compact cabinet bed or wall bed. If you live in a dorm, studio, condo or other small home, read on for ways you can maximize your space and still get a good night's sleep.
Compact Cabinet Beds are Perfect for Dorms and Studios
When one or just a couple rooms have to function as your entire house, space is definitely at a premium. Obviously a full size bed would take up much of that space and the fact that it only gets used for a few hours a night makes that a big waste.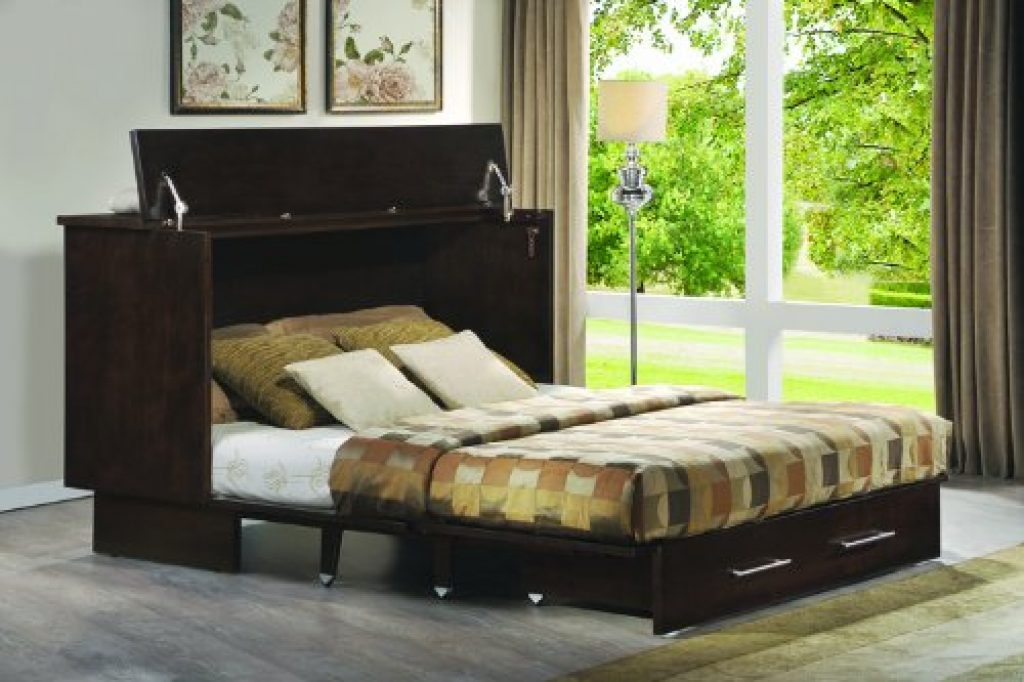 Instead of the full size bed, consider using a compact cabinet bed when you are renting or leasing a home. They have a very small footprint of only about 10 square feet. Inside the handsome, all hardwood cabinet is a tri-fold premium gel memory foam queen mattress that is just as comfortable and supportive as any traditional mattress. It takes mere seconds to pull the mattress out and down for sleeping. You can even place other furniture, such as chairs, in front of the bed's cabinet, as long as the pieces are easy to move out of the way; you will need about 6 feet of space for the mattress to be fully pulled out. When you are ready to move out of the studio or dorm, simply take the compact cabinet bed with you and use it in your new digs.
Wall Beds Work Well in Small Homes
When you plan on being in your space-deprived home for years, a better investment than a full size bed or compact cabinet bed is a wall bed. A Murphy wall bed has a cabinet that must be securely attached to a wall, so it actually becomes part of the home's built-in furnishings – and that increases its value.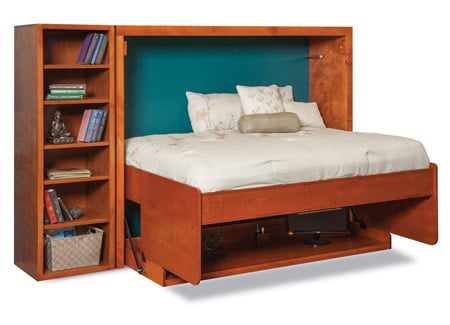 All you need is extra wall space; the Murphy bed can be in either a horizontal or vertical configuration, depending on the room in which you are installing it. The wall bed can house a mattress in a size from twin to California king.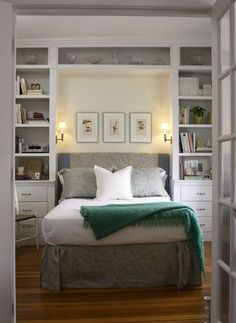 Wall beds work particularly well in small homes because they can be so much more than just a place to sleep. For added versatility, a pair of side piers with matching millwork turn an ingeniously designed full size bed into the focal point of the room. Those side piers can contain bookshelves, drawers, a wardrobe closet, cabinet doors and even things like silverware storage, a pet bed or a place to store fashion accessories. Add a desk or table to the front of the wall bed cabinet and you instantly have a full home office, study, library or intimate dining space.
No Bedroom No Problem
As mentioned in a previous post about guestrooms, just because you don't have a dedicated bedroom doesn't mean you have to do without a supportive full size bed. Use a compact cabinet bed or wall bed to maximize your square footage AND sleep in comfort.