Why You Need a Metro Cabinet Bed with Wall Unit
Even if you do not have a large amount of space to furnish, there is no reason you can't add a superbly designed fold-up bed. While a Murphy bed is compact, it can still take up more floor space than you have available. In this case, a cabinet bed is often the best choice. And when you add a Metro wall unit, it makes your cabinet bed highly functional and worth every inch of space it takes up in a room. Here's what you need to know about the Metro Cabinet Bed with wall unit.
The Metro Cabinet Bed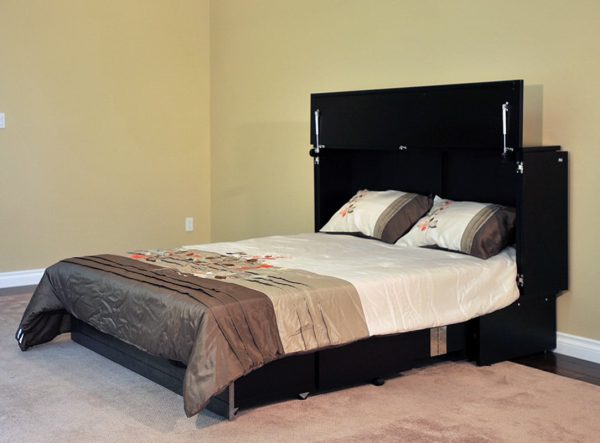 Do you need an extra bed for overnight guests? Do you have only one extra room in your home – and it needs to serve multiple purposes, such as home office, crafting space and workout room? Then a Metro Cabinet Bed, made in North America, is the ideal solution.
This is a sturdy and durable cabinet bed made from sustainable American Birch; no particleboard or MDF used in its construction. This is a cabinet bed that you can trust to easily support a sleeper of up to 500 pounds. And they are sure to get a good night's sleep, thanks to the tri-fold CertiPUR premium memory foam mattress, which is available in either full or queen size.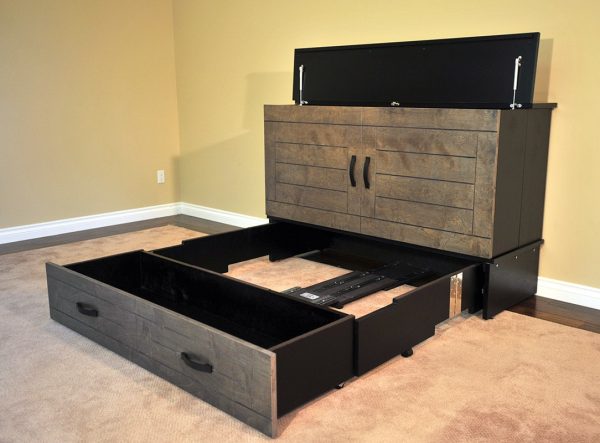 The gorgeous cabinet, which is available in your choice of a dozen different stain colors, easily converts to a comfortable bed in less than a minute. When the mattress is folded up into the cabinet, this cabinet takes up only about 10 square feet of floor space. It also includes a roomy storage drawer to stow extra bedding, linens, magazines, supplies or anything else you can think of. The top of the cabinet is rated to support a television with screen up to 60".
Add the Metro Wall Unit for More Functionality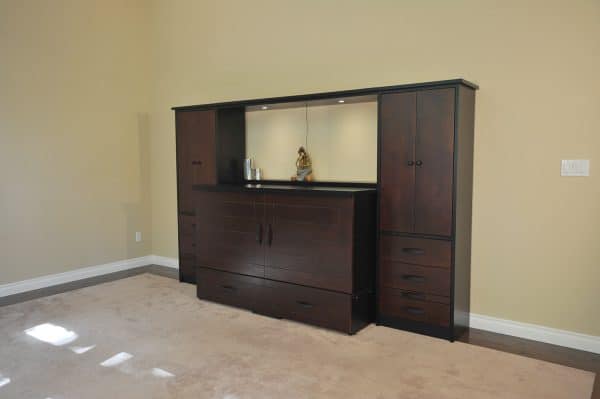 Since the Metro Cabinet Bed is not attached to the wall, it does not come with side piers, as you might expect with a Murphy bed. An option you can add is a free-standing wall unit made specifically to partner with the Metro Cabinet Bed (or other cabinet bed). The width is 117" and the height is just over 73".
The wall unit features a bridge that connects the two side pieces. The bridge includes a pair of LED puck lights to subtly illuminate any room where the Metro Cabinet Bed with Wall Unit are placed.
Just like the Metro Cabinet Bed, the Metro Wall Unit is sturdily crafted from American Birch hardwood. You have a choice as to configuration of the wall unit. It is available as an open unit with two bookshelves, one with doors that close over two shelves or a wardrobe unit with a rod to hang clothes.
Where Could You Use a Metro Cabinet Bed with Wall Unit?
There is so much functionality and storage space available in this unit that you won't know how you got by without it. Add to that its sturdy, all-wood construction, great warranty and small footprint and you will see that it is hard to go wrong choosing the Metro Cabinet Bed with Wall Unit in your home.