Order Your Custom Murphy Wall Bed Now for Delivery Before the Holidays
What are your plans for the holiday season this year? Are you visiting friends or relatives out of town or are they coming to stay at your house? If the latter is the case, then you need to be prepared to accommodate your overnight guests in comfort and style. A custom Murphy wall bed makes that easy.
Why Choose a Custom Murphy Wall Bed?
Sure, you could buy a new, standard bed for your guestroom or perhaps opt for a sleeper sofa. But both of those options are unwieldy. Those furnishings take up a lot of room and they do little in terms of functionality when not being used for sleep.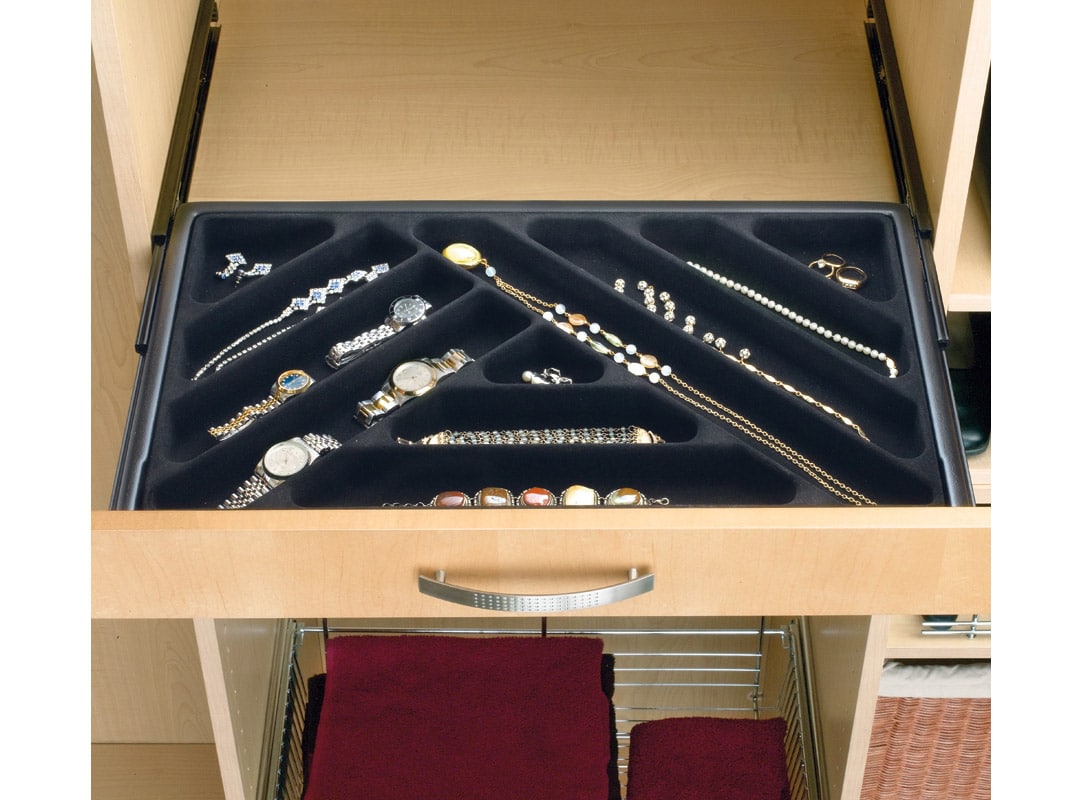 A custom Murphy wall bed not only folds neatly up and out of the way, you can add various features and side piers to make sure it earns its keep every day of the year, not only when guests are coming to spend the night. The possibilities are nearly endless and include such things as a wardrobe, desk, storage cabinets, shelves and even out-of-the-ordinary requests like a pet bed, men's valet and cutlery drawer. Add task or display lighting plus power outlets and USB plug-ins to make your custom wall bed even handier and more useful.
Custom Murphy Bed Options
Take a look at some of these custom Murphy beds for ideas on how to incorporate one of these versatile pieces of furniture in your home. Remember that wall beds can be used not only in your guestroom, but in a home office, rec room, basement, kid's room, mother-in-law suite or apartment.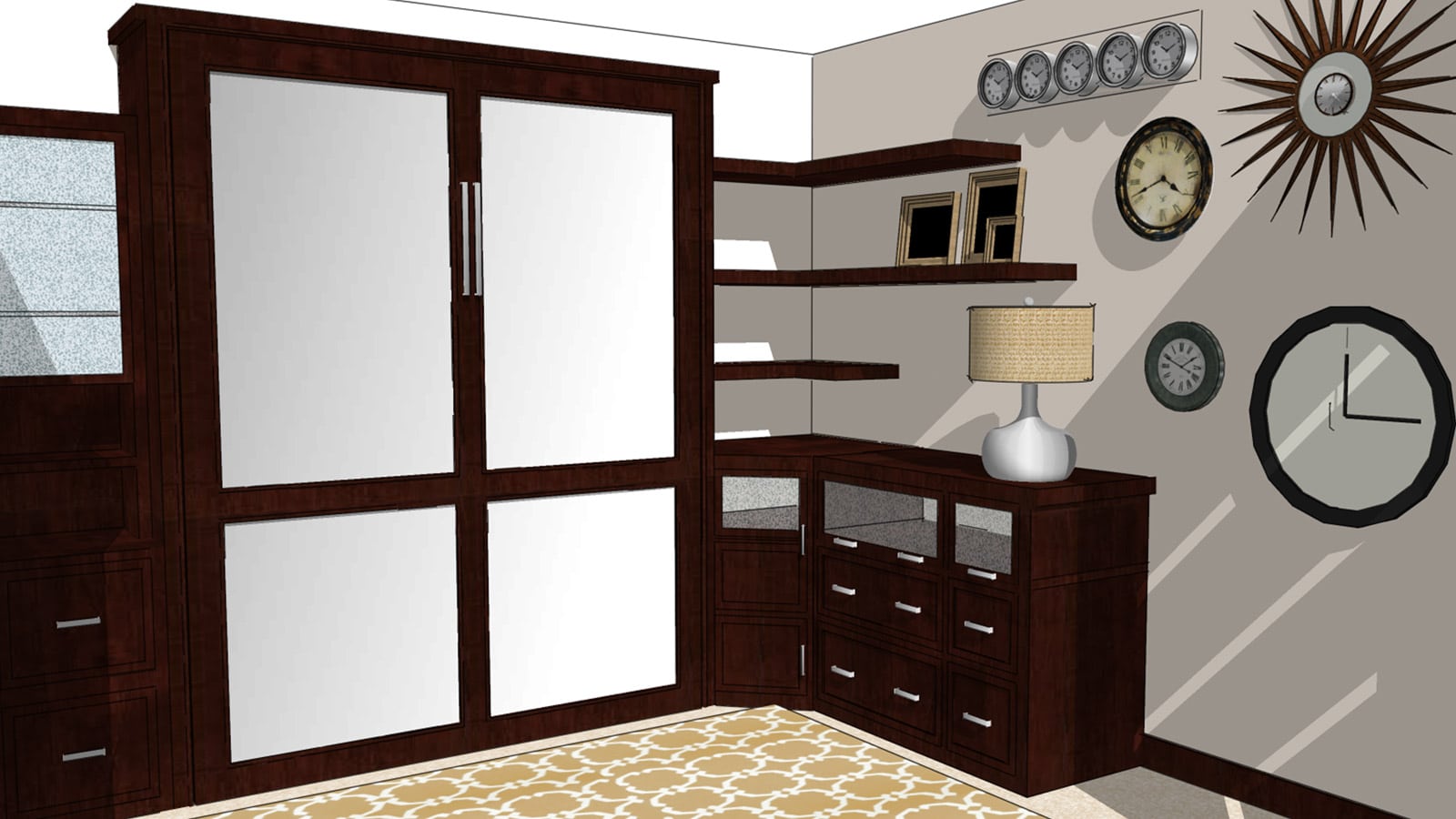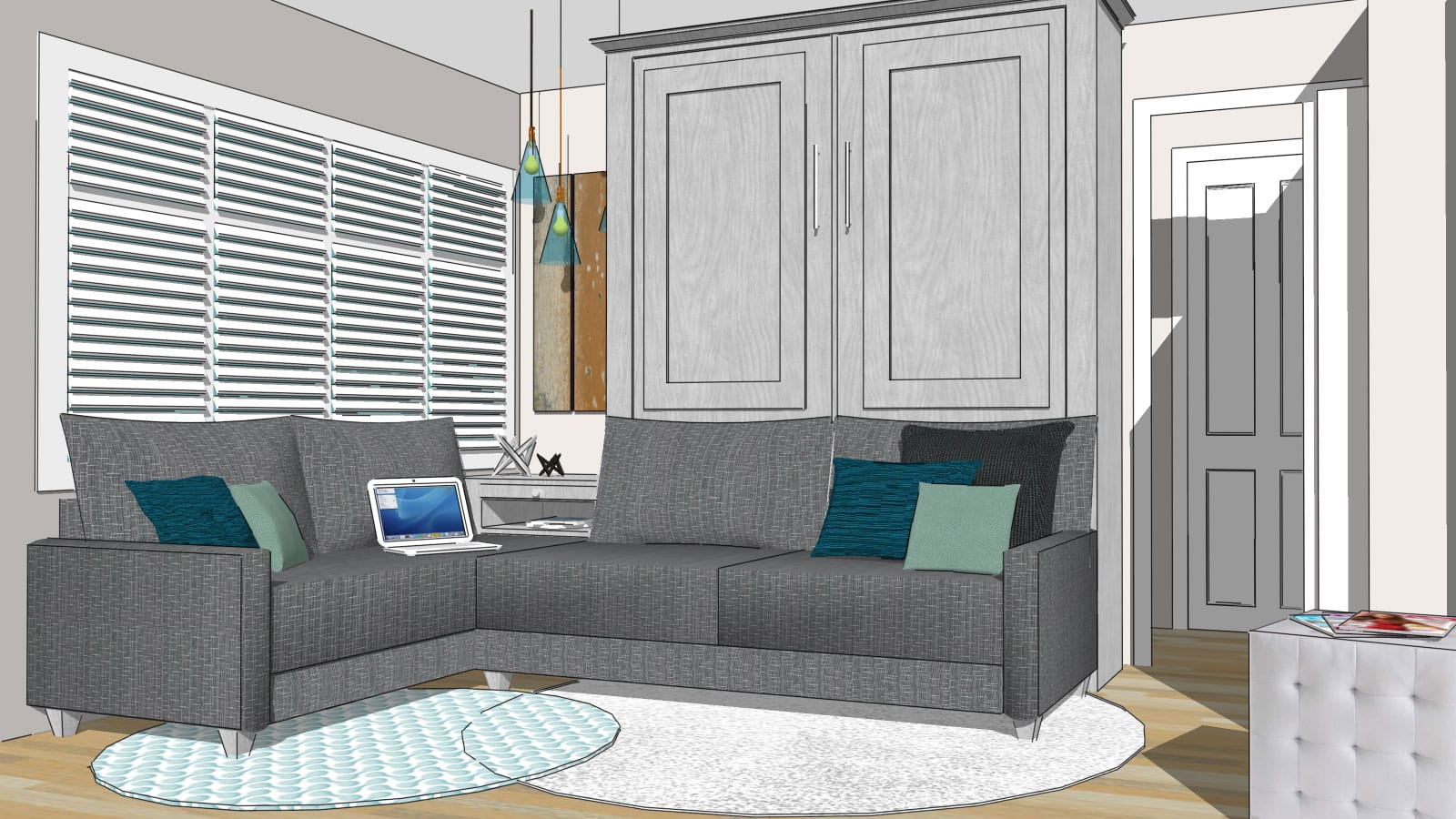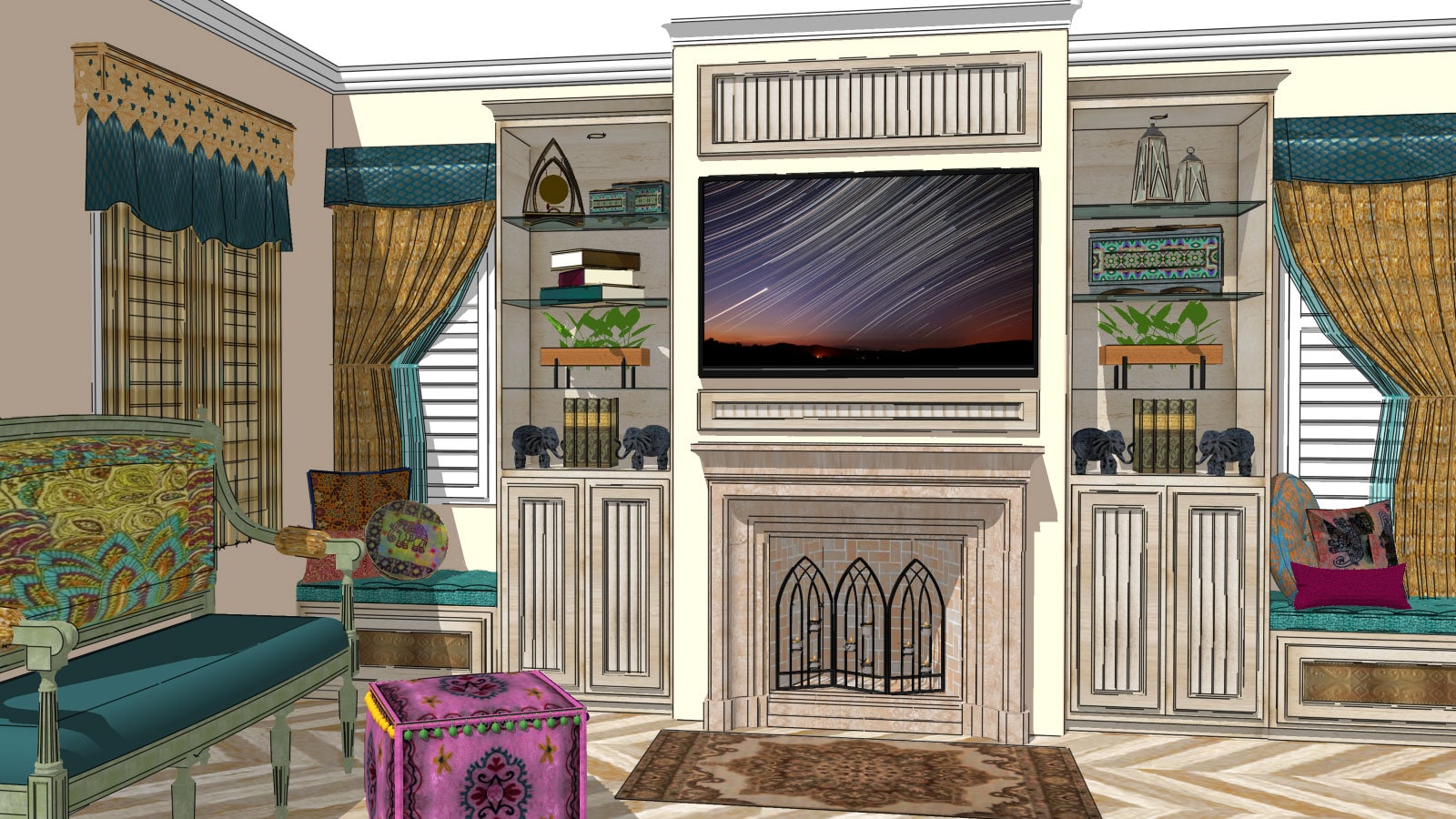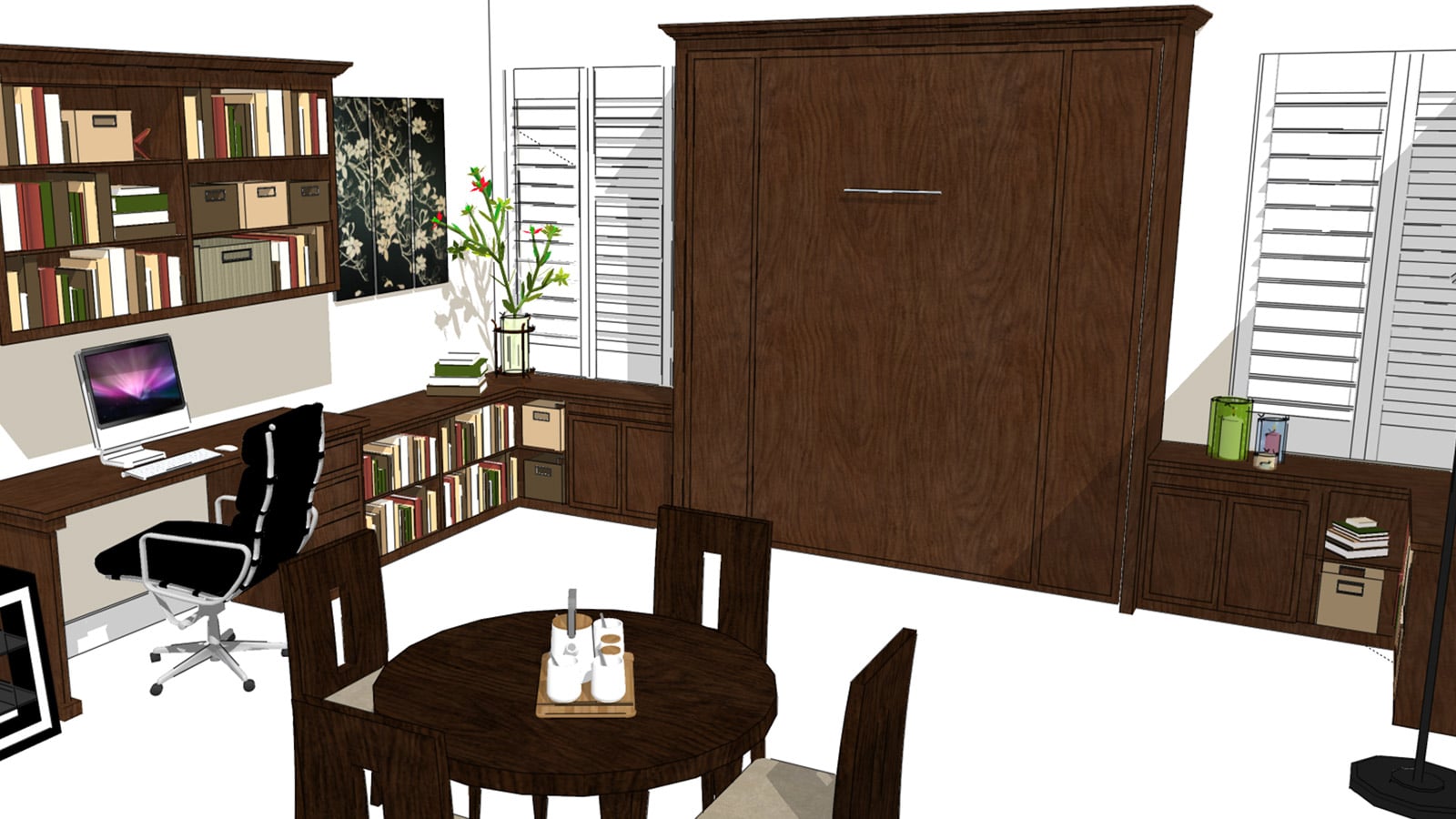 Options for Ordering a Custom Murphy Wall Bed
There are several different options when it comes to ordering a wall bed that is exactly to your specifications.
You can start with any of our standard, solid hardwood models that carry a lifetime warranty mechanism and then add custom side piers. In fact, you could have us design an entire room around the wall bed of your choice. This would include shelving or cabinetry along each wall surrounding the Murphy bed. Add desks, work tables or countertops as desired. Chances are very good that we could have this custom wall bed system delivered and installed before the holidays – it takes as little as three weeks start to finish.
Another option is to order a mattress with your custom Murphy wall bed – or not. You can easily order a wall bed in any standard size, from twin to California king. If you already have a mattress, you can use that. If not, go ahead and order one with your custom wall bed.
One more option is to start from scratch and have us design a complete wall bed system, including the bed itself plus side piers and additional cabinetry, if desired. Of course, this option will take the longest amount of time to produce, so if you need your custom Murphy wall bed for the holidays, it is probably not your best choice.
Call and Order Your Murphy Bed System Today
No matter which option for a custom Murphy wall bed you choose, the earlier you speak with one of our design professionals and agree on a model, the better. After meeting with you to determine what you want and then measuring your home, they can provide you with a CAD rendering that will show you exactly what your custom wall bed will look like after installation.
Now that's how to make the holidays easy.