Our Most Popular Cabinet Beds: Clover, Daisy and Sagebrush
For many space-challenged home owners or those who lease their homes, a cabinet bed is an ideal solution for adding an extra guest bed while keeping maximum square footage clear and free. Popular cabinet beds, such as the Clover, Daisy and Sagebrush models, take up only about 10 square feet in the closed position, so they are a perfect addition to a guestroom that does double duty as an office, craft room, storage space, workout room or more. Here's what you need to know about these handsome and functional cabinet beds.
Sagebrush Murphy Cabinet Bed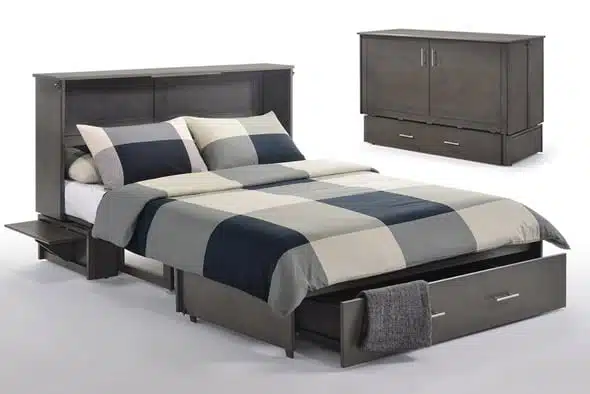 For a contemporary cabinet bed finished in a very popular stonewashed grey tone wood cabinet, the Sagebrush cabinet bed easily fits into nearly any room of your home. Whether the style in your guestroom is urban industrial, rustic or contemporary, the Sagebrush is one of our popular cabinet beds for saving space while providing a super comfortable night's sleep when needed. This is due to the premium tri-fold gel memory mattress in queen size. This model features a convenient double outlet at the head of the cabinet to plug in power or USB cords. Your guests are sure to love sleeping in this bed encased in a handsome wood cabinet.
The Daisy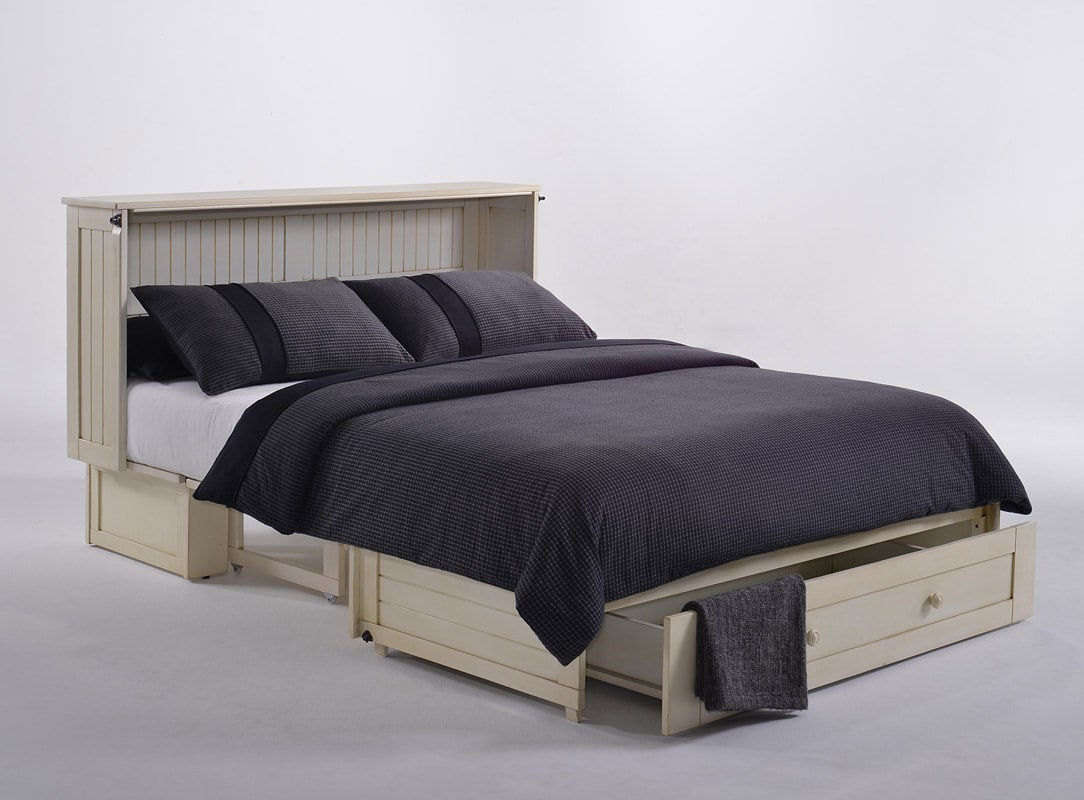 Another of our popular cabinet beds is the Daisy. This one comes in a whitewashed wood cabinet finish that would go nicely in a kid's bedroom and provide an extra bed for sleepovers. Its transitional/traditional style also makes it a good candidate to add sleeping space that doesn't compete with floor space in a home office. The Daisy Cabinet Bed features a roomy under-cabinet storage drawer that easily accommodates extra bedding, toys, magazines, clothing and more. The top of the cabinet is rated to hold a TV with screen of up to 65 inches. The television set – or any other items you choose to decorate the cabinet top – does not need to be moved in order to pull the mattress out for sleeping. The Daisy comes with a 10-year warranty, as do most of our popular cabinet beds.
Clover Popular Cabinet Beds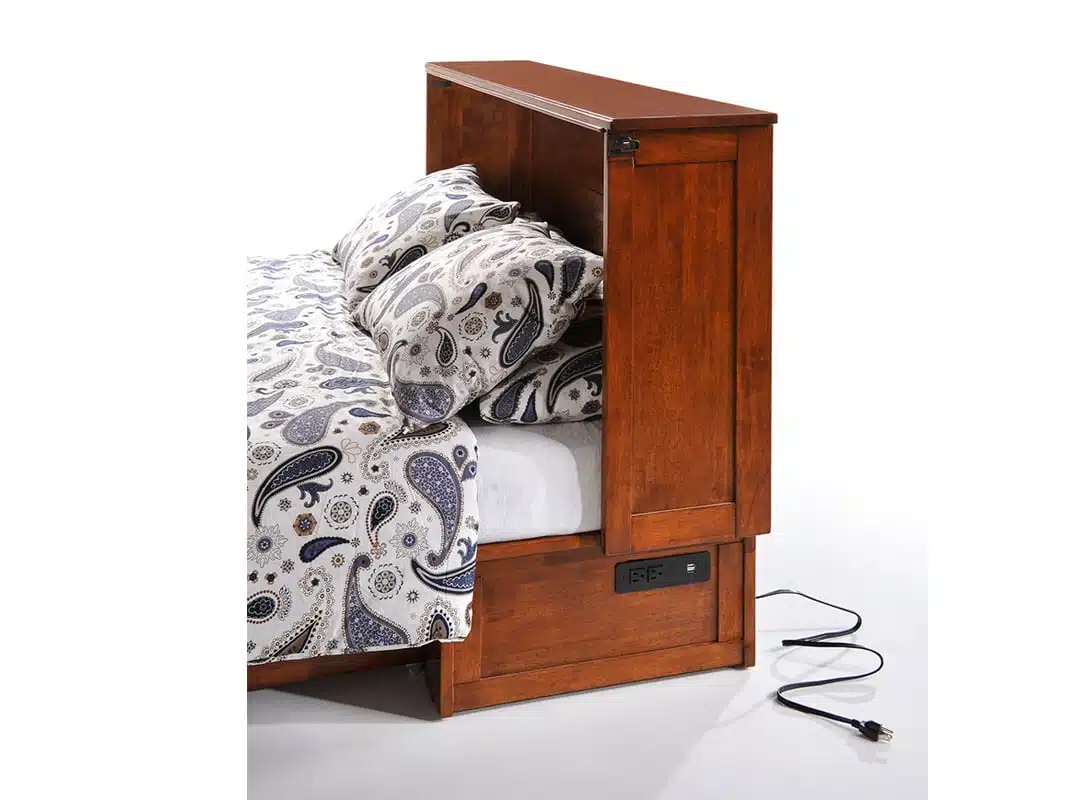 Finally, our last in the lineup of popular cabinet beds is the Clover model. This one is available in your choice of three different wood finishes. The traditional cherry finish is one that appears just right in a home study or office. It is constructed of solid hardwood so that it lasts and looks handsome for many years to come (some cheap models from overseas use flimsy particleboard). There are two sets of drawer knobs included with this model so you can change them out to fit your style. Just like the Sagebrush, the Clover cabinet bed features dual USB/power outlets at the head of the cabinet. The dimensions of 63.5 inches by 23.7 inches deep means the Clover easily slips into a small nook in your extra room – or at the end of a hallway, corner of a rec room or large clothes closet – even with its comfortable, high sleep platform.
When it comes to adding an extra bed to nearly any room of your home, you can't go wrong with our most popular cabinet beds and especially the Sagebrush, Dairy and Clover models.