Three Types of Cabinet Beds to Consider
Did you know that cabinet beds are one of our best sellers here at Murphy Beds of San Diego? It's no wonder since these compact furnishings pack in a premium mattress, roomy storage drawer and even dual USB/power outlets all contained in a very handsome, solid hardwood cabinet. They come fully assembled and ready to install without making a permanent change. But which type of cabinet bed would best suit your needs? Take a look at these three very popular types of cabinet beds to consider.
Metro Wall Unit and Cabinet Bed
When you need more storage space in your home (and who doesn't?) the Metro Wall Unit and Cabinet Bed is the perfect choice. Although it takes up more wall space than other cabinet beds, the benefit of the extra storage space are well worth it.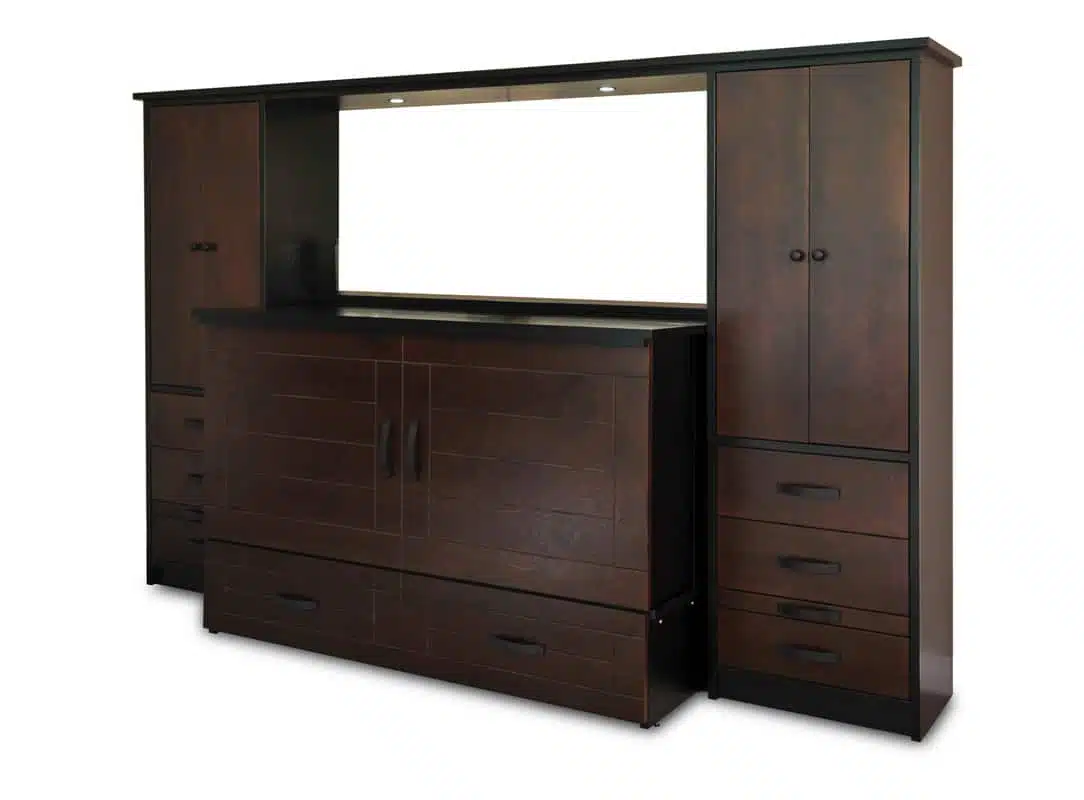 The centerpiece of this furnishing is a handsome, all hardwood cabinet that encases the queen-sized bed. It comes complete with a premium, trifold Certi-Pur memory foam mattress and pulls out into a bed in just seconds. The cabinet is made from birch, a sustainable wood harvested in North America. You can choose from a dozen different finishes, anything from white to a light wood stain to a dark espresso or black color.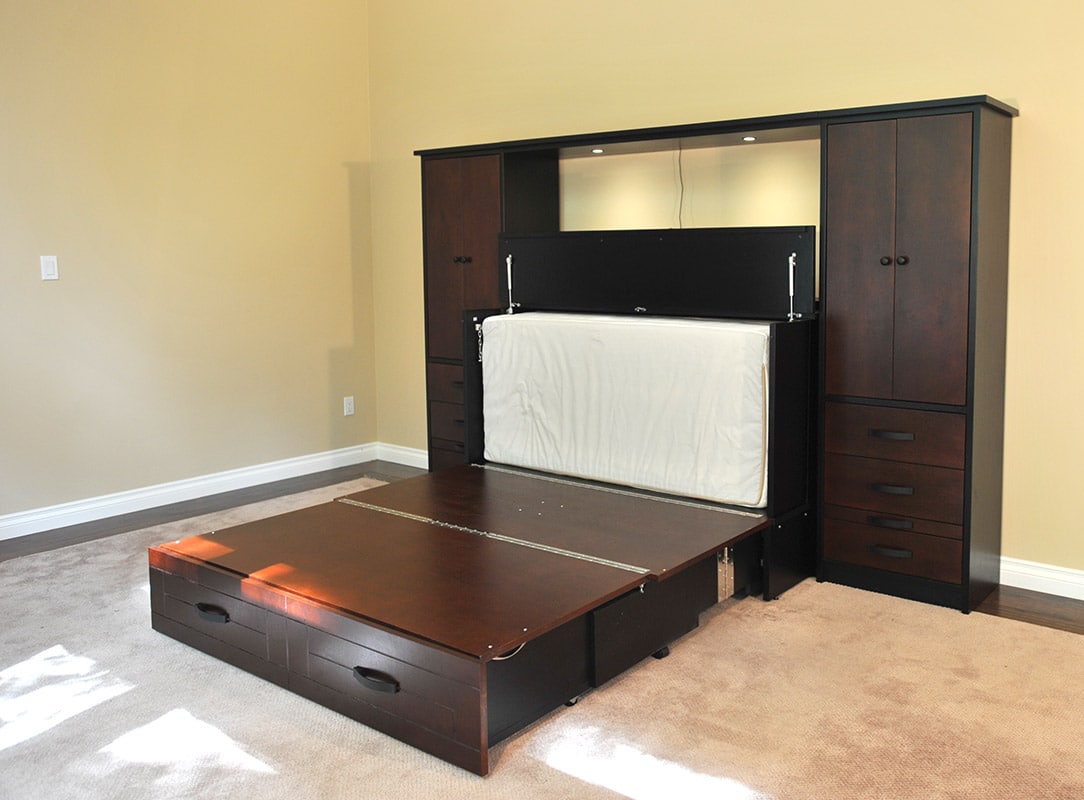 The matching wall unit uses a bridge with a pair of LED puck lights over the top of the cabinet to connect two side piers. This piece can be configured as either a pair of bookshelves or two shelves and one door or a wardrobe. There is also a pullout tray nightstand – particularly handy for overnight guests.
The Cube Cabinet Bed
Our smallest and most affordable cabinet bed is the Cube. It still holds a queen size mattress within a solid hardwood cabinet, but it stands just over 36 inches tall with a width and height comparable to our other cabinet bed models. The Cube's streamlined design and transitional style goes really well with any type of décor and the cabinet is available finished in one of four stain colors (cherry, white, dark chocolate or stone).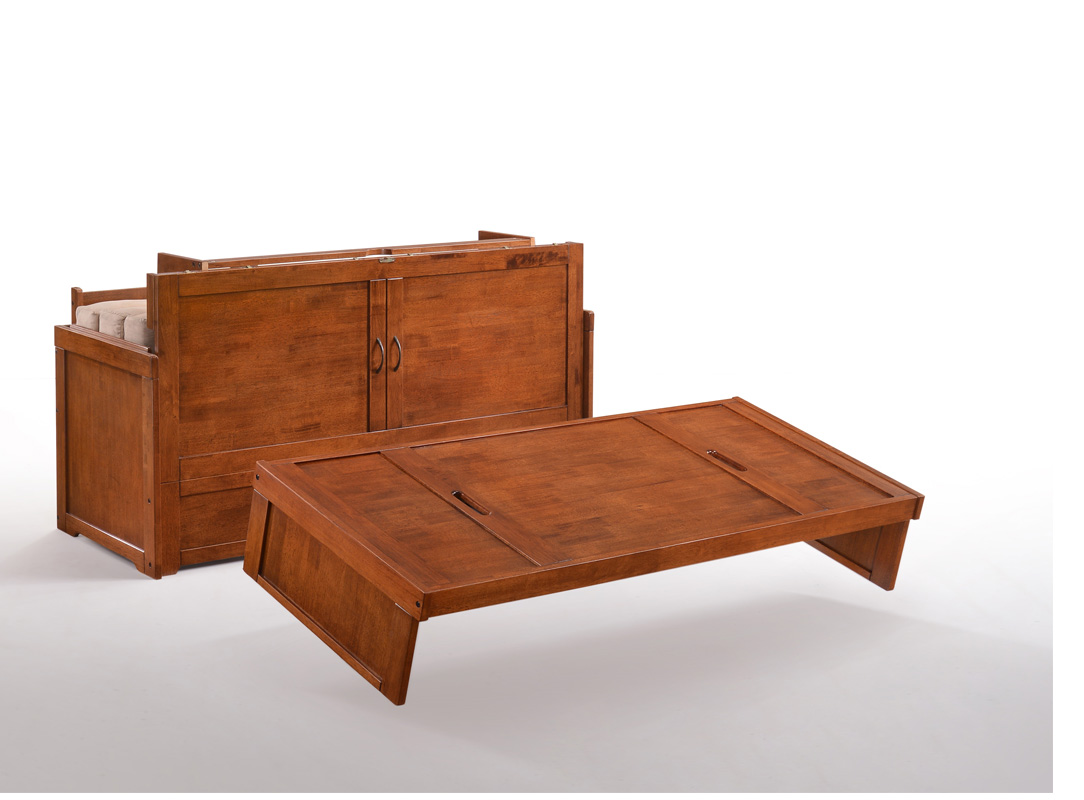 While this model lacks the storage drawer and handy USB/power outlets found in other models, it is a great value. The Cube Murphy cabinet bed is a welcome addition to a child's bedroom, enclosed porch, family room or anywhere you can carve out just over 10 square feet to place it.
Daisy, Sagebrush and Clover Cabinet Beds
Lastly we present the set of Daisy, Sagebrush and Clover cabinet beds.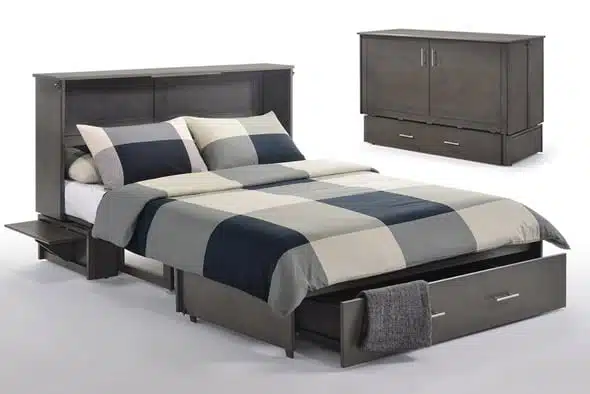 Each one has a slightly different, yet timeless, style, but they all have the same great features: solid hardwood cabinets, premium queen-size mattresses, power/USB outlets at the base of the cabinet, a spacious storage drawer on wheels, a 10-year warranty on the bed and 3-year warranty on the mattress.
These versatile beds are perfect in any room in any home. With a footprint of right around 10 square feet, these cabinet beds take up little space but come in so handy for overnight visitors. Any one makes a welcome addition to a dual-duty guestroom. The Daisy, Sagebrush or Clover would look right at home in a mother-in-law suite or dorm room, as well.
We hope you consider one of these three types of cabinet beds for your home so you, too, can enjoy their space-saving benefits.