Time to Replace an Airbed with a Console Bed?
Who doesn't need an extra bed in their home, from time to time? We've all been there. Whether it was the holiday party when guests were overserved, the impromptu visit from out-of-state friends or a family reunion, chances are you have experienced a time or two when an extra bed was necessary. If you are still putting your guests on an inflatable air bed, why not upgrade to a console bed for their comfort and your convenience?
About the Console Bed or Cabinet Bed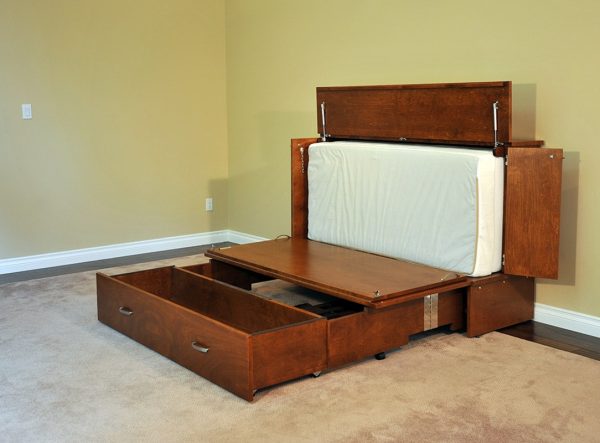 Quite simply put, this is a type of wall bed that is encased within a wooden cabinet, or console. The mattress folds up into thirds so it stows neatly away when not in use. When you are ready to turn it into a bed, simply pull down on the front of the console and pull out the mattress.
A console bed is not attached to the wall, so it is can move with you if you relocate. Sure, it weighs a bit more than an air mattress, but it does so much, and it so comfortable.
Handsome and Functional
A cabinet bed is a handsome piece of furniture that looks great in any room. Our console beds are made from solid hardwood, which can be finished in your choice of color and shade. It can also be refinished later, if you desire. And to give it a unique look, consider changing out the drawer pulls to match the other décor in the room.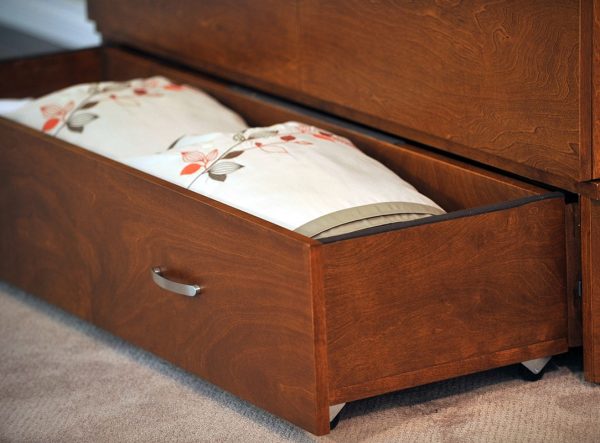 But the looks of a console bed are not just skin deep. This furnishing also provides a deep and roomy storage drawer beneath the cabinet. This is the ideal space to stow extra bed linens, blankets, out-of-season clothing and more.
The top of the cabinet is functional, too. It can easily hold a television monitor of up to 60 inches. But that's not all – why not use this shelf to display collectibles, family photos or a stack of treasured books?
The Console Bed Fits Nearly Anywhere
With such a small footprint – approximately 10 square feet, in the closed position – it's very easy to place a console bed nearly anywhere in your home. Outside of the obvious places, such as a guest bedroom, home office or family room, think outside the box – the cabinet box, that is. A console bed with queen-sized mattress can readily sneak into the end of a hallway, a large closet, a screened-in porch or a child's bedroom. It is the ideal extra bed for a condominium, beach house, mother-in-law suite or other small space.
Quality and Comfort
There are two things you can count on when you replace your old air bed with a console bed: it provides a better night's sleep and it is made to last.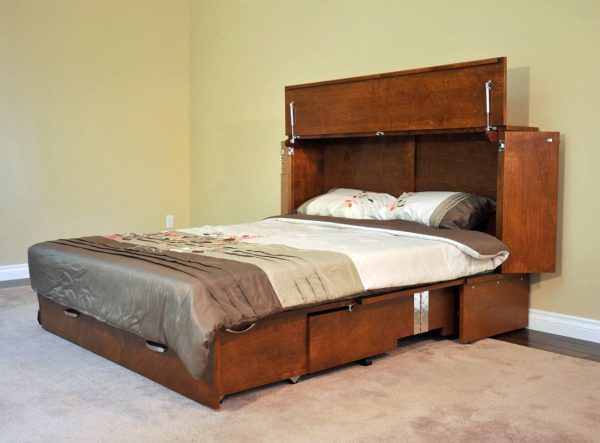 The first is due to a tri-fold gel memory foam mattress that comes with each cabinet bed we sell. This is a premium mattress designed just for use in cabinet beds. Unlike an air mattress, there is no need to worry about leaks or lumps.
The quality of our console beds is due to the fact that they use superior materials. The cabinet is made from solid North American sustainable hardwood. The open/close mechanism comes with a full, 10-year warranty. A handsome cabinet bed is safe, secure and made to last.
Now, are you ready to ditch that old air bed and replace it with a high quality, handsome console bed?