Unique Ideas for Tucking a Multi-functional Wall Bed Into Any Space
We often get the question, "Is there anywhere we can't put a multi-functional wall bed?" There may be a few places where it wouldn't be feasible, due to a room's configuration or the absence of a suitably stable place to affix it. But because many wall beds can be configured as either horizontal or vertical, there are relatively few places in your home that a wall bed would not be feasible.
Let's take a look at a few unique ideas for tucking a multi-functional wall bed into a room in your home.
Got a Small Home? You Need a Library Wall Bed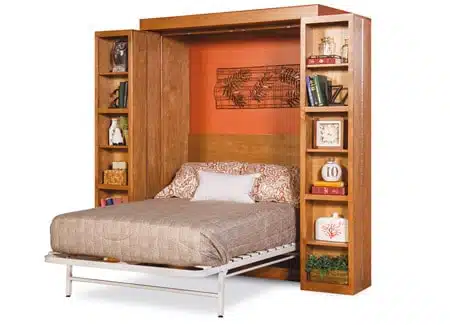 Condos and tiny houses are notorious for having few rooms and even less storage space. If your home is short on space, the ideal solution could be this Library wall bed. It works great for your nightly sleep or as a place to put a guest up for the night.
By day, it's the place to store all your books, DVDs, collectibles and games. But simply by pulling the two sides apart, you can easily access the bed behind. Use your own mattress, if you wish, and customize this model to match your room. Choose from a variety of finishes and options for lighting, a desk, power outlets, side piers for additional storage and custom trim, molding and hardware. This elegant, all-hardwood Library wall bed will never look out of place in any room.
Got a Home Office? You Need a Desk Wall Bed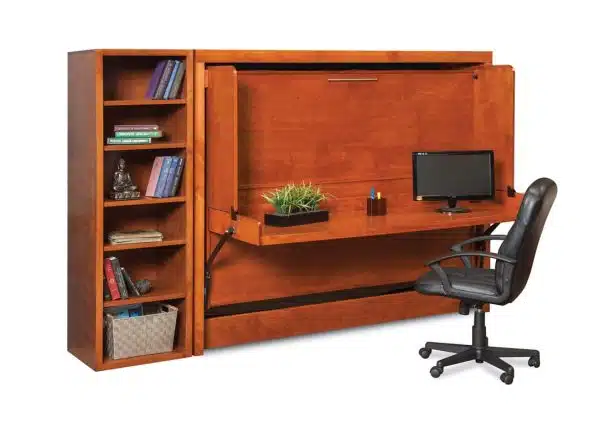 No matter the size of your office – even if it is in a converted closet, pantry or a corner of a room – you can add a bed. The ingenious design of a desk wall bed, such as the Mirage H shown here, allows you to leave your work in place on the surface of the desk when the bed is pulled out and over for use. If you really want your tiny or constricted office to be functional, you could add one or two side piers for use as bookcases or file storage.
The Mirage H Desk Wall Bed is also unique in that it is available in a vertical configuration, if that fits better in the limited space you have. Either way, this is a high-quality, solid hardwood piece of furniture that does double or even triple duty – an important space saver in your apartment or condo.
Got a Tiny Bedroom? You Need the Mandalay Wall Bed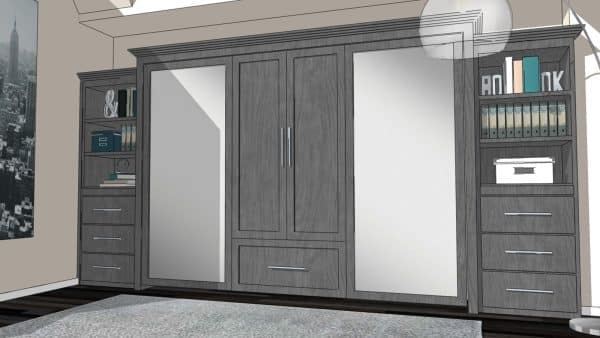 If your bedroom is not much bigger than a closet and only holds a bed, a Mandalay H Wall Bed is a best choice. It has classic styling and comes in sizes twin, full or queen. The multi-functional wall bed shown here has mirrored cabinet doors. These not only make the space appear larger, they help you get dressed in style each morning. Add side piers to incorporate a wardrobe and/or storage shelves and you've got a complete bedroom suite in one handsome, all-hardwood piece of furniture.
A multi-functional wall bed can be configured to fit into nearly any size space. As long as it can be securely attached to the wall, these ingenious beds can turn small home living into luxury.