3 Fun and Fascinating Features of Cabinet Beds
Unlike their close relative the Murphy wall bed, cabinet beds are lesser known but still just as practical and efficient. This is especially true as many Americans downsize their homes and are seeking furniture that is both multi-functional and can be easily stowed away. If sufficient space is an issue in your home, a cabinet bed, aka Murphy cabinet bed, may be just the ideal solution. Read on to find out three fun and fascinating features of cabinet beds that you may not have been aware of.
1. Cabinet Beds are Ready for Sleep in Mere Seconds
One of the best things about Murphy cabinet beds is that they are very quick and easy to use. In fact, nearly anyone, no matter their age or mobility, can pull out the mattress for sleeping and just as easily store it back in the cabinet.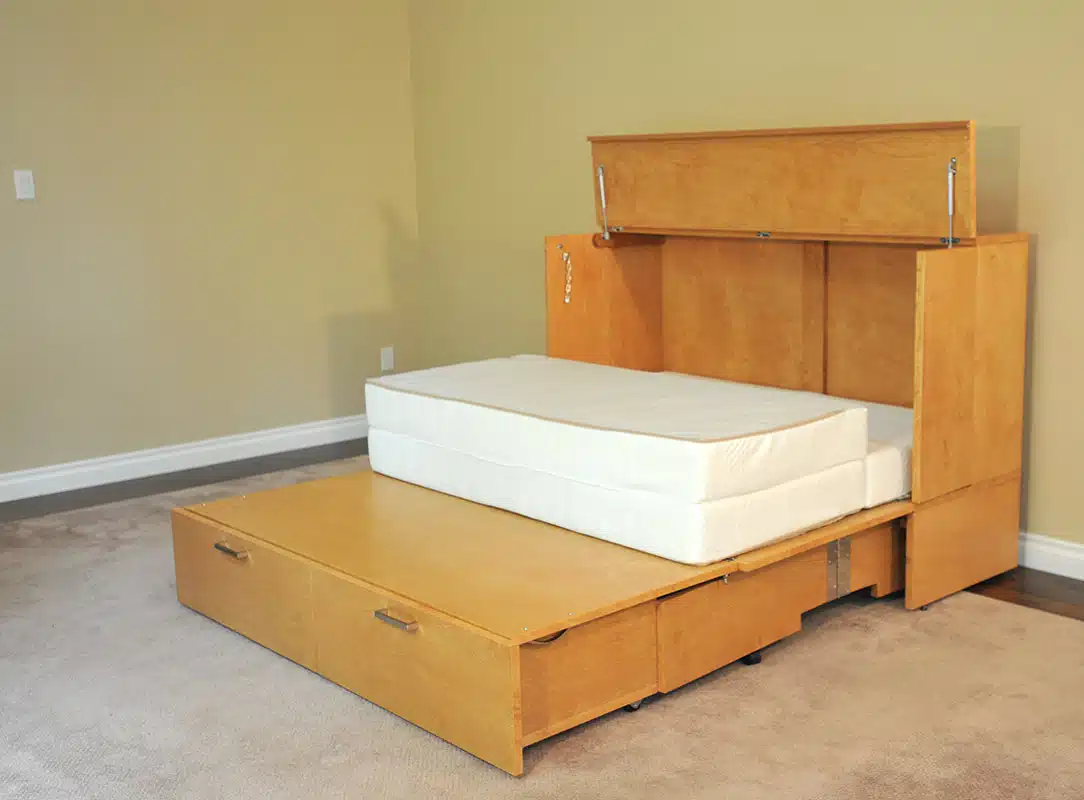 It all starts with opening the front doors of the cabinet and then pulling out the mattress support and the convenient, spacious storage drawer along the bottom of the cabinet. The premium gel and memory foam tri-fold mattress contained within the cabinet unfolds over the base formed by the storage drawer and the cabinet itself. If this is a bed that you will use every day, it only takes about one minute to assemble and then another quick minute to fold the mattress back up into the cabinet and close the doors. You can even keep the bedding in place and use the storage drawer when the mattress is extended – no need to empty it.
2. Work from Home? Work in Bed!
For such a small bit of square footage, features of cabinet beds are plenty.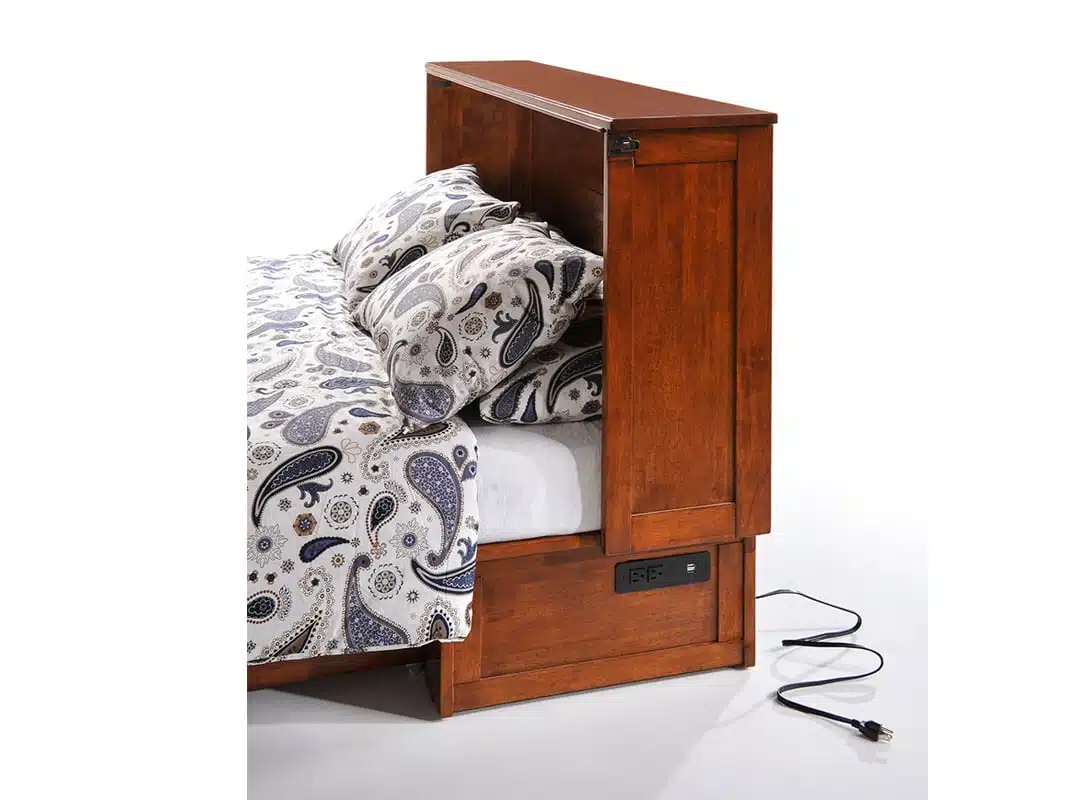 Our cabinet beds come complete with a queen-sized mattress, which provides lots of room for a single or two people. And if you want to work from bed, you'll find these features of cabinet beds will come in handy. For instance, most models include a small, flip-up tray table along the front edge of the cabinet. Beneath the tray are a pair of USB ports and power outlets – a great location for charging your phone or plugging in your laptop.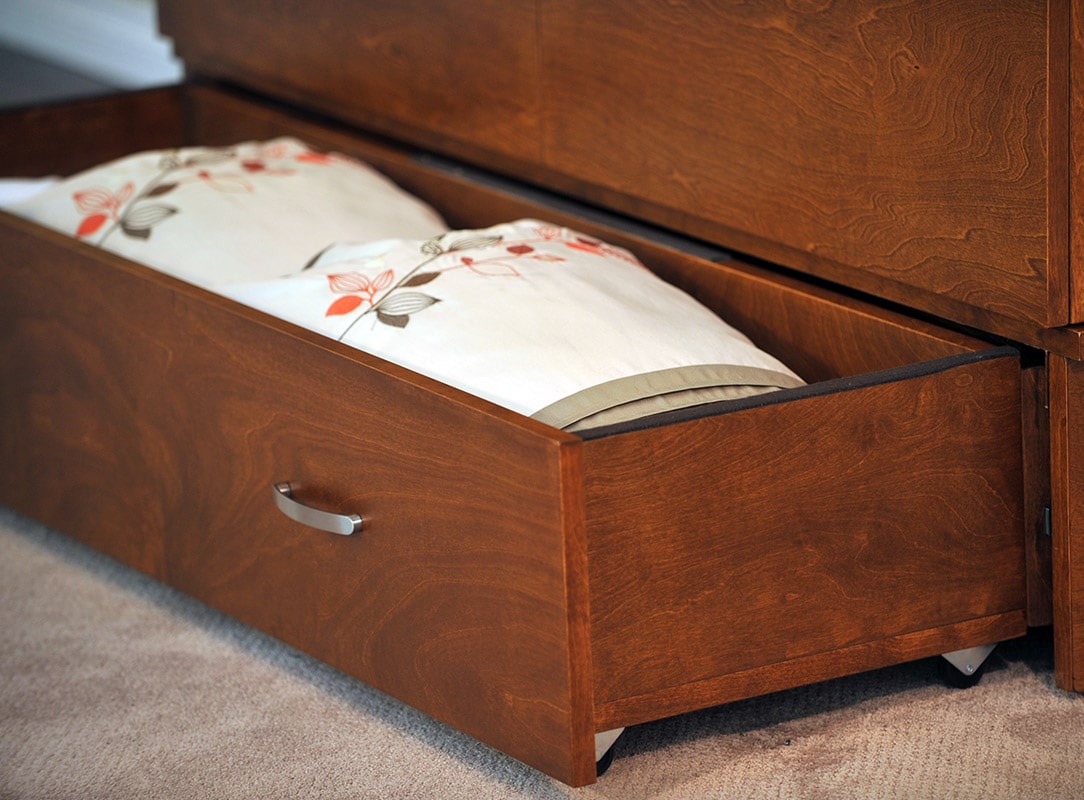 And remember that roomy storage drawer that helps support the mattress? It's an ideal place to stow lots of items that help you get your work done, such as paper, files, books, office supplies and more whether or not the mattress is in use.
3. Beautifully Made and a Handsome Addition to Any Room
One of the features of cabinet beds that we find important is their sturdy construction. Most models are made with solid hardwood (no particleboard) and available in your choice of several different finish colors. They also come with two different sets of cabinet door pulls to give your bed a slightly different look.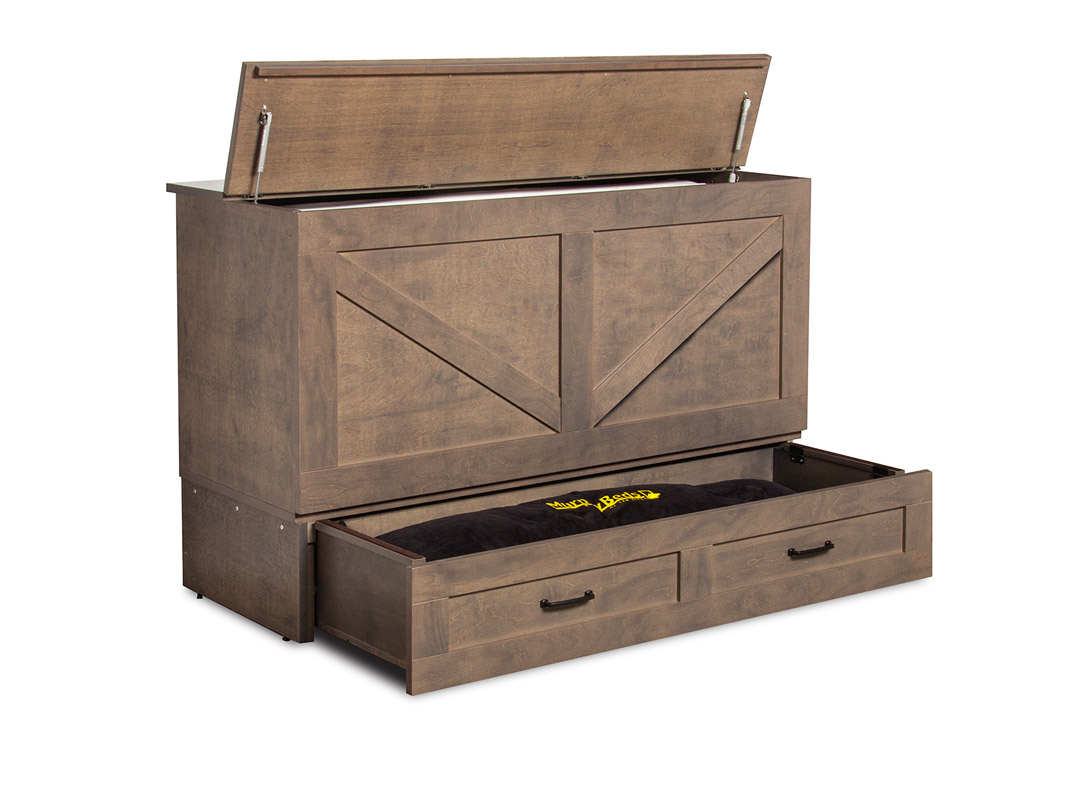 There are plenty of styles available for cabinet beds, as well – everything from a truly transitional style to modern farmhouse to reminiscent of the popular barn door décor. There is sure to be at least one that will enhance your home's interior design. They are always out in the open and they will always look great even when the bed is in use, with the cabinet forming a headboard.
We hope you enjoyed learning these three fun and fascinating features of cabinet beds. Have questions? Just give us a call or use our convenient email form on the right menu of each product page.