Add Mid-Century Modern Function with a Cabinet Bed
Do you love the iconic style of the 1950s and 1960s? Are you passionate about modern art? Does your décor incorporate the sleek lines and sensuous curves of the furnishings that define this era? Then you, my friend, are probably a retro modern aficionado. And when it comes to furnishing your home in mid-century modern style, don't forget about its innovative, functional and space-saving aspects.
One of the easiest and best ways to add a piece that includes beautiful form as well as function is by including a cabinet bed, such as the Metro, Sagebrush or Denva Cabinet Bed in your home. Take a look at some of our ideas for mid-century modern style in a bed with a small footprint but a big benefit – adding an extra bed for overnight guests.
The Metro Cabinet Bed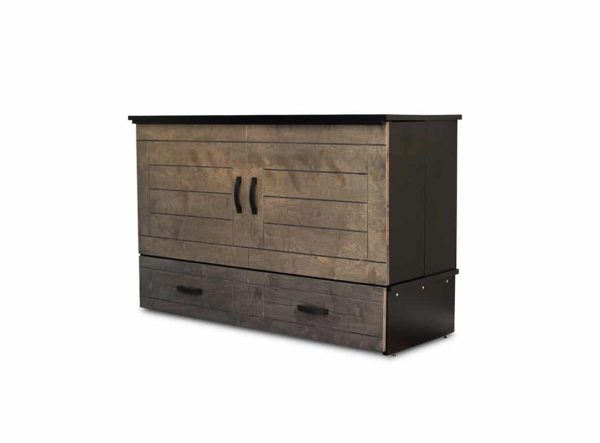 One of our most popular cabinets, the Metro, lends itself perfectly to a retro modern room. Whether you could use an extra bed in a living area, a spare room, a guestroom or even a closet or corner large enough to hold a cabinet, the Metro Cabinet Bed does the job in style. It features clean lines and subtle horizontal elements that blend well with the organic shapes and often futuristic forms used by furniture designers of the mid-century period. We love this cabinet bed finished in a crisp black or white color, but the grey-toned wood finish could also look right at home in a retro modern room.
And if you need more storage than that found in the spacious under-cabinet drawer, consider adding a wall unit to the Metro cabinet bed. This option provides lots of extra space for storing items in the two cabinets and eight additional drawers. In smaller spaces, the Metro Cabinet Bed with Wall Unit is a godsend in regard to organization and tidiness, plus a comfortable, queen-sized bed.
Sagebrush Murphy Cabinet Bed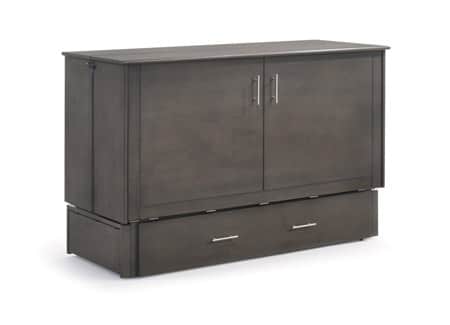 Another cabinet bed that is easy to incorporate with mid-century modern style is the Sagebrush Murphy Cabinet Bed. It also features sleek lines, along with contemporary, brushed nickel hardware. It comes ready to install in a gorgeous stonewash finish, which nicely portrays an up-to-date look so appealing to retro modern style enthusiasts. This cabinet bed not only looks pretty when in the closed position, it includes a dual USB and power module built right into the cabinet – perfect for allowing overnight guests to use their electronic devices before falling asleep.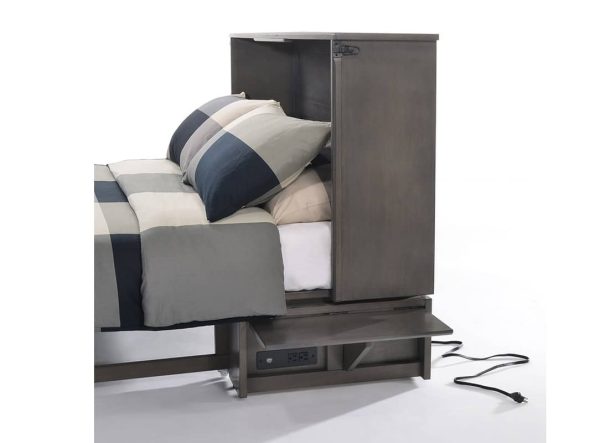 Denva Cabinet Bed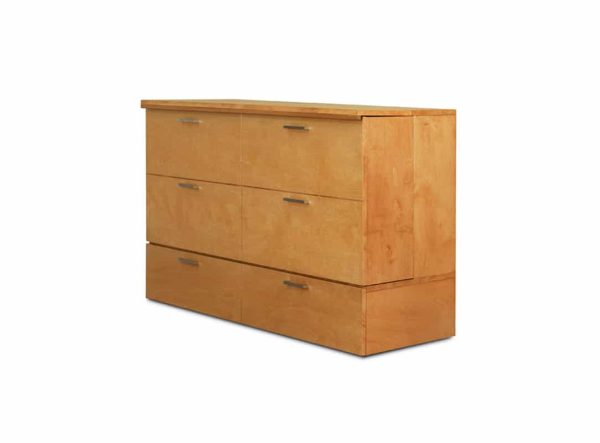 And finally, the Denva Cabinet Bed is one that is a bit more traditional in style – but easy to incorporate into nearly any room of your home. The Denva cabinet bed is made right here in North America from sustainable birch wood which can be finished in your choice of light or dark paint (our favorite choice for mid-century modern style). It comes with bar-shaped drawer handles that are easy to upgrade to something more iconic of the 1950s – shell-shaped brass pulls, perhaps? As with the Denva and Sagebrush models, the Denva Cabinet Bed includes a premium, tri-fold gel memory foam mattress for ultimate sleeping comfort.
No matter which cabinet bed you choose, rest assured that this highly functional and beautiful piece of furniture will look right at home in your mid-century modern home.