Devilishly Clever Denva Cabinet Bed is a Dresser in Disguise
What if you could add a beautifully designed dresser to any room of your home and transform it within seconds to a guest bed? Would that be a piece of furniture you just had to have? If so, then the clever Denva Cabinet Bed is for you. Here's more information to entice you.
Slip this Sleek Cabinet Bed into Any Room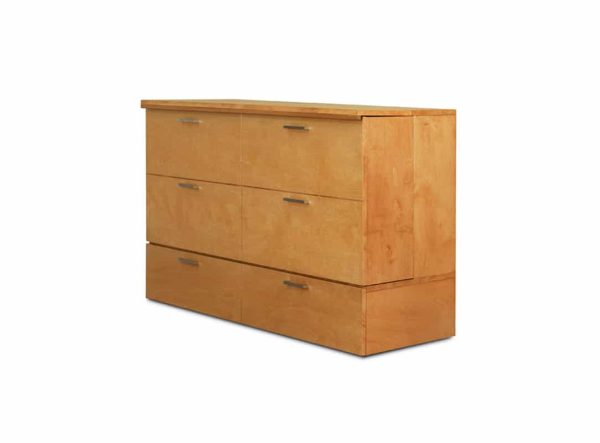 Let's start with the obvious: the Denva Cabinet Bed is gorgeously styled. It features a sleek and classic design that makes it look right at home in nearly any type of décor. You can choose whether or not to add the handles that are included with this all-hardwood cabinet bed. We think that without the handles, the Denva is a perfect fit in an ultra-contemporary space (just let us know your preference when you order).
There are 12 different finish color options available, as well. Black or white are classic contemporary hues while warmer tones of oak or cherry fit nicely in a traditional home.
What the Denva Cabinet Bed looks like, at first glance, is a buffet or dresser. This piece of furniture is right at home in a dining room, living room, great room or home office. And its small footprint of less than eight feet means that it easily tucks into a corner or a bit of unused space. At less than four feet in height, the Denva may even slide right beneath a window sash. Then again, the top of the cabinet is rated to hold a large television set, so it might be the ideal place for a TV, book collection or decorative items. No matter where you put it, the Denva Cabinet Bed is an elegant addition to any room.
Sleeping Comfort for Your Guests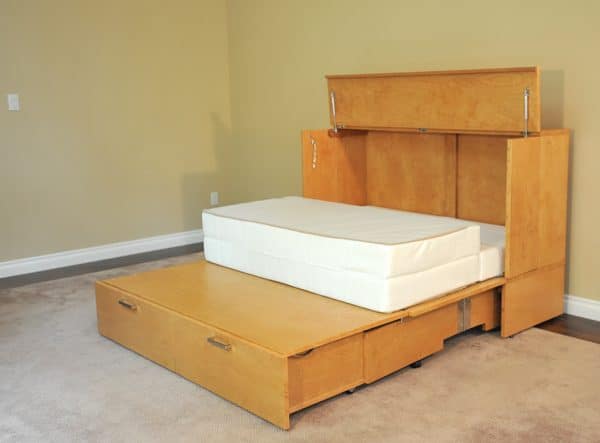 Of course, Denva's beauty is more than just skin deep. Its devilishly clever design turns this elegant dresser into a plush and comfortable bed with six-inch gel-infused memory foam mattress for overnight guests in less than two minutes. All you have to do is extend the bed by pulling out the bottom storage drawer, just as you would open a dresser drawer. The queen-sized mattress folds out over the support box to provide a sturdy sleeping area that easily accommodates occupants up to 500 pounds.
Handy Features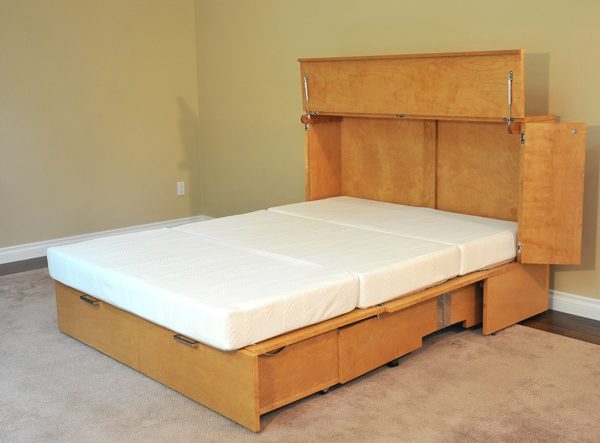 One of the best features of the Denva Cabinet Bed is its roomy storage drawer – a full 59 inches. Located in the bottom portion of the cabinet, it provides plenty of space to stow extra linens, blankets, out-of-season clothing or your guest's luggage contents. It slides in and out with ease, thanks to rollers along the bottom of the drawer.
The Denva is made to be operated easily by anyone. There is no special strength or skills involved. Plus, it arrives mostly assembled right out of the box so nearly anyone can have it installed in a room in under 10 minutes.
Doesn't your home deserve an elegant piece of furniture that is well made and lovely to look at? Don't your guests deserve a great night's sleep when they spend the night at your home? Now is the perfect time to add a Denva Cabinet Bed to your home and be amazed at its design and versatility.