Advantages of Buying an American Made Wall Bed
Murphy Beds of San Diego is proud to be the exclusive distributor of a collection of top quality wall beds made right here in the United States of America. You just can't get the same quality from cheaper models manufactured overseas. But there are plenty more reasons why you should buy an American made wall bed. Take a look.
Quality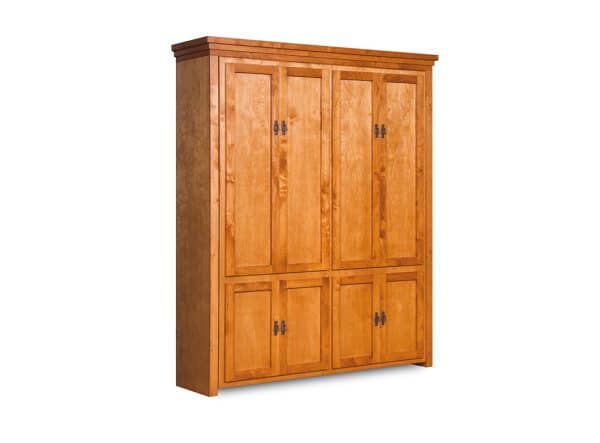 I know, we just talked about this in the opening paragraph. But did you know that our American wall beds are hand-crafted? Did you know they are made from only alder wood or other American hardwood? That's the type of quality construction that is made to last for years and years, with an industry-best warranty to back it up. In fact, we offer a lifetime warranty on the open/close mechanisms of our Murphy beds.
Customize Your American Made Wall Bed
Here's another option you can't get with inexpensive, Asian-made wall beds: the ability to customize certain features and make them your own. There are dozens of finish options, from lacquers to stains. All of the durable finishes are made to be less susceptible to cracking, peeling and fading.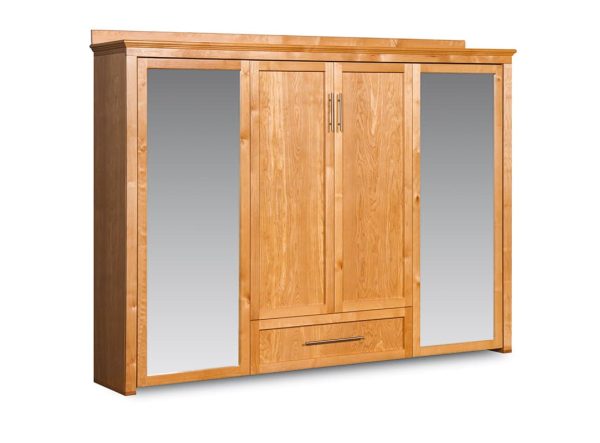 You can pick from several door face styles as well as door knobs and pulls. Add a desk, side piers, bookshelves or cabinets. You can also specify where you would like to place USB ports or power outlets. But honestly, if you have a vision in mind of the perfect wall bed and don't see it in our inventory or catalogs, chances are we can still turn your dream into a reality by completely custom ordering your Murphy bed.
It is the Environmentally Friendly Choice
When your quality Murphy wall bed is manufactured right here in the US and shipped cross country to our warehouse, it saves the environment. Products that are shipped from overseas use far more fossil fuel. In addition, the manufacturing process often includes toxic chemicals and harmful additives which are regulated here in America.
Expedited Delivery
Because an American made wall bed is manufactured within this country, that also means your custom bed will be delivered within a reasonable time period. Some of our standard Murphy beds will arrive within a matter of a few short weeks.
Size Matters
Here's another choice you have in some Murphy wall bed models: a horizontal or vertical configuration. Often one will work better in your space than the other. You get to choose. And if the compact footprint of an American made wall bed with twin, full, queen or king sized mattress doesn't work for you, we can custom order one in a nonstandard size.
Safety First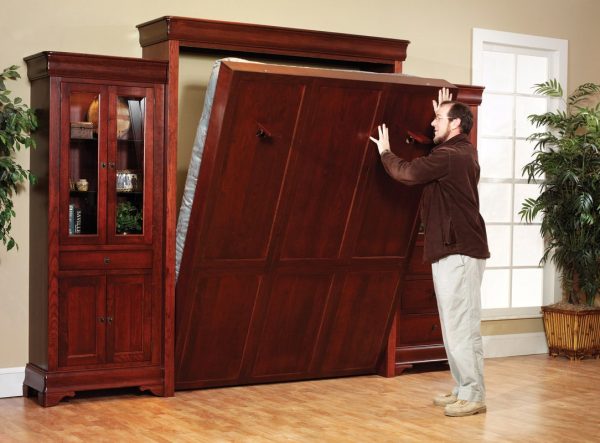 In addition to an open/close mechanism of superior quality, you can rest assured that your American made wall bed is safe and secure. Each one comes with safety locks and bed straps. Our Murphy beds are never constructed with particle board or MDF, which tend to make for a flimsy and insecure product.
An American Made Wall Bed is the Best Value
Remember to look at more than just price when it comes to selecting your new Murphy wall bed. Cheap wall beds are inferior products and most likely you will not be happy with them. Choose quality, durability and safety for a handsome wall bed from our American made collection that will last for years and years.