Best Space Hacks for a Studio
When you or your kids live temporarily in a small space, such as a studio, tiny home, flat or walkup, the number one problem is usually lack of space. Think of it as a challenge to use every square foot wisely. In that regard, one of the best space hacks for a studio is a cabinet bed. Here are the reasons why this is one of the best choices for small space living.
Use Dual Duty Furniture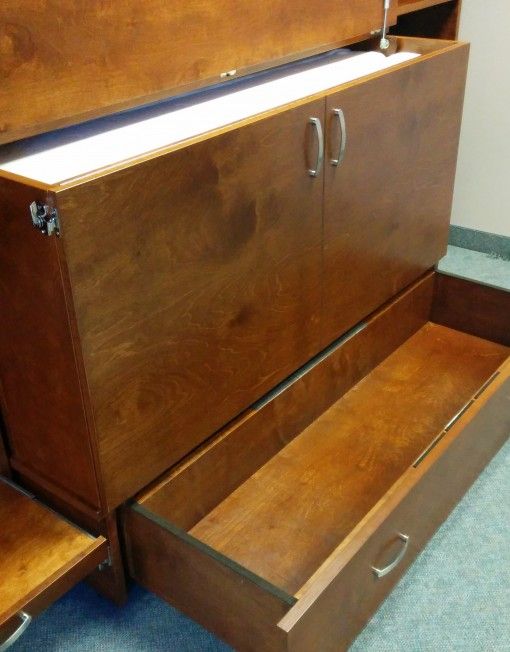 When your space has a small footprint, so should your furniture. And one of the best examples of this is a cabinet bed. This furnishing is ingeniously designed to combine a handsome wood cabinet with storage drawer and a super comfy, queen size bed. This riff on a Murphy wall bed, which was designed some hundred years ago, takes the concept of size to a smaller level by placing a trifold mattress inside a compact cabinet. And when you are ready to move out of that studio and into a bigger space, just take your cabinet bed with you – there is no need to permanently attach it to a wall as you would with a Murphy bed.
Make Sure It's Comfortable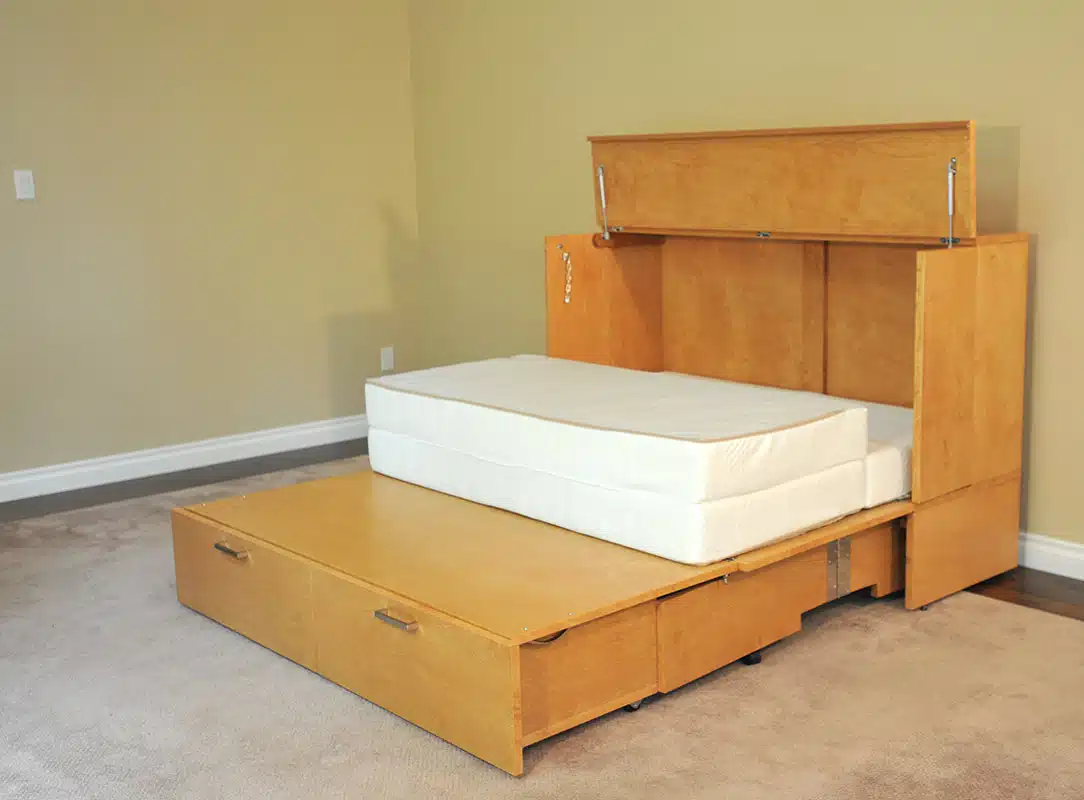 Sure, there are other solutions available for adding a bed to your tiny home or small flat. But do you really want to spend every night sleeping on a lumpy pullout sofa, cot or air mattress? When you purchase a cabinet bed from Murphy Beds of San Diego, you are getting one of the finest models available. It comes to your home ready to set up and complete with a premium memory foam mattress in queen size. That means you will enjoy a very comfortable and supportive sleep with lots of room to get into your favorite position.
Include Extra Storage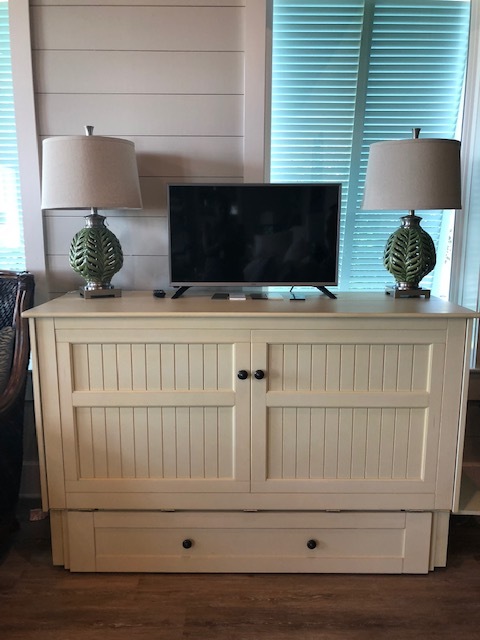 We think cabinet beds are one of the best space hacks for a studio because they do more than give you a comfy place to sleep, they also provide extra storage. There are a couple ways that cabinet beds do this. For one, the top of the cabinet is rated to hold a television set with screen up to 60 inches. That takes care of one big item you are sure to need room for. Second, there is a roomy storage drawer located at the bottom of the cabinet. This drawer can hold lots of things such as extra linens, clothing, textbooks, office supplies and the like. When it is time to pull the mattress up and out of the cabinet, the storage drawer becomes part of the bed's foundation.
The Little Extras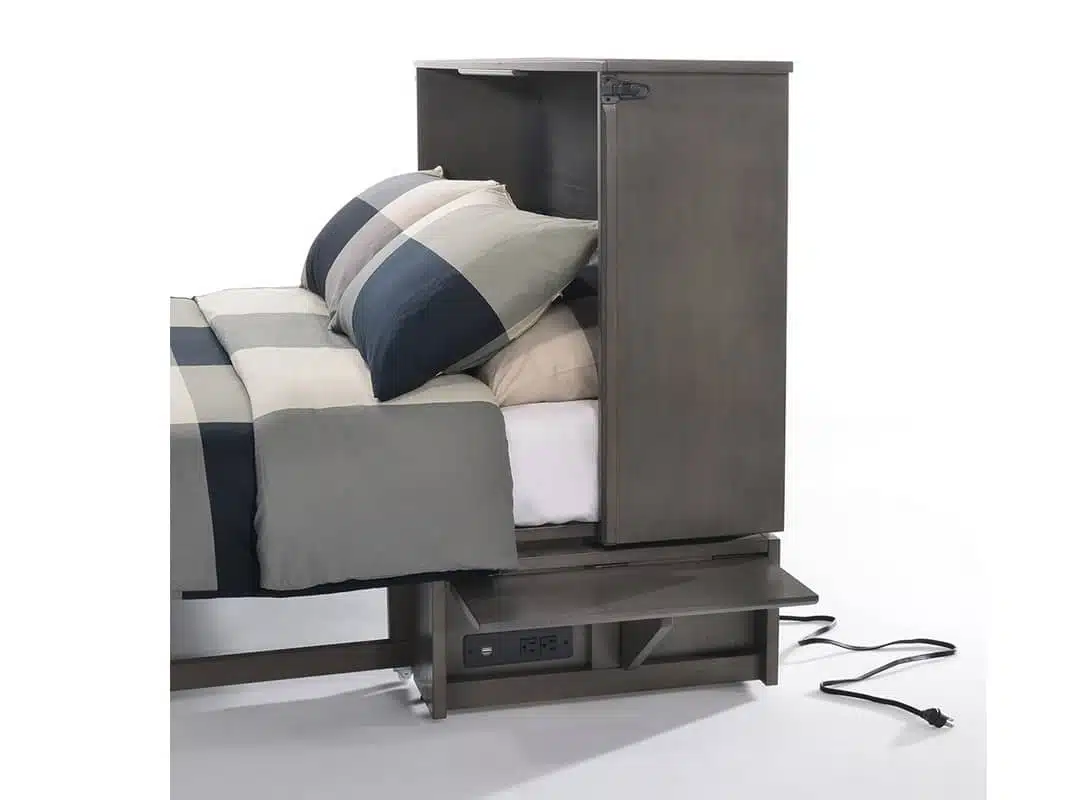 Here is another way that cabinet beds are the best space hacks for a studio – most of our cabinet beds come complete with a dual USB/power outlet along the bottom of the cabinet's side. When the mattress is pulled out for sleeping, those outlets are located at the head of the bed and super convenient for charging your electronic devices and plugging in items such as a lamp or TV set.
And you can rest assured that your cabinet bed will keep its integrity for many years. It is crafted from solid hardwood and designed for durability. You get to choose the style, finish color and even cabinet knobs (most of ours come with two sets that are interchangeable).
When researching the best space hacks for a studio or other tiny home, consider cabinet beds for a good night's sleep and extra storage.