Space is a commodity that is in high demand – especially if you own a smaller home or condo. It's not always easy to find room for every need or storage for every item. Luckily, you don't have to rely on bulky furnishings to do the job. A cabinet bed could be just the thing for adding overnight sleeping accommodations plus a place for reading, studying, working or watching TV.
Types of Cabinet Beds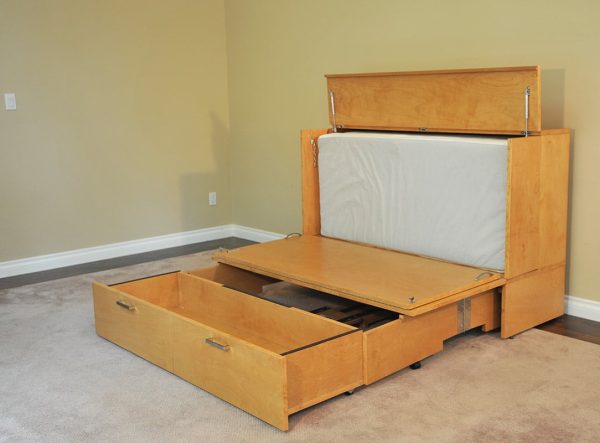 Cabinet beds have one thing in common – they are all freestanding pieces which hide a bed folded up inside, no installation required.
Most cabinet beds come with a roomy drawer along the bottom of the cabinet to store any items you wish; you can also use the top of the cabinet for display or for a television set. Some of our clients choose to include a desk along the front of the cabinet for extra work space and even add USB ports and/or electrical outlets.
You have a choice as to the style of your cabinet bed, the finish and hardware (knobs and pulls). Size is another option; cabinet beds include a tri-fold gel memory foam mattress in size twin, double or queen.
Where to Put a CabinetBed
Because cabinet beds take up a third of the space of a regular bed, about 10 square feet, and offer storage and display space, to boot, they are an ideal way to add extra sleeping space to any area of your home. You can quickly set up a cabinet bed in less than a minute and because they are not permanently attached to a wall, they are easy to move as needed.
When considering where to put a cabinet bed in your home, think outside the box. There is no need to limit this versatile piece of furniture to a guest room or home office. Could you place one at the end of a hallway? Sure! How about in a dining area, where the drawer can store linens or serving pieces? That would work, too. Couldn't you use an extra bed in a basement or rec room? Why not?
Of course, cabinet beds are a great addition to any spare room or bedroom in your home. If your room is particularly small, how about placing a cabinet bed in the closet? That gets it out of the way and allows you more freedom to use the space within the room itself. A pair of cabinet beds is a good idea to double the sleeping area in a room while providing an extra work area (via desk) and storage (via drawers). Cabinet beds are an ideal addition to a kid's room, too, to provide an instant sleepover area.
There's Nowhere You Couldn't Put a Cabinet Bed
All right, so maybe you wouldn't want to put a CabinetBed in your kitchen, but really, anything goes when it comes to a suitable space. The only limits are the configuration of your home and your imagination. Isn't it time to add a cabinet bed – or two or more – to your living space?