Meet Clover, Daisy and Sagebrush ‹ The Perfect Cabinet Beds for any Space
Will cabinet beds fit your space better than a traditional Murphy bed or a full, custom wall bed system? Then we invite you to meet three of our most popular cabinet beds: Clover, Daisy and Sagebrush.
Clover Cabinet Bed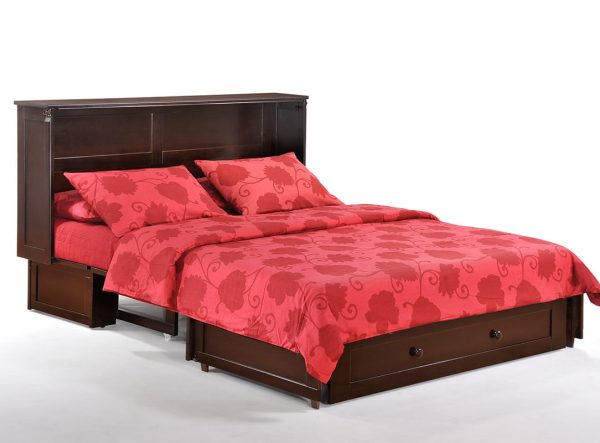 A handsome, solid hardwood cabinet available in three finish colors characterizes the Clover. This cabinet bed with queen-size mattress is a great addition to any guest room. Its small footprint of 63.5" wide by 23.7" deep makes it the idea choice for a room with limited space which needs to function both as a guest room and a room for other activities, especially with its transitional style which melds so nicely with any type of décor. This cabinet bed also comes with two sets of drawer knobs so you can pick which style fits best in your room.
There's no doubt your guests will be delighted to stay the night and sleep easy on the premium gel memory foam mattress tucked away in the Clover's cabinet. And if they enjoy listening to music or checking emails in bed, that's easy, too, due to the dual power and USB modules that are built into the cabinet.
Daisy Cabinet Bed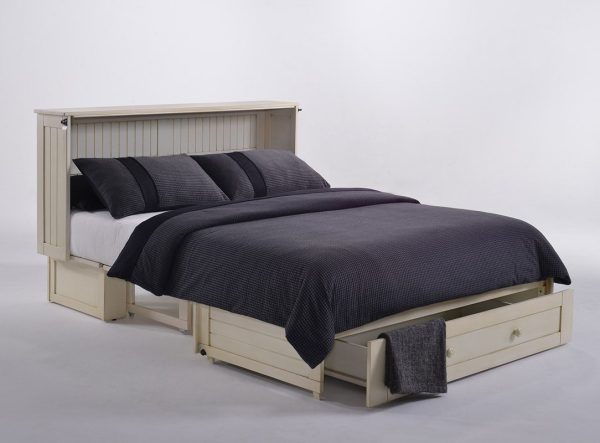 For a fresh-as-a-daisy take on a super space-saving cabinet bed, you can't beat the Daisy model. It gets its fresh looks from a somewhat traditional style and a buttercream finish on the solid hardwood cabinet.
But the Daisy's beauty is more than skin-deep. It features a higher sleep platform with premium gel memory foam mattress that is fit for a queen (queen-sized, that is) and backed by a three-year warranty. The cabinet is solidly built and covered by a limited warranty that lasts 10 years. It features a roomy storage drawer to stow away linens, books, clothing or anything else you want to keep out of sight.
No doubt your overnight guests will feel fresh as a daisy when they spend the night on this high-quality cabinet bed that neatly folds away during the day.
Sagebrush Cabinet Bed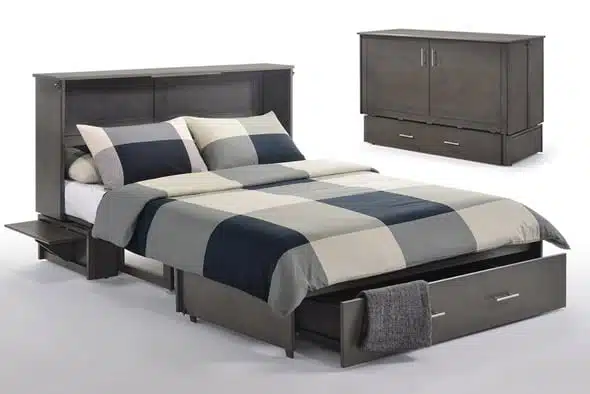 The last in this collection of solid hardwood cabinet beds is the Sagebrush model. It features classic good looks in a contemporary stonewash finish. With a footprint of only 10 square feet with the cabinet closed, it's easy to imagine the Sagebrush fitting in any room of your room where an extra bed is needed.
This cabinet bed also features a premium, queen-size mattress that sets atop a higher sleep platform. The large storage drawer pulls out on rollers, which makes it easy to store heavier objects in the drawer. Just as with the other two cabinet beds featured here, the Sagebrush includes two USB and power outlets built into the cabinet and an excellent 10/3 year warranty on the cabinet and the mattress.
Adding a handy cabinet bed to a room in your home needn't require a lot of space or money. These three models are perfect for providing a comfy night's rest to an overnight guest, no matter what room you have to work with.