Daisy, Clover and Sagebrush Cabinet Beds Are Your Holiday Helpers
The holiday season is in full swing. You know what that means – lots of parties, guests and family get-togethers. It also means that it is time to assess your home's readiness to accommodate extra people. When you need an extra bed, or two, or three, then it's Daisy, Clover and Sagebrush Cabinet Beds to the rescue.
Fresh as a Daisy Sleep for Your Guests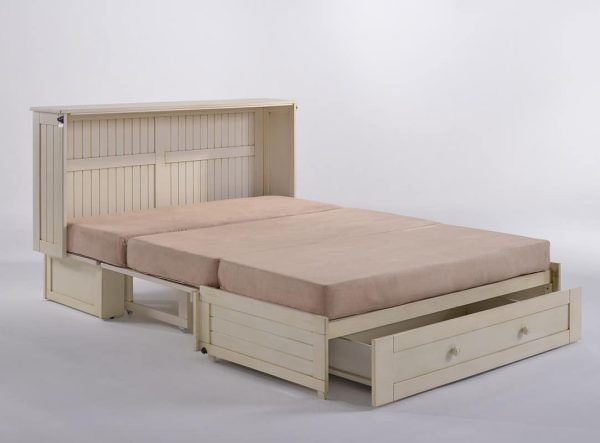 The Daisy Cabinet Bed is one that fits nicely into almost any room. It has a transitional style that looks right at home in a contemporary room or one with traditional furnishings. It's our pick for adding to a country or rustic style bedroom or den due to its gorgeous, buttercream colored finish. The design is enhanced by a thick, colorful quilt when fully opened.
The premium, tri-fold gel memory foam queen-sized mattress that comes with the Daisy Cabinet Bed is ideal for accommodating a couple. Whether you have family members for Christmas Eve or holiday party guests who have overindulged in adult beverages, they are sure to find the Daisy a soft, comfortable place to spend the night.
Rolling in the Clover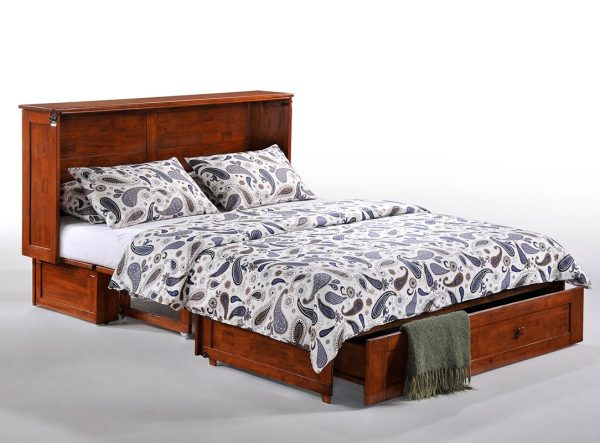 The Clover Bed features a more traditional design of its solid hardwood cabinet. This cabinet bed is the perfect to a home office, where it functions as an attractive piece of furniture by day and a comfortable, queen-sized bed by night. If you only have a single extra bedroom and that's where you get your work done, the Clover Cabinet Bed is a must-have addition for overnight guests.
Taking up just over 10 square feet of space, the Clover can be tucked into a corner or sit next to a desk or bookshelf. The top shelf of the handsome, cherry- or chocolate-stained cabinet easily holds a large television set, books, or knick-knacks. The under-cabinet storage drawer is large enough to store office supplies. This versatile cabinet also features two USB and power outlets built into the side of the cabinet, which come in handy for office use as well as for overnight guests who want to use electronic devices before bed. Your holiday guests are sure to love the convenience.
Sagebrush Country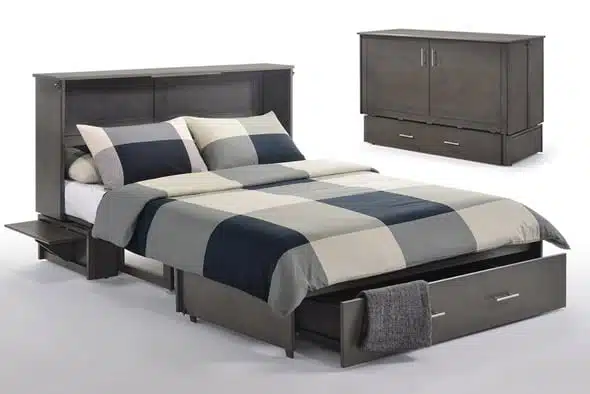 Our final featured cabinet bed, the Sagebrush, is one more option for adding a handsome piece of furniture that also functions as a guest bed. This one is our pick for a child's or teen's bedroom – and the perfect way to accommodate your younger guests at the holidays. But even more than that, the Sagebrush Cabinet Bed is ready all year long to help with sleepovers and slumber parties.
The contemporary finish of stonewash color easily fits into today's teenage bedroom. Your kids and their cousins are sure to enjoy a holiday visit where they can sleep in the same room, without having to inconvenience anyone else in the house. The small footprint of the Sagebrush means you won't have to clean out any existing furniture to make it fit. And the sturdy drawer beneath the cabinet is the ideal place for visitors to stow their belongings.
Daisy, Clover and Sagebrush Cabinet Beds are Holiday Helpers
Isn't it time you invested in Daisy, Clover and Sagebrush Cabinet Beds for your holiday guests? Order yours today and make this year's holiday get-togethers comfortable and convenient for friends and family.