Deciding Between a Wall Bed or Cabinet Bed
The term "Murphy bed" can apply to different types of foldaway beds. They may be a wall bed or cabinet bed and there are different configurations for each of those. So, when it comes down to deciding which model would be best for your specific application it is important to review the options. Here are a few considerations to help you when deciding between a wall bed or cabinet bed.
The Size and Layout of the Room
Perhaps the most important consideration is configuring the space available. For instance, if you wish to turn the area beneath a set of stairs or a spacious closet into a small guestroom, you are limited by its height, but a cabinet bed would probably fit nicely.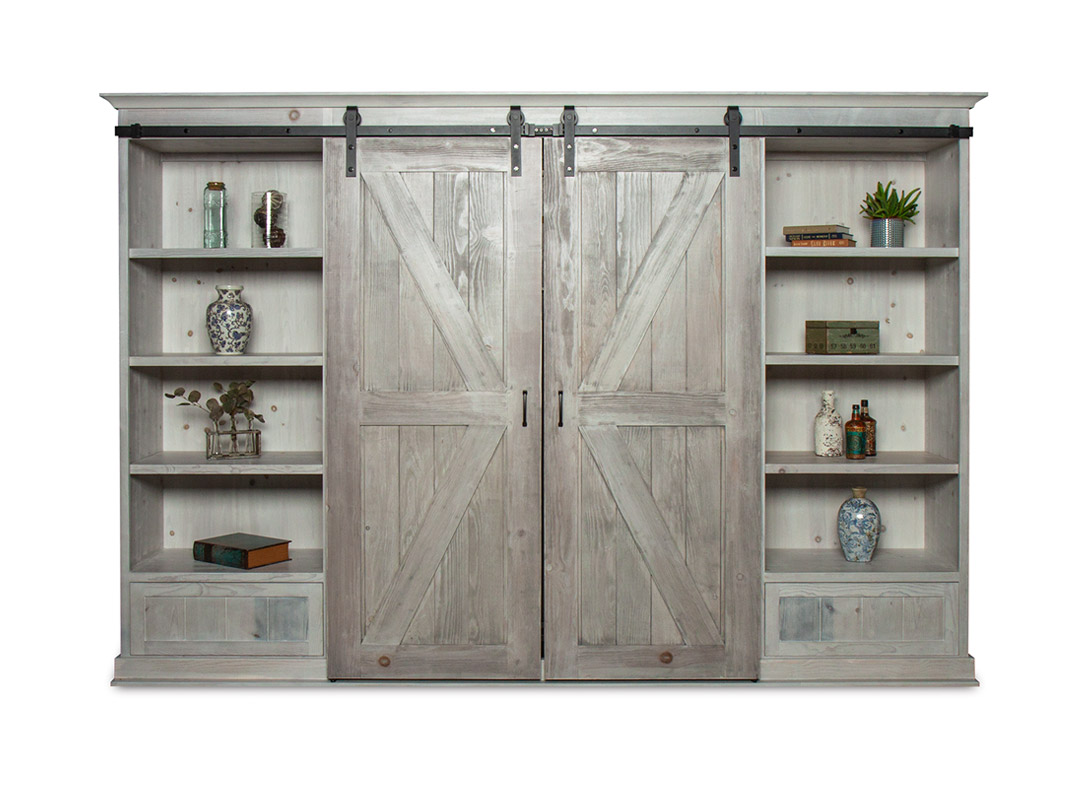 On the other hand, if you have a large room to furnish, a larger Murphy wall bed would work better. Plus, you can add side piers for extra storage or organization. At Murphy Beds of San Diego, we can also customize your wall bed and create matching millwork along two or three walls of the room for a cohesive look.
Speaking of Storage…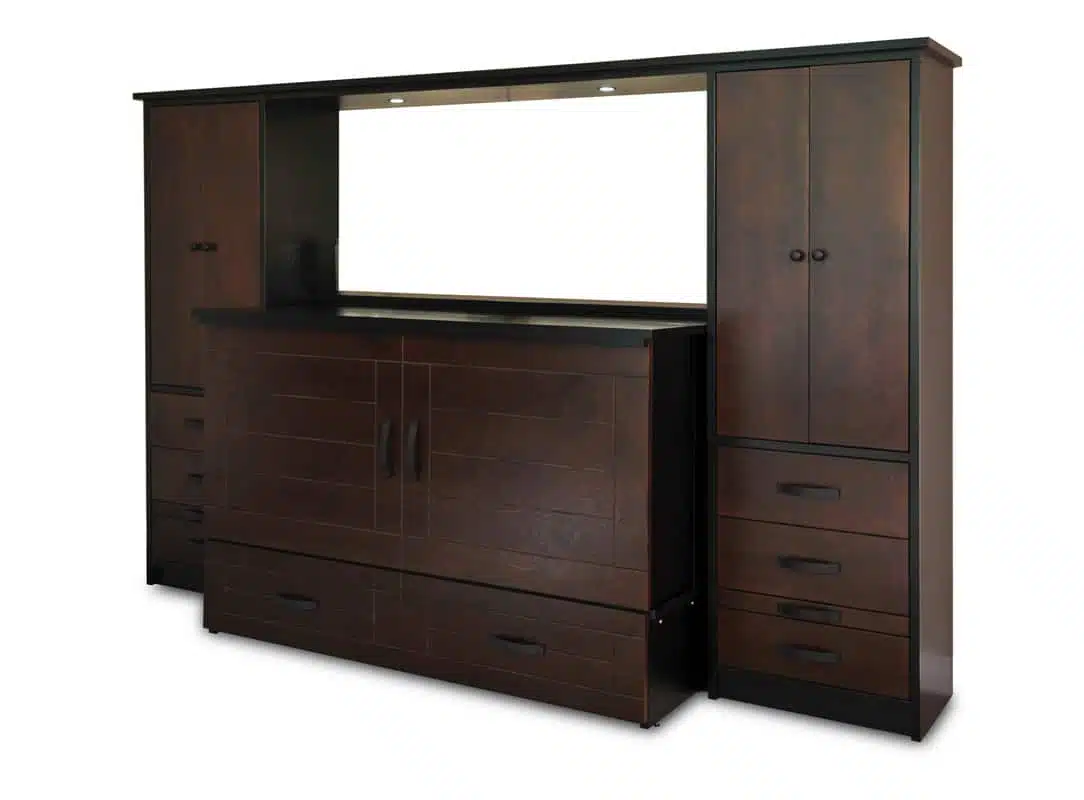 If you could use a lot more storage space in your home, deciding between a wall bed or cabinet bed might seem like an easy choice. A cabinet bed comes with a storage drawer along the bottom of the cabinet and will also hold a TV monitor on the top of the cabinet. But you could opt for this Metro Cabinet Bed with Wall Unit that includes handy puck lights to provide lots more storage.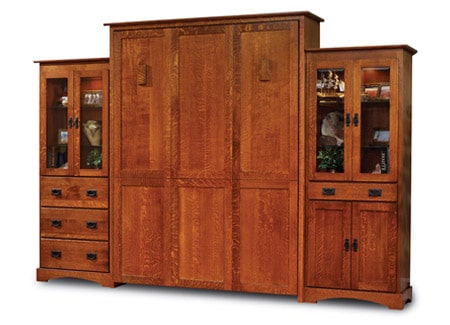 There is no comparison, however, if you size up the options for side piers on a Murphy wall bed. As mentioned above, we can customize your order and include everything from a wardrobe to a silverware drawer, pet bed to cubbies with baskets. We have created all this and more for our clients. When it comes to custom wall beds with storage and functionality, the sky truly is the limit.
Multifunctionality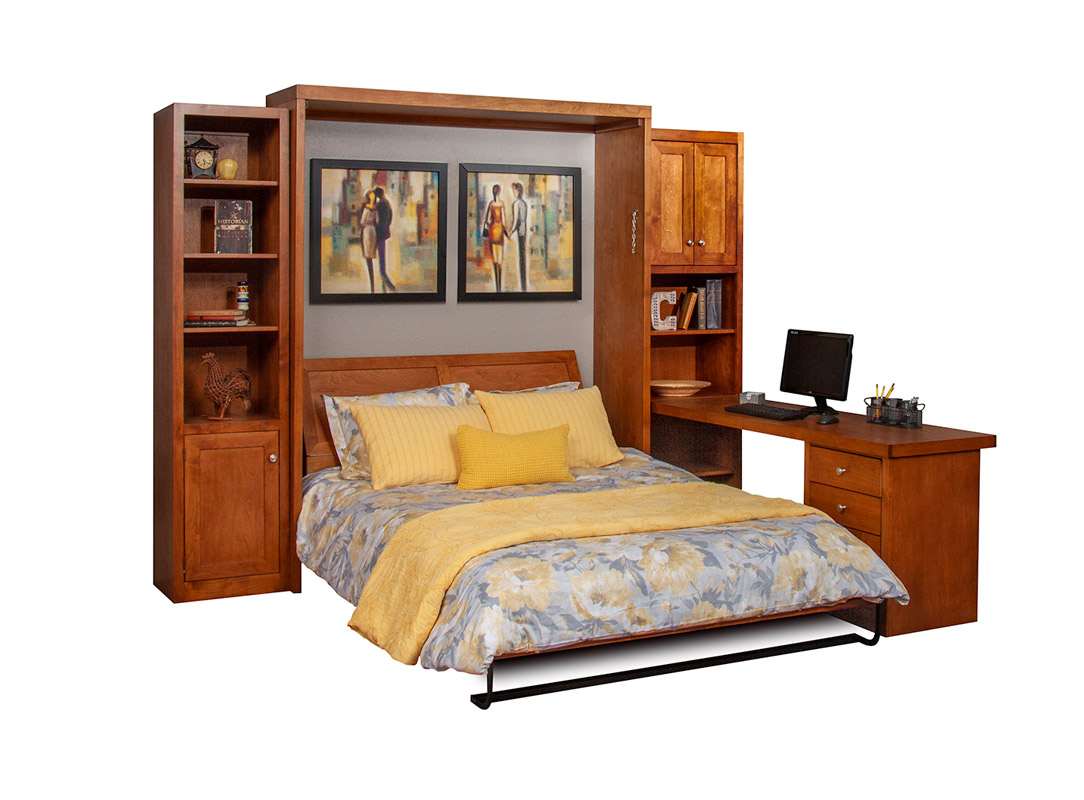 This is one area where the choice is clear between a wall bed or cabinet bed: the Murphy wall bed will win every time. If you wish to create a home office, game room, hobby area or workout space, a wall bed can be configured with attached desk, table, wardrobe or sofa. Murphy wall beds are a great choice for rooms that only occasionally accommodate overnight guests or for a mother-in-law suite, basement apartment or other limited space. While cabinet beds still function perfectly well as a bed for overnight visitors, they do not provide the multifunctionality of a wall bed.
Who Will Be Opening and Closing the Bed?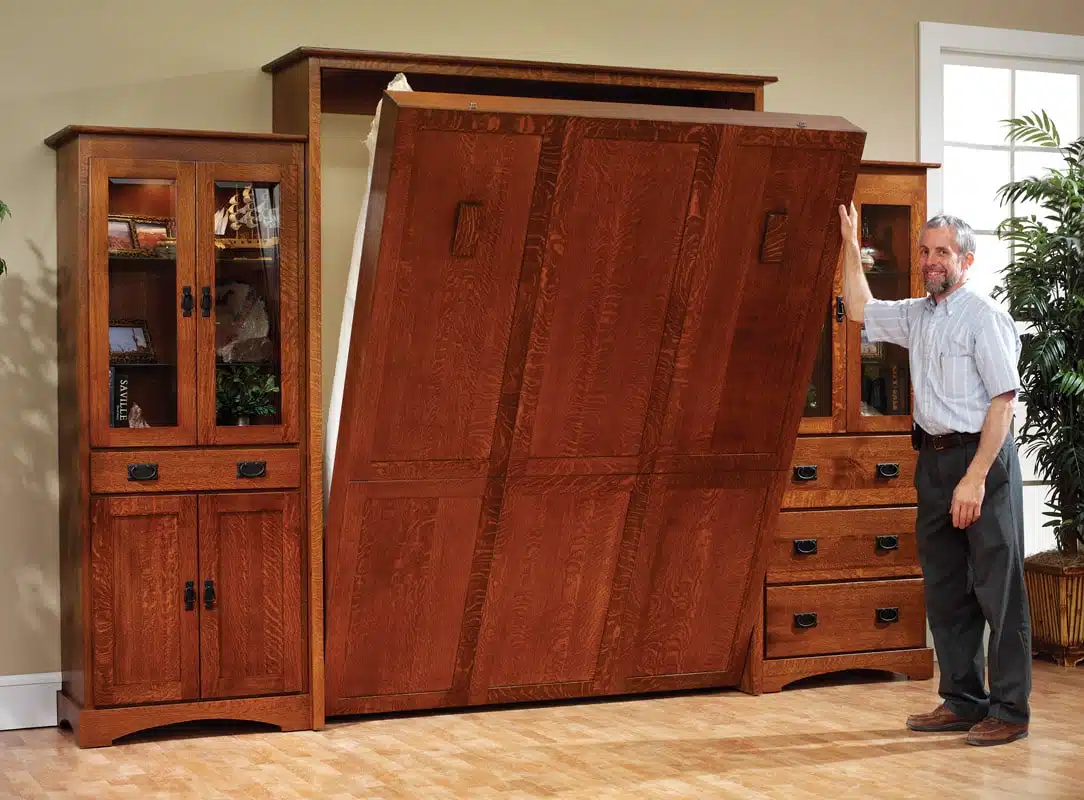 Another consideration is who will be opening and closing the bed. A traditional Murphy bed utilizes hydraulic pistons and springs to easily pull the mattress down from the cabinet attached to the wall. A cabinet bed, on the other hand, requires a couple more moves to get the mattress ready for sleeping and could be a bit heavy for someone with limited mobility.
Home Value Consideration
Finally, decide how long you plan on staying in your current home and how the addition of a wall bed or cabinet bed will affect resale value. A Murphy wall bed must be securely attached to the wall, so it usually becomes part of the home and increases its value. A cabinet bed, on the other hand, is mobile and can be moved just like any other furnishing.
We hope you have a clearer idea of whether your best option is a wall bed or cabinet bed. If not, please visit our showroom or give us a call to discuss your specific needs.