Downsizing? Add Extra Storage and Space with a Cabinet Bed
As the kids head off to college maybe you are thinking about making changes to your empty nest by downsizing your living space. But downsizing also means you need to figure out how to add extra storage and space in less square footage. One of the most ingenious ways to provide an extra bed for guests while not taking up a lot of room is to add a cabinet bed. Here is how it's done.
Benefits of a Cabinet Bed
Cabinet beds are always a wise purchase, no matter the circumstances or place where you live. The cabinets are made out of 100 percent solid hardwood and available in several different finish colors.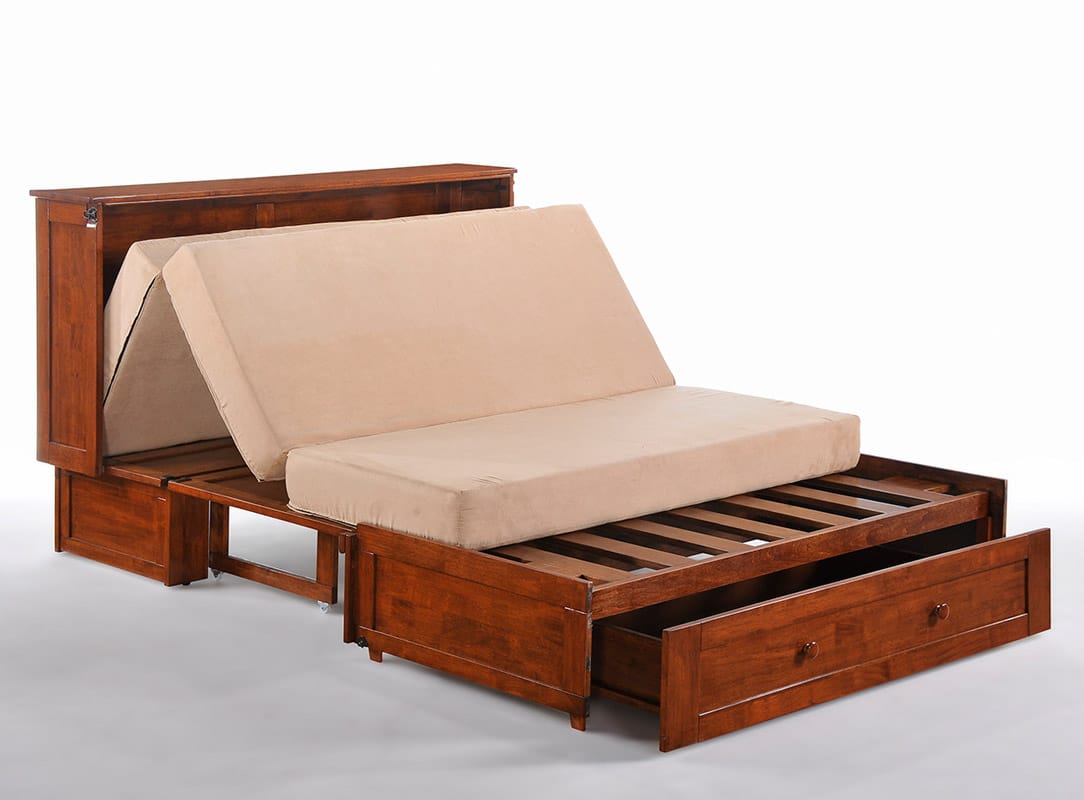 Cabinet beds come complete with a premium, trifold memory foam mattress that folds up inside the compact cabinet. They are rated to accommodate sleepers of up to 500 pounds. Opening the bed for sleeping is as easy as simply lifting the top of the cabinet, pulling out the storage drawer to use as a base and then tugging the mattress out to a flat position – all this takes less than a minute.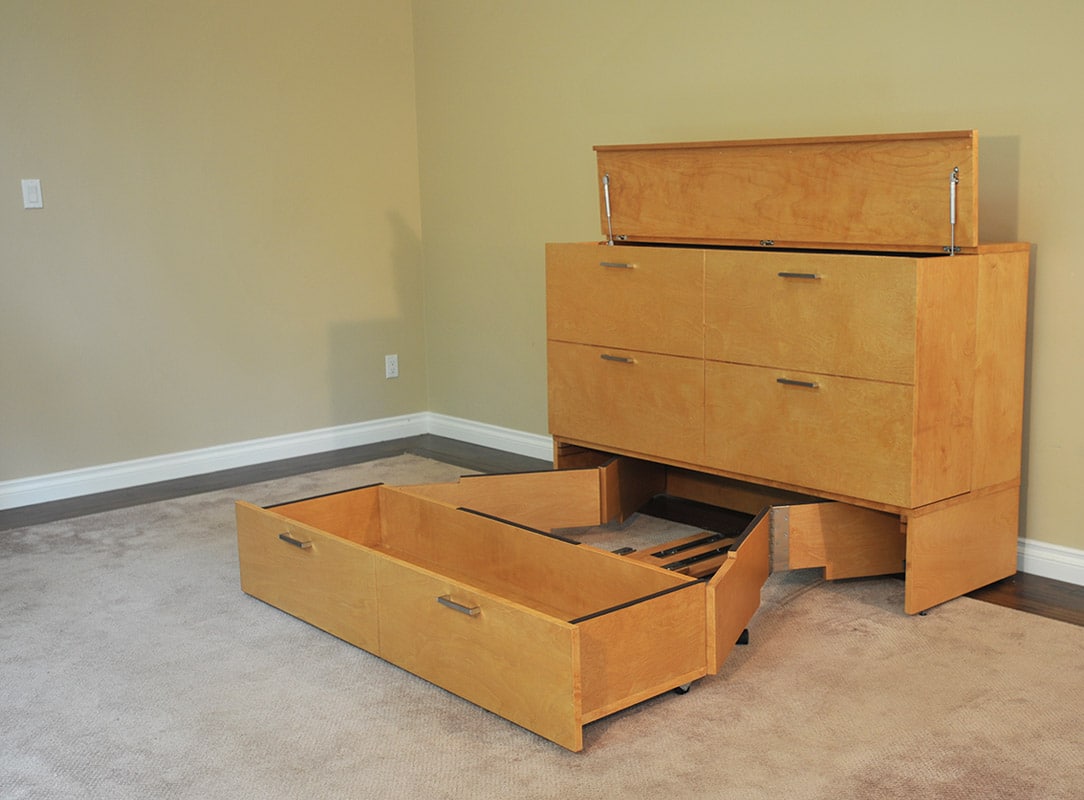 A roomy storage drawer compartment 59 inches in width provides a place for extra storage in your newly downsized home. It is deep enough to easily hold lots of items that can be neatly corralled and out of sight.
Cabinet beds are extremely safe; they do not need to be anchored to the wall like traditional Murphy beds. There is no assembly required; simply order your cabinet bed and have it delivered, then set it up in any room. You can easily take the cabinet bed with you if you decide to move.
Cabinet Beds Fit Nearly Anywhere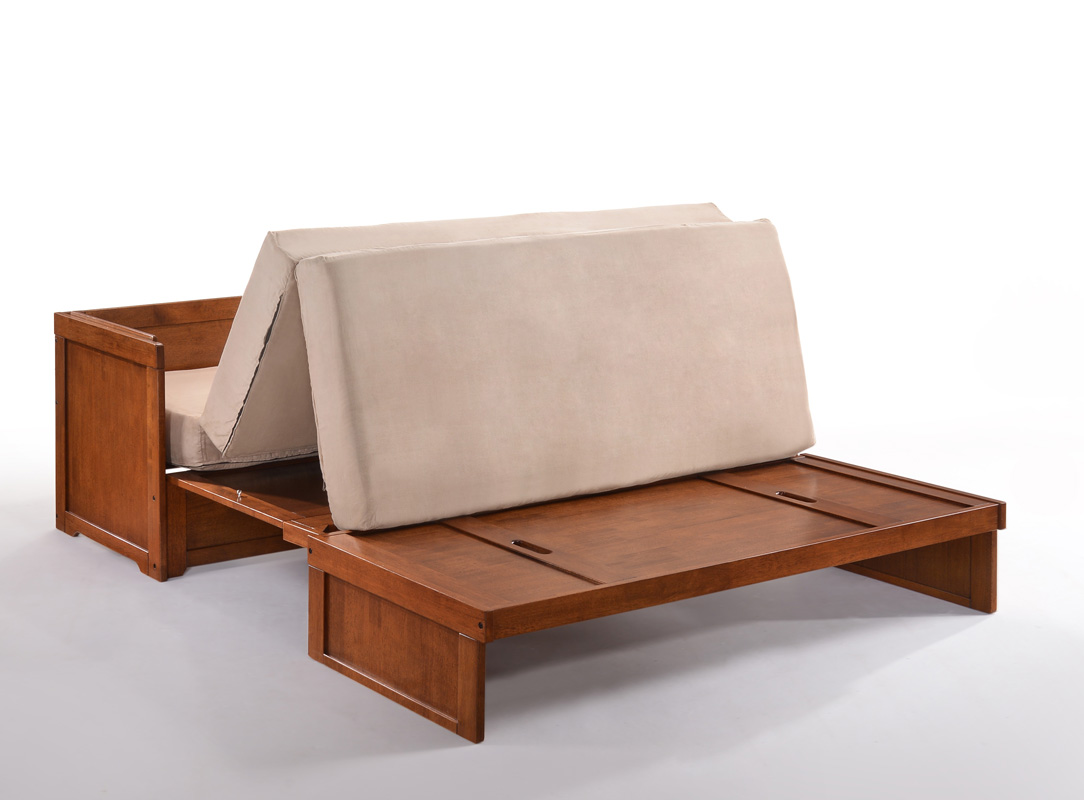 When downsizing, cabinet beds – including the small Cube cabinet bed – are an ideal solution to providing a place for overnight guests to sleep without needing a dedicated room. Their very small footprint of right around 10 square feet means they are easy to slip into corners or even into closets. In fact, the low profile and small size of a cabinet bed, which comes with a queen-size mattress, makes it a handy addition to any room. You could put in your living room and use it to hold a TV set on top of the cabinet, which is rated for a screen of up to 60 inches. Another idea is to incorporate this ingeniously designed bed on an enclosed porch, basement, work room or crafting area.
Your Guests Will Thank You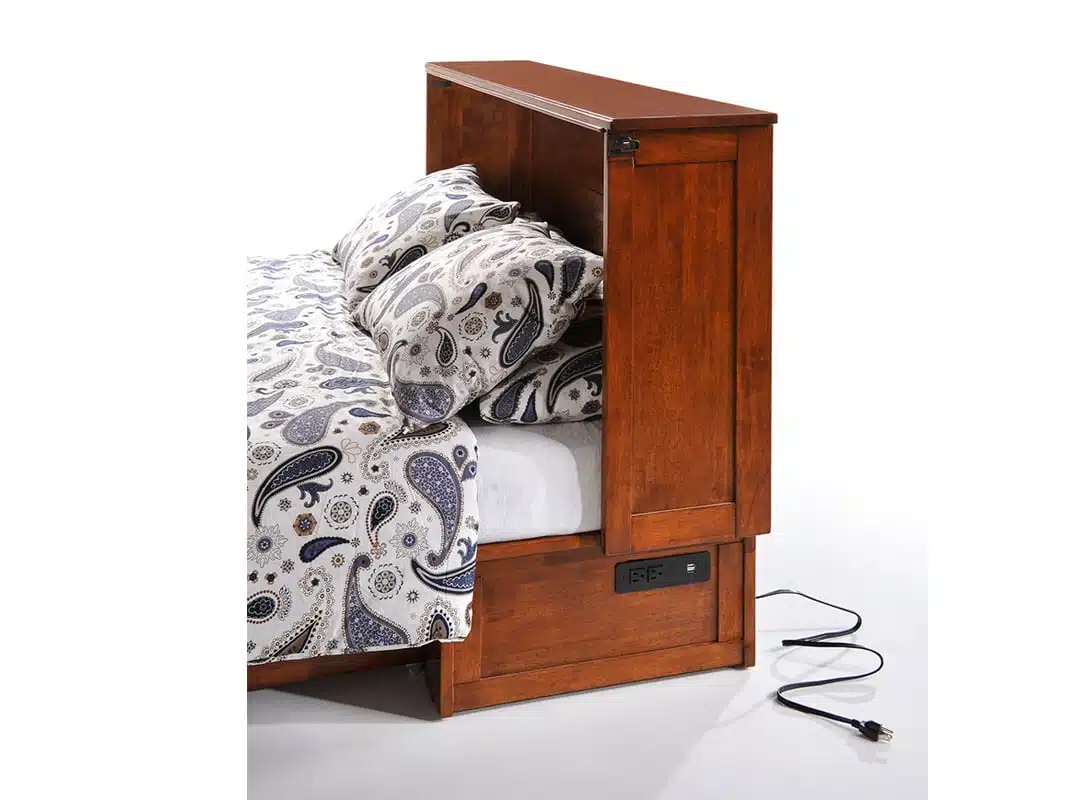 Some of our cabinet bed models, such as the Clover Murphy cabinet bed, feature a dual USB/power outlet located at the bottom of the cabinet, which becomes the head of the bed when the mattress is pulled out. The premium Certi-Pur memory foam mattress is supportive and comfortable enough to sleep on every night. The bottom storage drawer adds extra storage and space and can be used to hold your guest's clothing, extra bed linens or thoughtful little items such as soap, towels, magazines, books and the like.
If it's time that you downsized your home, take heart. You can add extra storage and space plus provide a very comfortable bed for overnight guests all with the addition of a nifty cabinet bed.