Modern Style Meets Classic Ingenuity with the Metro Cabinet Bed
In today's home, we often want and need rooms that serve multiple purposes. Of course, a Metro cabinet bed is a perfect way to make space for everything that happens in a spare room. But how does that antique creation marry with the style of today's modern homes? Perfectly well!
Cabinet Bed History
Did you know that cabinet beds have been around for nearly a century-and-a-half? It was back in 1885 that Sarah Goode, a former slave, came up with the ingenious idea to create a folding bed that fit into a cabinet against the wall. Unlike the Murphy bed, whose inception was attributed to William Lawrence Murphy 15 years later, Goode's bed folded up into a cabinet that also functioned as a secretary desk. No doubt that first model was small and cramped, but the idea was resourceful and has stood the test of time.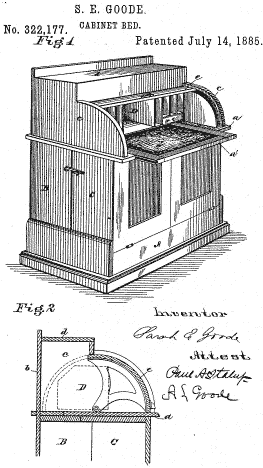 Luckily, today's cabinet beds feature premium, gel-cooled memory foam full- or queen-sized mattresses for comfort. And they look right at home in any contemporary room.
Enter the Metro Cabinet Bed
One of our favorite cabinet beds for a contemporary décor style is the Metro. Just as its name suggests, this one features the sleek lines and timeless style found in urban residences and a small, but handsome, footprint.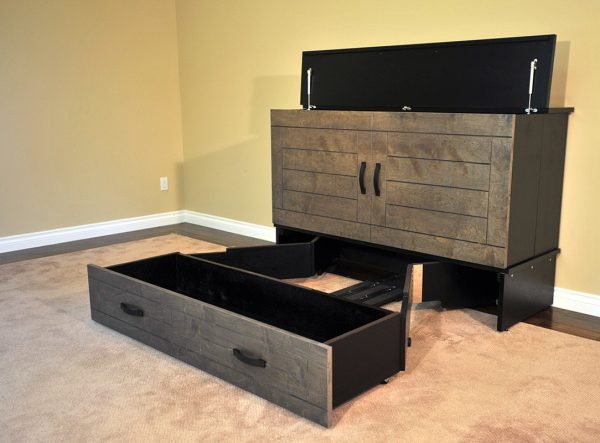 The Metro is part of our North American collection of quality cabinet beds constructed right here in North America of solid hardwood. Unlike its cheaper counterparts manufactured overseas and shipped to the States, this freestanding cabinet bed uses sustainable American birch only, no particle board or MDF. That means the Metro is rated to support a sleeper up to 500 pounds. And along the top of the cabinet, you can place a TV of up to 60" screen size without worry it will topple over.
Not only is the design of this handsome cabinet bed sleek and contemporary, it is perfectly suited for our modern, hectic lifestyles. Patience is no longer deemed a virtue and you won't need it to use the Metro. The bed opens in as little as half a minute and stowing it away after use takes up the same small bit of time.
The cabinet of the Metro is available in your choice of a dozen different finishes – everything from modern, glossy white to a rustic, weathered walnut that goes perfectly with the industrial décor so popular today.
The large, sturdy drawer located on the bottom of the cabinet frame is a great place to store extra linens, hobby supplies, books, clothing or just about anything else you can imagine. Need more space? Add a wall unit with additional drawers and shelves.
The Modern Small Space Solution
If you are living in an apartment, condo or townhome with small rooms, the Metro cabinet bed is the perfect addition. It folds up neatly against the wall in a cabinet that takes up only about 12 square feet of floor space. There's never any need to lament your lack of space for a guestroom when you can easily install a Metro cabinet bed that serves as a TV stand, storage drawer and guest bed all in one.