A Sagebrush Cabinet Bed Can Fit Almost Anywhere
When you have just a small amount of space but big ideas about how to use it, the Sagebrush Cabinet Bed comes to the rescue! Its small footprint means you can add an extra bed encased in a beautiful wood cabinet almost anywhere in your home.
Why Choose the Sagebrush Cabinet Bed Over a Murphy Bed?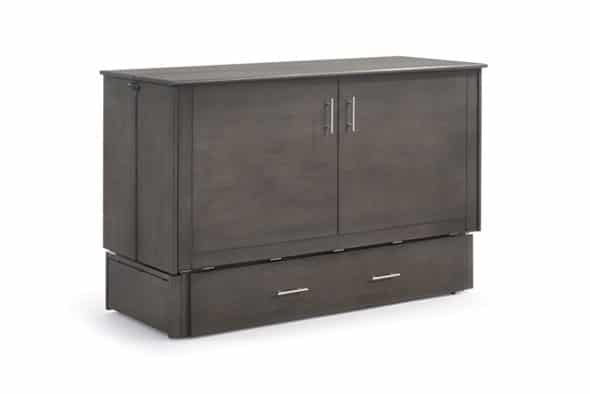 The Sagebrush is a cabinet bed; that is, the tri-fold, cooling gel memory foam mattress that comes with it folds up within a horizontal wood cabinet. It requires no installation and no drilling into walls and can easily be moved from one room to the next. This cabinet bed can easily support decorations or even a TV on top of the cabinet when not in use as a bed.
A Murphy bed, on the other hand, is one that incorporates a flat mattress folded up within a frame that resembles a door. Murphy beds often come with a desk along the front and side piers for a complete storage or home office system. Murphy beds are permanently attached to the wall.
So why choose the Sagebrush cabinet bed over a Murphy bed? It is the perfect option not only for budget-conscious consumers, but homeowners who have only a little bit of room to spare for a guest bed. While both types of beds take up the same space when in use, the Sagebrush cabinet bed takes up only 10 square feet of floor space so it's easy to slip into a small room or other area in the home.
About the Sagebrush Cabinet Bed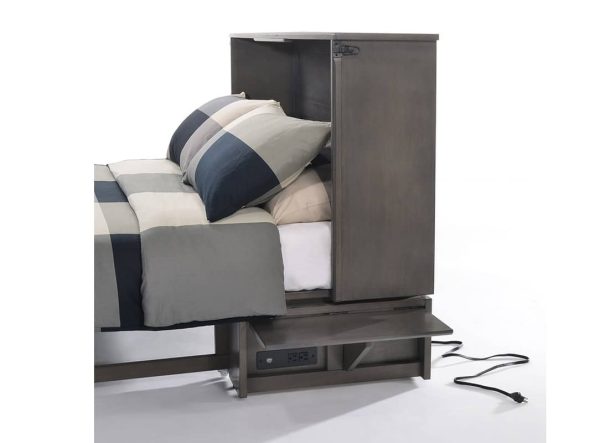 This top-seller includes under bed storage and even electrical outlets and a USB port with a built-in tray, making it both comfy and convenient for overnight guests.
Its solid hardwood construction means the Sagebrush is made to last and even withstand abuse from rowdy kids and frequent sleepers! A limited 10-year warranty backs up the claim that is a well-constructed cabinet bed.
Where Could You Put a Sagebrush Cabinet Bed?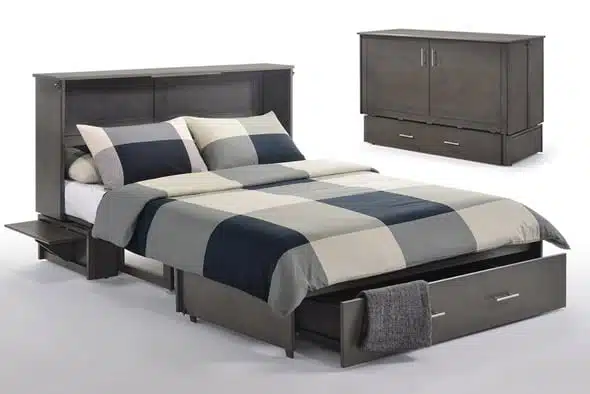 Because of its slim dimensions – just over 63" in width and nearly 24" in depth – the Sagebrush cabinet bed can fit into very small spaces. Even if you don't have a dedicated guest room, you are sure to find a place to add this beautifully designed cabinet bed to provide overnight guests a comfy place to sleep.
How about a closet? Whether it's in the hallway, an extra room or even a child's play room, a closet that isn't being used to its full potential could easily become an instant "bedroom." Stow the linens in the under-bed storage drawer and everything looks neat and tidy.
Maybe you have a wide hallway near the bedrooms in your home – another great place to put a Sagebrush cabinet bed. Add a curtain for a bit of privacy and this becomes a nice little niche for the occasional overnight guest.
A child's bedroom is another great place for a Sagebrush cabinet bed. This is particularly useful if your child has frequent sleepover guests. The cabinet can store toys in the under-bed drawer and books along the top, then transform into a cozy bed for his or her friends.
Do you have a child going away to college soon? A cabinet bed can be the perfect solution to providing a good night's sleep in tight quarters in a dorm, sorority/fraternity house or small apartment. The Sagebrush cabinet bed's higher sleep platform and premium gel memory foam queen mattress means your college student can't use the excuse of not sleeping well to explain poor performance.
Stop and think about the possibilities. Where could you put a Sagebrush cabinet bed in your home?