Small Guest Rooms Rely on Foldup Cabinet Beds
It can be quite difficult to keep a small guest room neat, tidy and organized. This room tends to be a catch-all of hobby items, exercise equipment, home office supplies and out-of-season clothing, among other items. Then, just when you find out Aunt Mabel is coming to stay for a couple weeks, it's time to clear the bed and clean the linens. If only there was an easier way to accommodate the occasional overnight guest… But wait, there is. Foldup cabinet beds are the answer.
Size Matters
Most of us do not have access to anything more than one small, extra room in our homes. And usually this extra room has to function as an office, storage space, rec room and more.
The biggest obstacle to making it more user-friendly year-round is the lack of space. Even a small, twin-sized mattress on a traditional bed takes up far too much real estate in an already cramped room.
And forget the sofa bed. Even though they have come a long way in terms of comfort, this is not an ideal solution for allowing your overnight guests to enjoy a good night's sleep. In some homes, the configuration of the hallway and door aperture does not allow you to get a sofa through the opening anyway.
Make the Best Use of Your Space
When you only entertain the occasional overnight guest, it simply does not make sense to include a traditional bed in your extra room. Instead, consider adding a cabinet bed. Here are the all the reasons why this is the ideal solution.
Did you know that cabinet beds take up less than 10 square feet of space? Just imagine all that you could do with the additional floor space this innovative piece of furniture frees up when not in use as a bed.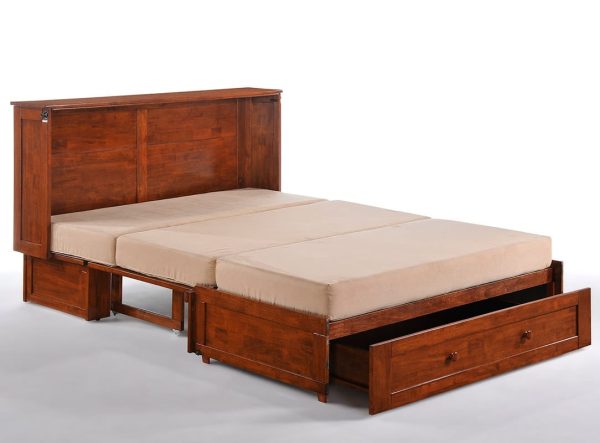 Foldup cabinet beds are quite comfortable. Each one comes with a premium gel, tri-fold memory foam mattress in queen size. These beds are so comfy you could easily sleep on them each and every night and awake well-rested.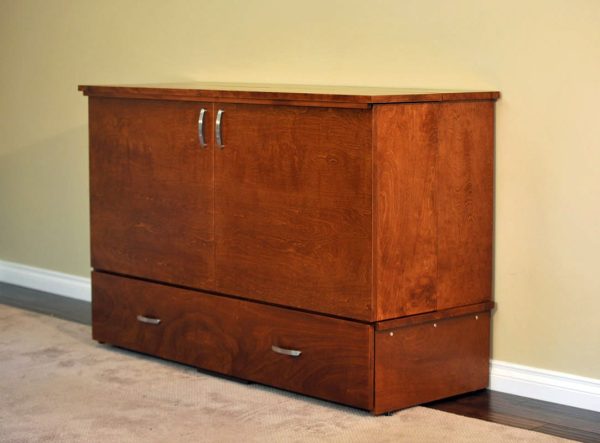 Foldup cabinet beds are a handsome furnishing. They are made from solid North American hardwood and available in your choice of finish color. If you wish to update the look a bit, consider changing out the drawer pull hardware. Add a television set, group of pictures or arrangement of books to the top of the cabinet to make it look right at home in your guest room.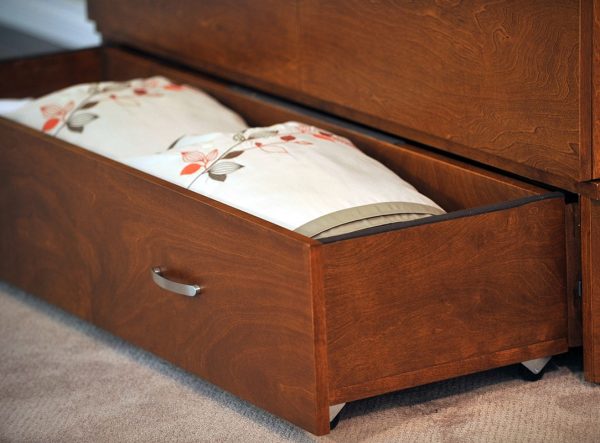 Here's one more benefit of a foldup cabinet bed – each is equipped with a spacious, 59-inch storage drawer. No more scrambling to put away items to tidy up the room. Use the drawer as a permanent place to store clothing, linens, paperwork, guest towels and more.
Don't Add On – Use a Foldup Cabinet Bed to Make the Most of a Small Guest Room
Adding a foldup cabinet bed to your extra room is much more economical than renovating or adding on to your house to make room for overnight guests. It looks attractive, adds storage space in a very small footprint and provides a very comfortable place for your guests to sleep, as needed.