Streamline Your Life with Multifunctional Wall Beds
Summertime (almost) and the livin' is easy, right? The immortal words of George Gershwin are important to keep in mind as we head into the summer season. Who wants to spend all their free time and waste the beautiful weather caring for and cleaning their homes? Free yourself from onerous chores; streamline your household and spend more time doing what you truly want to do with the help of multifunctional wall beds.
How Can Wall Beds Help Me Streamline My Life?
One popular way to streamline is by downsizing your possessions. This is a very freeing act, one which helps you start anew with fewer things, no clutter and only the essentials. In fact, it is very popular these days largely due to bestselling books such as "The Life-Changing Magic of Tidying Up" and "Let It Go: Downsizing Your Way to a Richer, Happier Life."
But one thing these books don't directly address is the way that we can all downsize our furnishings, as well. Today, there are plenty of options for home furniture that does double, triple or even quadruple duty. Besides things like storage ottomans and sofa beds are multifunctional wall beds. Their ingenious cabinet and side pier design allows them to be customized for an almost limitless number of functions.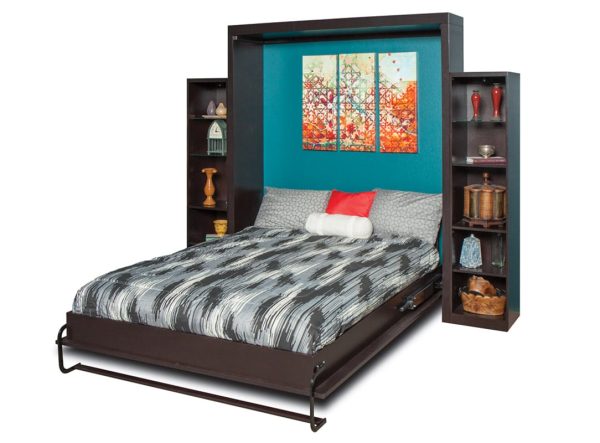 Ways to Make Multifunctional Wall Beds Perfect For Your Downsized Home
Wall beds, with comfy mattresses that tuck up neatly into a handsome cabinet attached to the wall when not in use, are incredibly versatile. Just imagine what you could do with the extra space this adds to your home. Then come in and meet with our designers and we'll make it happen.
For instance, we've helped our customers with space-saving solutions for many different applications. Some of the multifunctional wall beds we've designed include side piers and cabinets that function as wardrobe/closet space, jewelry armoire, pet bed, shoe and fashion accessory storage, cubbies for a hobby, sewing table, eating nook, complete guest suite, collectible showcase, entertainment center, exercise equipment storage and much, much more. This in addition to the more common multifunctional wall beds which double as home office or study areas.
With multifunctional wall beds, you can discard several pieces of separate furniture and combine all that functionality in a single Murphy bed. Toss away that bookcase and store your books neatly on side pier shelves with drawers to neatly stow work accessories. Get rid of that bulky desk and incorporate a fold down desk with built-in lighting, or one that stays in place while the mattress folds over it when in use. Take away closet doors and completely open that space for another use, while adding one or two side wardrobes to your wall bed. Discard that old entertainment center and put your electronics on, or next to, a wall bed with handy power outlets and USB plugs.
Streamline Your Furnishings
When it comes to streamlining your home, why not start by ridding of it those bulky, heavy, big pieces of furniture that serve only a single purpose? Multifunctional wall beds are the ideal way to keep things simple, yet organized, neat and tidy.