Tips for Decorating a Mother in Law Suite with Cabinet Bed Queen
A common way for many homeowners to expand their space and perhaps provide a comfortable, private space for guests or relatives is to add on to their house or repurpose extra square footage, such as over a garage. Commonly referred to as a "mother-in-law suite", this is a self-contained apartment that includes a kitchenette, bathroom and living space. Here are some tips for using this apartment and making the small space function to its fullest by utilizing a cabinet bed queen.
A Mother in Law Suite is Handy to Have
Even if you do not currently have a relative who is living with your family full-time, an apartment attached to your home (or detached, elsewhere on the property) is nearly always a very good investment. Not only does it prepare your family for the future, you can use it as an additional source of income by renting it out through an online home rental property aggregator site. In any case, take some time to properly equip the space and it is sure to bring about a good return on your investment.
No matter how small the square footage of your mother-in-law suite, the key is ensuring that every inch works efficiently to create a fully functional apartment.
Sleeping Space Multiplied with a Cabinet Bed Queen
Consider sleeping space. The apartment may or may not have a dedicated bedroom. In either case, you can substantially multiply sleeping space by adding a cabinet bed queen.
One of the best features of a cabinet bed is that it takes up so little square footage that you can put it nearly anywhere. That includes in a bedroom, as a second bed. Or, in a studio apartment, the cabinet bed queen can function as the regular bed and still allow your guests or tenant to sleep in comfort. This is due to the premium tri-fold, gel and memory foam queen-sized mattress that is included with each cabinet bed queen.
Multi-Functional Pieces
When designing the interior of your mother-in-law suite with limited room, be sure to select furnishings that serve more than one purpose. For instance, instead of a coffee table, use ottomans or cubes that open up for storage and also do duty as extra seating when needed. A sofa with built-in cup holders, pull-down tray and pockets for a remote and magazines is a good choice, too. Lots of built-in shelving with drawers and cupboards keeps things neat and a cabinet bed queen, which folds up against the wall, maximizes floor space. The top of the cabinet bed also provides the perfect place for a large television set, while the roomy storage drawer on bottom is an ideal spot for extra bed linens, towels, clothing and more. Another bonus? Some of our cabinet beds are equipped with built-in USB and power outlets conveniently located along the bottom side of the cabinet.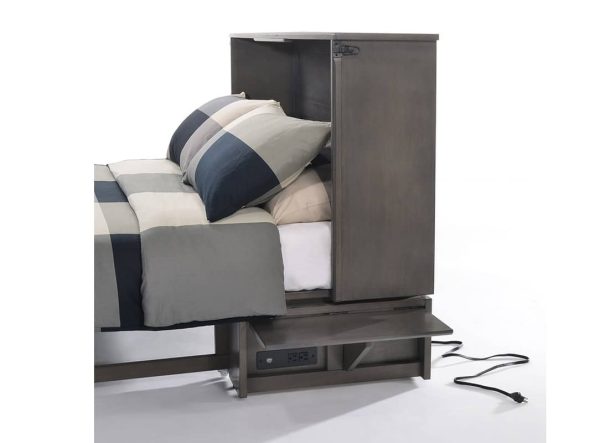 When designing a mother-in-law suite, don't let the lack of square footage stand in the way. By utilizing a cabinet bed queen and other, multi-functional furnishings, this will be the perfect place for family members, overnight guests and even online renters to enjoy a comfortable, quite space.