Using Cabinet Beds as Room Dividers
Have you heard about what one of the latest trends to hit home décor this year? It's the room divider. Yes, after several decades of falling out of favor with interior designers, a structure that visually and physically separates space is once again in vogue. But today we have more options than ever to create separations in any room of the home. We suggest that using cabinet beds as room dividers is a much better use of space than a simple accordion fold screen.
Cabinet Beds as Room Dividers
The number one advantage of a cabinet bed over a screen to create a division of space in any room is that this piece of furniture easily serves multiple purposes. Of course it contains a bed that pulls out from a freestanding cabinet to accommodate overnight guests. It is also comfy and supportive enough to be your nightly sleeping pad, due to the premium, trifold memory foam mattress that comes with the purchase of each cabinet bed. But in addition to being a cleverly hidden bed, a cabinet bed does so much more as the following descriptions show.
The Metro Wall Unit and Cabinet Bed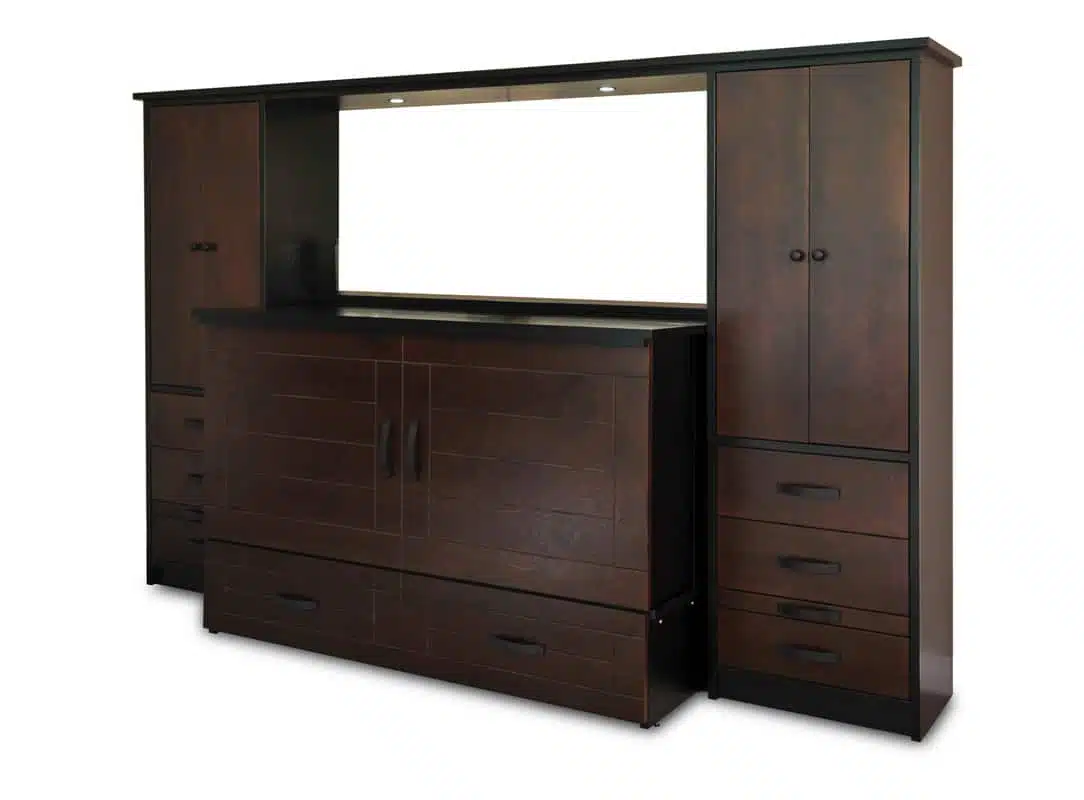 One option for cabinet beds as room dividers is the Metro model, which is available with a matching set of side piers. The Metro wall unit and cabinet bed is the perfect room divider since the side piers are taller than the cabinet bed itself. Those piers are an ideal place for storing clothing, bedding, paperwork, crafting supplies – you name it, the Metro wall unit can probably accommodate it and keep things all neat and organized while being a handsome room addition, as well.
The Clover Murphy Cabinet Bed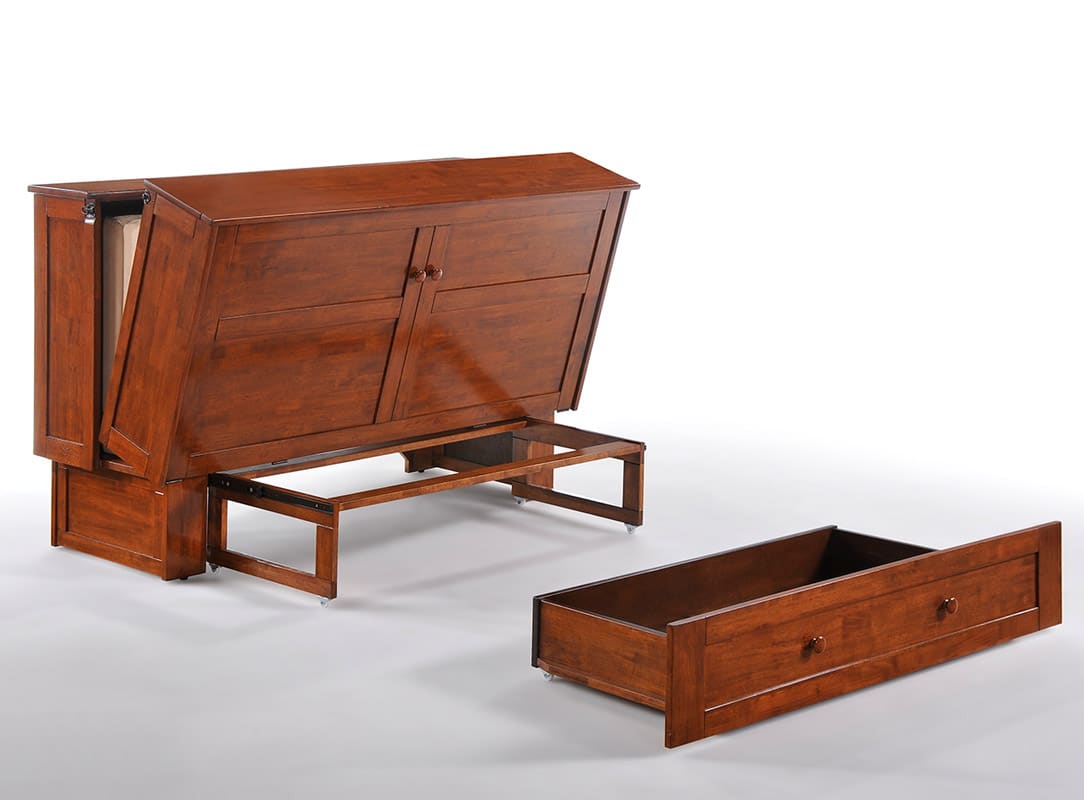 Another good choice for using cabinet beds as room dividers is the Clover Murphy cabinet bed. It features a transitional style that works well in any room with nearly any type of décor. The Clover cabinet bed is available in three different finish colors (cherry, white and dark chocolate). The bottom of the cabinet includes a very roomy storage drawer which is the perfect place to store extra blankets, pillows, clothing, magazines, games and more. The top of the Clover Murphy cabinet bed is rated to hold a television set with screen of up to 60 inches. You could also place a tall flower arrangement, row of large books or set of storage bins on top of the cabinet to add to its height as a room divider.
The Sagebrush Murphy Cabinet Bed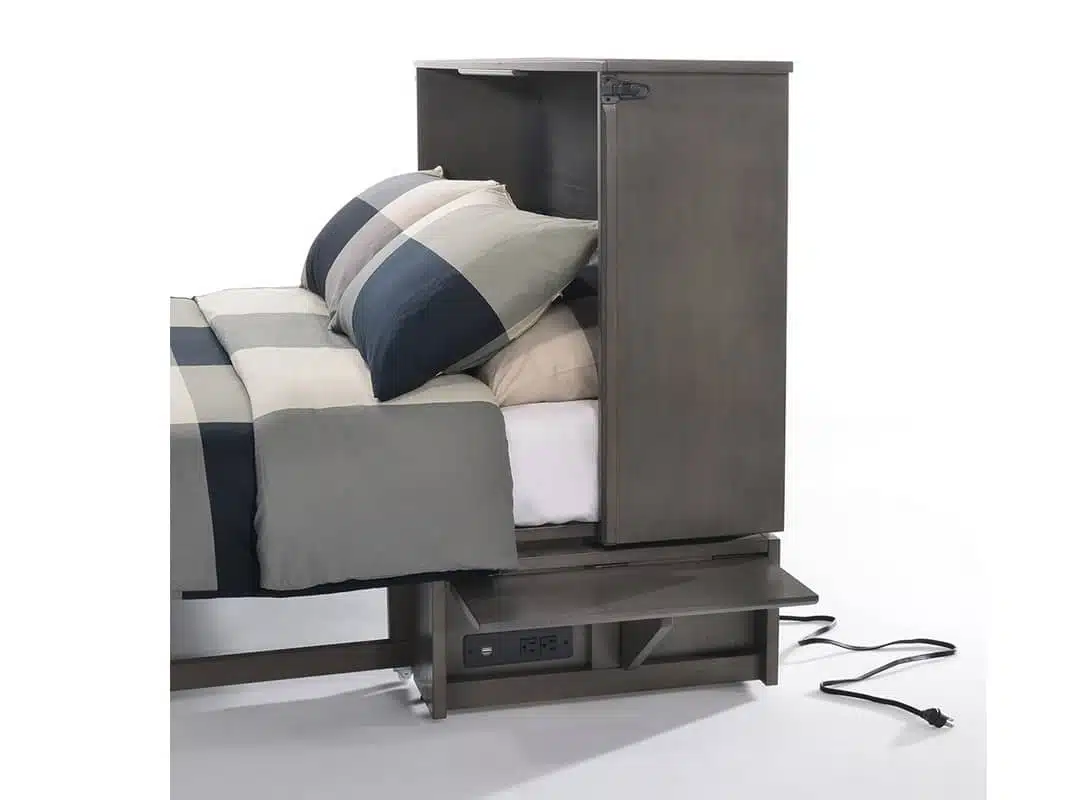 Here's one more good choice for a cabinet bed that easily doubles as a room divider: the Sagebrush Murphy cabinet bed. Much like the Clover model, the Sagebrush is a traditionally sized cabinet bed with queen mattress, a large storage drawer and a cabinet top that easily and safely holds a tall object. But in addition to these nifty features, the Sagebrush also has a very useful and handy USB/power module and small foldout talbe set into the cabinet at the head of the bed. When your cabinet bed room divider needs to be put into service as a place for guests to sleep, they are sure to enjoy this little convenience – but it can also be used on a daily basis for charging electronic devices.
We hope you have a better idea of how using cabinet beds as room dividers is a better choice than traditional options. After all, who couldn't use an extra bed?