Where Could You Use a Queen Storage Cabinet Bed?
Could you use an extra bed for overnight guests? Could you use extra storage space? How about combining both in a footprint of less than 10 square feet? Read on for suggestions on how you could use a queen storage cabinet bed in your home.
About Our Queen Storage Cabinet Bed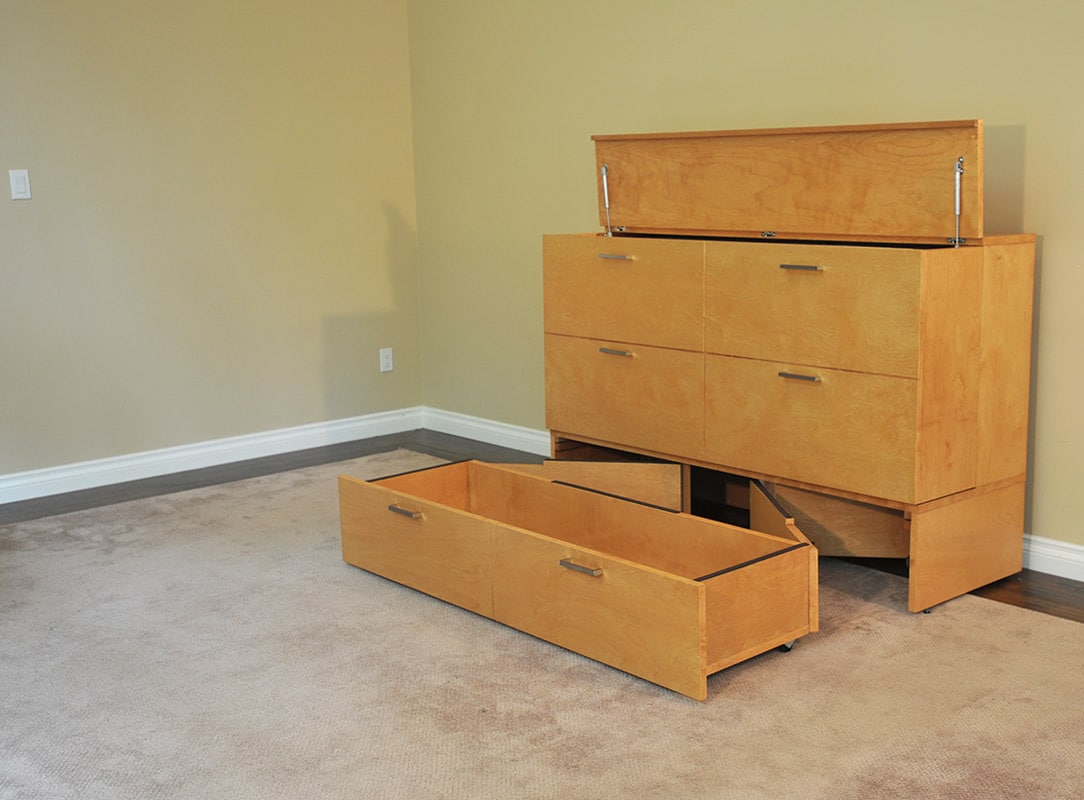 At Murphy Beds of San Diego, we only sell durable cabinet beds that are crafted from solid hardwood and built to last. Each one comes standard with a premium tri-fold, queen-sized mattress (no box spring necessary) and a roomy storage drawer along the bottom of the cabinet. The top of the cabinet is rated to hold a television set of up to 50" wide. It also sturdy enough to support a collection of books, office supplies, trinkets or photos. Each of our all-wood cabinet beds is available in your choice of finish. Some of them even come with a power and USB plugin added to the front side piece of the cabinet.
Extra Room/Guestroom
Most of us have an extra room that needs to serve as the space for us to do everything we can't accomplish elsewhere. That usually means our guestroom also functions as a home office, exercise space, hobby room and more.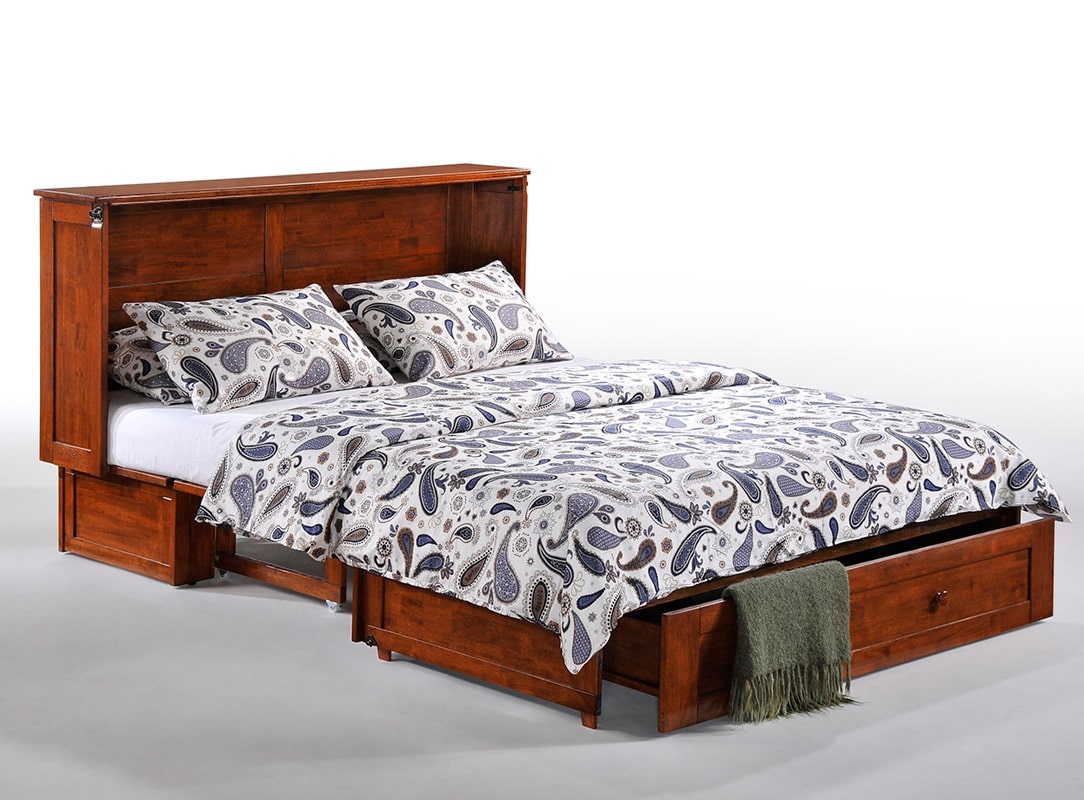 Adding a traditional bed takes up a lot of the precious square footage in your extra room. A cabinet bed, however, tucks up against a wall and has a very small footprint. That means it won't be in your way when you are practicing your downward dog or paying bills. But when you have an overnight guest, simply pulling the bed out of the cabinet instantly provides a comfortable and supportive sleeping platform.
Kid's Bedroom
Here is another brilliant idea for adding useful space: a queen storage cabinet bed in your child's bedroom. By day, the cabinet bed's storage drawer and cabinet top are excellent places to stow toys, homework papers, books, clothing and more. A TV or computer monitor can make its home on top of the cabinet.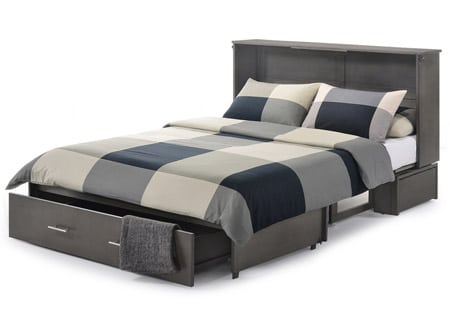 At night, the cabinet bed can be the place your child has sweet dreams. Or, the queen storage cabinet bed can function as the place where his friends bunk down for a weekend sleepover. Because it is well-made from solid wood and features sturdy hinges and locking mechanism, you can rest assured that this cabinet bed will hold up to your child's use and be safe.
Living Room or Den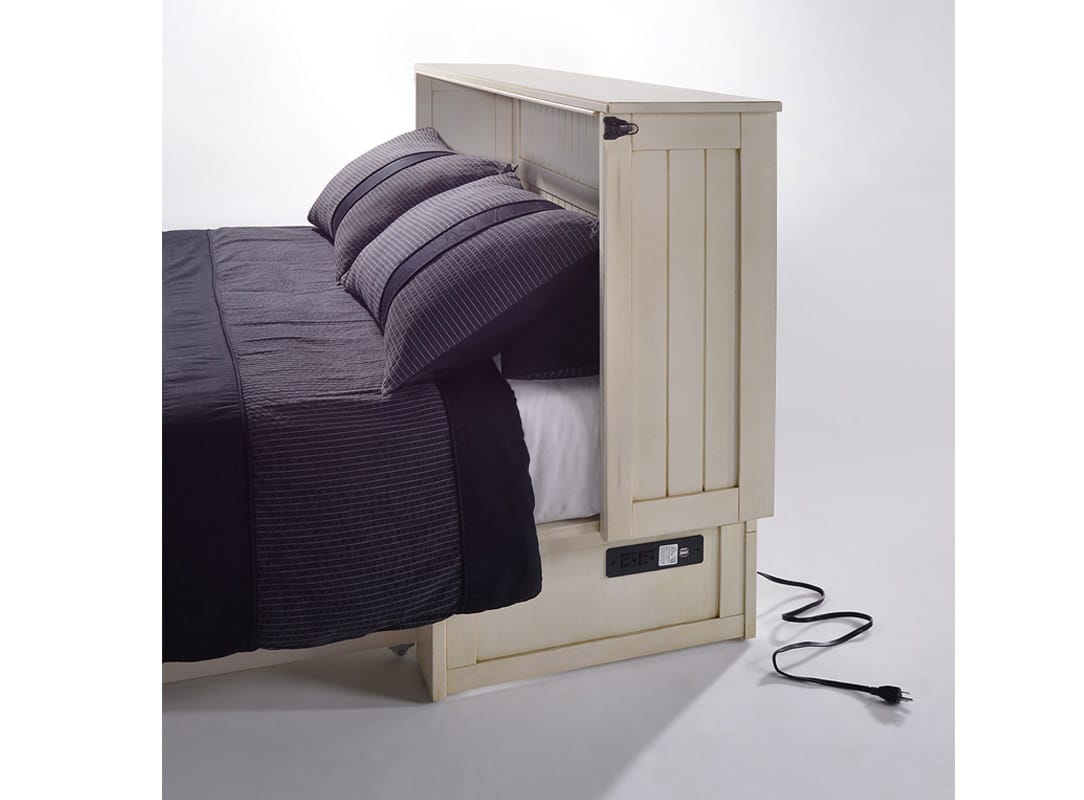 Finally, adding a queen storage cabinet bed to your living area is an excellent idea for those who have a very limited amount of space at home. This way you can still accommodate overnight guests in comfort while adding a handsome and functional wood cabinet to the room. It makes a great TV stand, especially since there is no need to move the television when pulling the mattress out for sleeping. The ingenious design of the cabinet bed allows sleepers to have maximum headroom and all the space they would enjoy in a traditional queen-sized bed – it even uses standard sheets that can stay in place when the mattress is folded up in the cabinet.
With all the ways you can use a queen storage cabinet bed to create extra space with an extra bed, where would you put one in your home?