Advantages of Solid Hardwood Cabinet Beds
Here at Murphy Beds of San Diego, we strive to ensure that every product we carry is made of the finest quality. That means we are picky about the details and we never settle for anything less than the best. This extends to the solid hardwood cabinet beds we carry. Here's why it's worth it to consider these cabinet beds for your home over other, cheaply made models.
Beautiful, Solid Wood Cabinets
Let's start with that solid wood we talked about. Unlike cheaper versions, our solid hardwood cabinet beds do not use any particle board pieces. This makes them very sturdy and durable and you don't have to worry about breakage or splitting. In fact, the shelf along the top of the cabinet easily holds a large television set – or anything else you wish to display.
That wood cabinet on all our cabinet beds is manufactured right here in North America, not overseas. It is available in a variety of finish options. With some models, you can also opt for custom paint colors or finishes. Choose the right finish to match your décor; you can't go wrong with these solid hardwood cabinet beds.
Ready to Use
The nice thing about cabinet beds is that they don't have to be permanently installed, like a Murphy bed. They are delivered as fully assembled solid hardwood cabinets, complete with Tri-Fold Premium Gel Memory Foam Queen Mattress. Unpack your bed, and within seconds, the mattress folds down and out and is ready for a great night's sleep. Nearly anyone, no matter age or physical ability, can quickly and easily get the cabinet converted into a bed.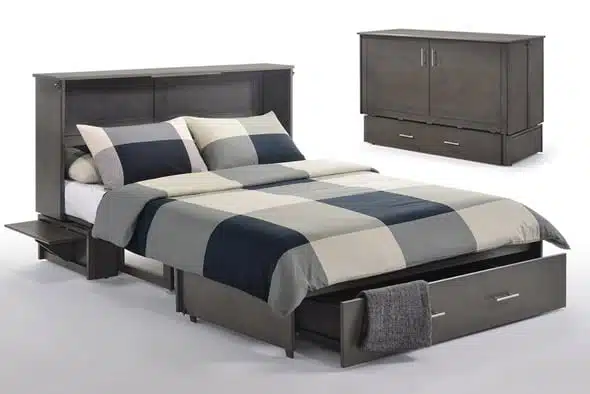 This illustration shows the ingenious design of the Sagebrush cabinet bed. With its simple design, solid hardwood cabinet and transitional good looks, it's the perfect extra bed in any home, no matter the amount of space – or lack thereof.
Nifty Details Standard in Our Solid Hardwood Cabinet Beds
Outside of exceptional quality and styles that mesh with any type of décor, our solid hardwood cabinet beds incorporate all the features you want and need in a guest bed, a child's bed or even your own tiny house bed.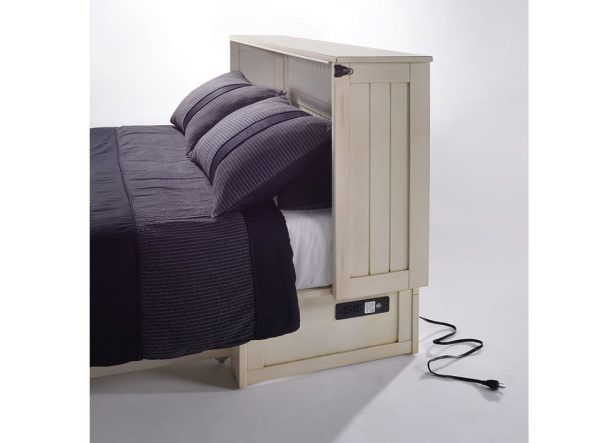 One of the more popular features, as seen here on the Daisy Murphy Cabinet Bed, is the addition of dual power/USB ports built right into the base of the cabinet, alongside the pillow area, for convenience. How many of us check our electronic devices before drifting off to sleep or catch some zzz's to the sound of our favorite playlist? The Daisy and other solid hardwood cabinet beds make that simple!
Another great feature is the expansive storage drawer that is part of the cabinet. It moves with ease on rollers. This drawer is the perfect place to store extra linens, amenities for your guest, or seasonal clothing.
It's To Your Advantage to Own a Cabinet Bed
Any way you look at it, our solid hardwood cabinet beds represent a great value for the quality. Don't settle for anything less than the assortment of beautifully designed cabinet beds carried by Murphy Beds of San Diego.