An American Made Wall Bed Comes With Custom Options
When you are buying an American-made wall bed finely crafted from solid hardwood, you may not expect to be able to change anything. Of course each one is gorgeous and built to last. But did you realize that you have plenty of options when it comes to customizing your American made wall bed? Let's open the possibilities here.
Turn Your Wall Bed into a Desk for a Home Office or Craft Room
One of the most popular options for wall beds in the home is a desk wall bed. Whether or not you have a home office space that requires a desk for a computer or paperwork, there are always plenty of ways a desk comes in handy. We're talking sewing, crafting, photography, scrapbooking, ancestry, stamp collecting, coin collecting – you name your pleasure and chances are a desk would be helpful.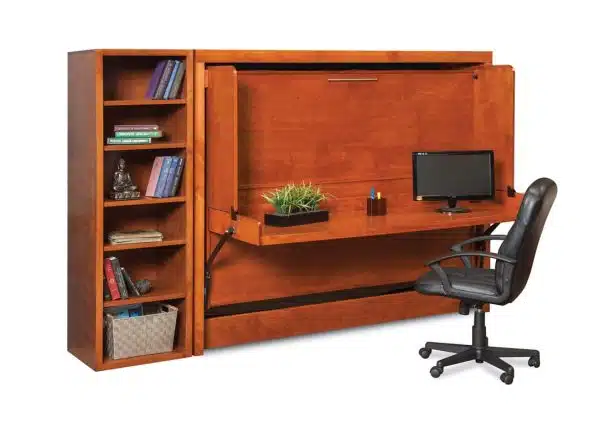 Take a look at this American made Mirage desk wall bed, shown here in a horizontal configuration. This one also features an optional side pier. The front of the cabinet is the desk, but there's no need to move your paperwork or materials from it when a guest is ready to sleep. The mattress simply folds over the top of the desk in mere seconds and instantly transforms this wall bed with premium memory foam mattress into a comfy place to spend the night. Pure genius!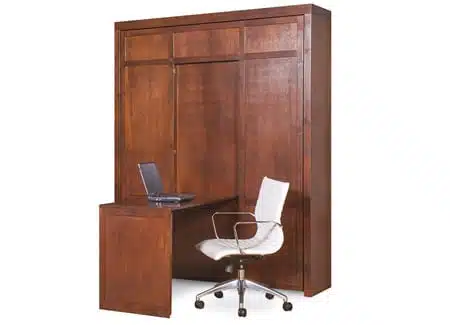 Here's another solid hardwood (specifically Alder wood, with other species available), American made wall bed that also features a convenient desk. This Cromwell model is crafted as a vertical wall bed, but it is also available in a horizontal model. And talk about options? You get to choose wood finish color, trim details and cabinet faces, mattress size (custom sizes are available in addition to the standard options), the type of side piers you'd like and add lighting where you most need it.
More Custom Options for our American Made Wall Beds
Beyond the home office or crafting room, there are plenty of ways to use an "extra room" where a wall bed would be a handy, and handsome, addition. Many of our customers order an American made wall bed with custom options for an exercise room, walk-in closet, library or reading room. If your spare room functions as any of these, there are plenty of ways to customize your wall bed to fit the space. We can add side piers or custom built-in cabinets that accommodate any number of uses. USB and power outlets are another available option.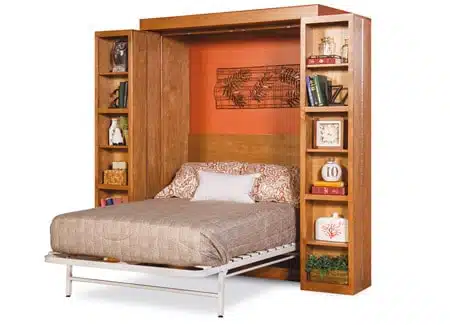 Some of our clients want to develop a space where they can showcase art or collectibles; the Library wall bed shown here is a perfect fit for this. This wall bed's shelves can be customized as to size, depth and number. Remember that its looks can change on a whim, too, simply by ordering a different finish, molding and hardware.
What Options Will You Select for Your American Made Wall Bed?
No matter the style, type or function of wall bed you desire, Murphy Beds of San Diego can turn your dreams into reality – just ask us how.