American Made Collection of Wall Beds Are Customized For Your Needs
American-made wall beds are a great investment in hand-crafted furniture of high-quality hardwood construction. They are made to look beautiful and last through generations while adding space and functionality to any room of your home. But did you know that you can customize models from our American Made Collection of wall beds to perfectly suit your needs and your space? Here's how.
Custom Options
There are lots of ways to customize our American-made wall beds, which are fashioned from alder wood or other species of gorgeous, durable hardwood. The beds are available in all the standard mattress sizes or the size can be customized, as needed. They come in a transitional style, either horizontal or vertical, which is sure to meld nicely with any décor. Make the wall bed match your room by selecting from hundreds of finish options, everything from glossy lacquer to traditional wood stains on the door face style of your choice. Specify the type of hardware (door knobs and pulls) you desire and decide whether you want to order side piers with drawers, doors, a closet or cabinets. Add USB ports or power outlets where you need them.
Desk Wall Beds
One of the most popular types of wall bed carried at Murphy Beds of San Diego is one that features a desk. After all, a neat, organized and spacious home office is the desire of most of our customers. A wall bed made with superior American craftsmanship provides an excellent way to have both an ideal home office and a bedroom at the ready for any overnight guests.
The Mirage Desk wall bed is one of our more popular models. It's easy to turn the desk which fronts the tucked-away bed into a computer workstation or multipurpose table for enjoying a favorite hobby. The best thing about this model? You can leave your work in place on the desk when the bed is pulled down from the wall.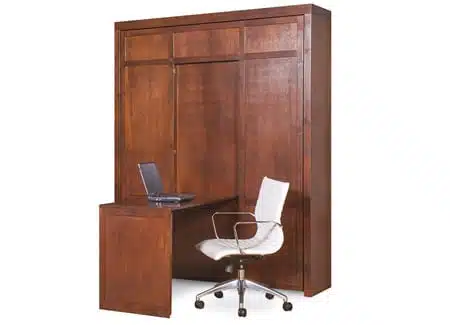 The Cromwell is another popular wall bed in our American Made Collection. Although it's most often ordered as a vertical wall bed, you can also choose horizontal if that fits your space better. Decide on the size of bed you desire (standard sizes as well as custom sizes available) and the height of the side piers. Add lighting where you need it and make the Cromwell appear right at your home in your room by selecting from tons of options for wood trim, molding, finish and doors and cabinet faces.
Beyond the Home Office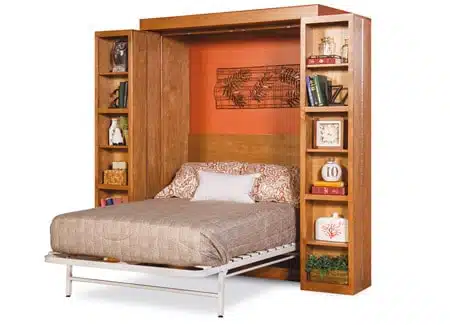 But there's more to do with your spare room than simply using it as a home office. How about turning it into a reading room or study? The Library wall bed from our American Made Collection is the perfect piece of furniture to display your books, collectibles or pieces of art. There are plenty of shelves, all of which can be custom configured as to width, height and depth. And remember that you have your choice of wood species, finish and bed size. Gorgeous display by day; comfortable bed by night.
Isn't it nice to know that the wall beds in our fine-quality American Made Collection can be ordered to look, function and fit as you desire?