Amish Wall Beds Offer Superior Quality
Murphy Beds of San Diego is proud to offer the Amish Made Collection of wall beds. They are crafted here in North America of the finest hardwoods. While there are many different Murphy beds to choose from on our site, we encourage you to check out the pieces from our Amish Made Collection due to their superior quality and fine workmanship.
About the Amish Wall Bed Collection
What makes Amish wall beds different from other Murphy beds? In a word, craftsmanship. Amish woodworkers are trained for years to perform skills handed down from one generation to the next. They have ultimate expertise in hand crafting beautiful furniture because they are trained by the best. Their Christian values and commitment to quality are passed down from elders to young tradesmen, keeping their tradition of quality alive.
The Amish community as a whole takes great pride in their workmanship. This is evident in their wall beds. They use only solid hardwoods in the construction of these Murphy beds and all the wood is sourced in North America. Every feature is elegantly imagined, right down to the detail of each fastener and reinforced joint. Just look at this gorgeous model.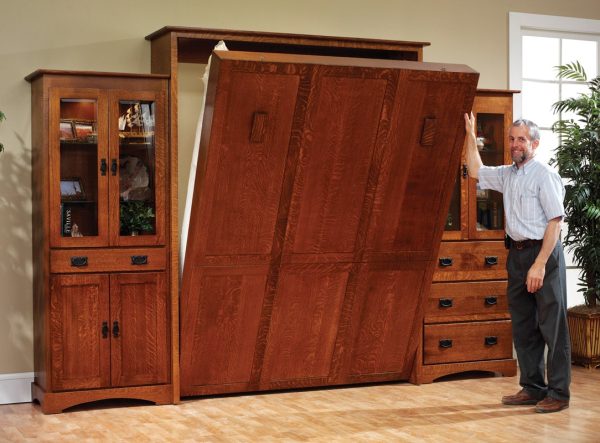 Five Reasons You Need an Amish Wall Bed
Outside of the great quality you would expect from an Amish Made wall bed, here are five more reasons to add one to your home:
The Style – we categorize the style of Amish wall beds to be transitional; tthey are equally at home in a contemporary room as they are in one filled with antiques from any era. Old English Mission and Louis Phillipe are the names for the two styles of Amish wall bed which combine classic good looks with subtle embellishments.
The Options – make a gorgeous Amish Made Murphy bed your own by selecting from several options. Choose from 50 different wood finishes, which are applied in a multi-step process for lasting beauty, and six hardware styles to enhance the cabinetry.
The Additions – add a bookcase, or two. There are several options for side piers to add on one or both sides of your Murphy bed. These piers include drawers with dovetailed joints, glass shelves with plate grooves to display collections, beveled glass doors and recessed lighting.
The Mattress – don't forget about the comfort of the bed. Each wall bed in this collection is available in a Twin, Full or Queen mattress size.
The Wood – Amish made wall beds are available in four varieties of hardwood: Oak, Maple and Cherry. These solid woods are known for their gorgeous grains and extreme durability.
Lovely to Look At, Useful in Any Room
Murphy beds are a great way to free up square footage in any room of your home while adding a comfortable space for guests or family members to sleep. They are a welcome addition to a home office or spare bedroom. And with the addition of side piers, Amish Made wall beds also represent storage space that functions beautifully for many years to come.