You may have heard a lot recently about Murphy wall beds and how they help homeowners save space and provide organizational tools. But what do you know about their cousins, the cabinet beds? Like a wall bed, these models hide a mattress, but they also have numerous key differences. You may decide a cabinet bed aka a Murphy bed chest is a better choice for your home. If you wish to know more, please read on and get your compact cabinet bed FAQs answered here.
How is a Cabinet Bed Different from a Murphy Wall Bed?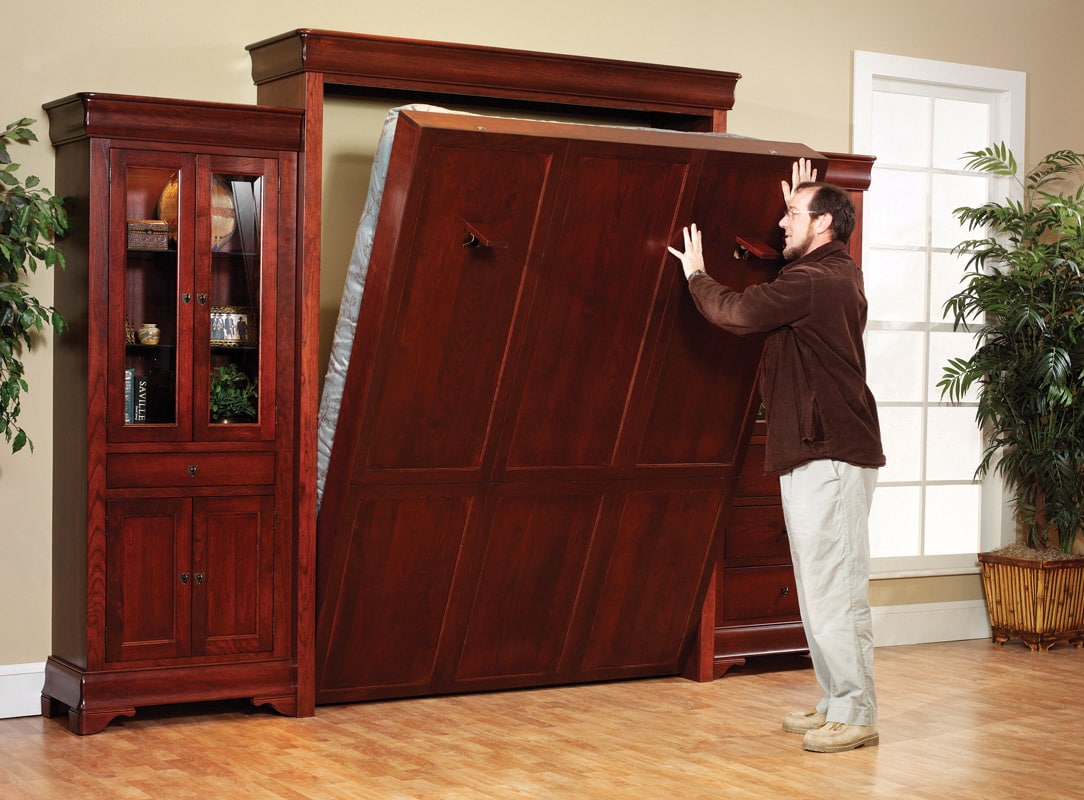 This is an oft-asked question. Although they are similar, the main difference is that a compact cabinet bed takes up even less floor space (about 10 square feet) and, like any other piece of furniture, it is easily moved when you move as there is no need to securely attach it to a wall. Instead of the mattress pulling down from a frame, a cabinet bed's mattress is trifold and pulls out from its cabinet.
How Comfortable is a Cabinet Bed?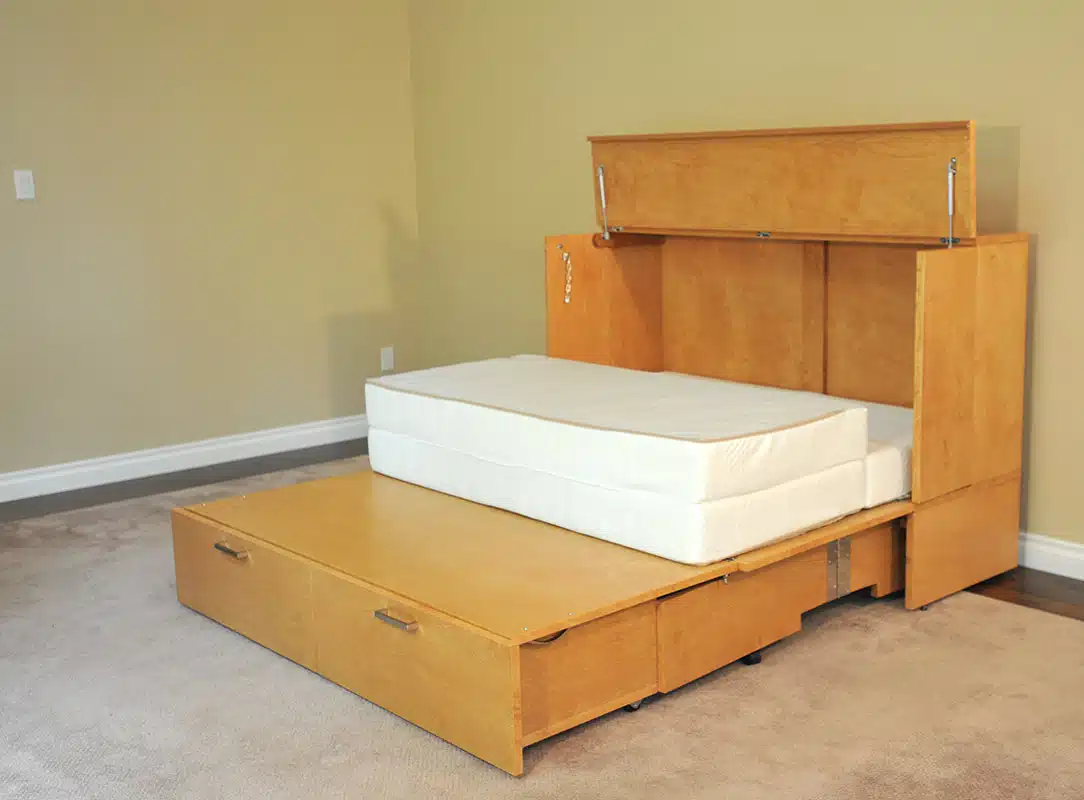 At Murphy Beds of San Diego, most of our cabinet beds come complete with a very luxurious, trifold gel memory foam mattress. It rests upon slats formed when the storage drawer portion of the cabinet is pulled out so no need for a box spring. The thick mattress is both supportive and comfortable enough to sleep on every night, although there is a weight limit.
Is a Cabinet Bed Sustainably Crafted?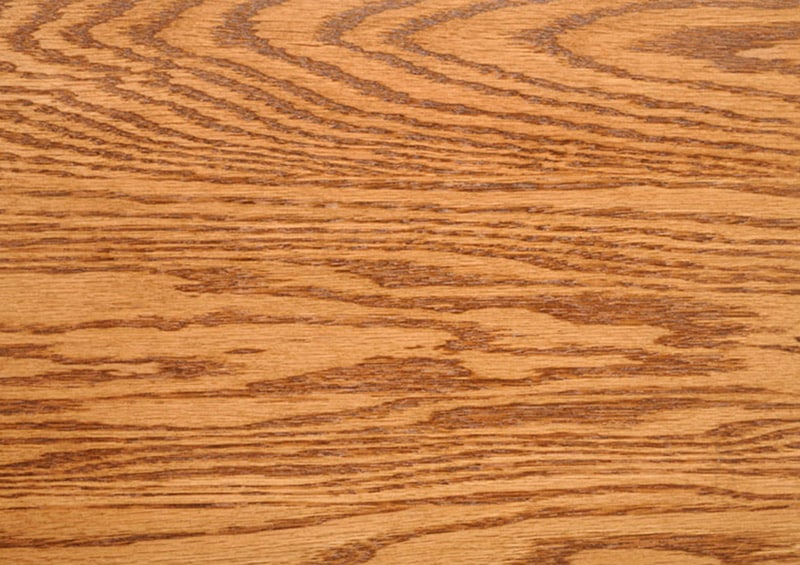 The solid hardwood species used to make our cabinet beds are primarily sourced from North America, reducing its transportation footprint. The trees are sustainably grown and farmed. Finishes in a variety of colors are made without harmful chemicals or VOCs.
The memory foam mattresses in our cabinet beds are CertiPUR-US® certified, which means that the foam is made without chemicals which deplete the ozone layer, dangerous flame retardants, heavy metals, formaldehyde, phthalates regulated by the Consumer Product Safety Commission and they are low in volatile organic compounds. https://certipur.us/
Compact Cabinet Bed Quality
In addition to being eco-friendly, cabinet beds are crafted with care and made from solid hardwoods, not the laminate or pressed board constructions you will often find in cabinet beds made overseas. Our compact cabinet beds are made right here in North America, putting our own craftsmen to the task and presenting many of them their first chance to learn the time-honored skill of creating beautiful millwork. They are also backed by a great warranty and Murphy Beds of San Diego's own high standard of customer service.
What is the Warranty?
As you would expect with any high-quality piece of furniture, Murphy Beds of San Diego's premium, solid hardwood cabinet beds with storage drawers are covered by a generous warranty of 10 years on the cabinet and 3 years for the supplied mattress.
So There's Storage?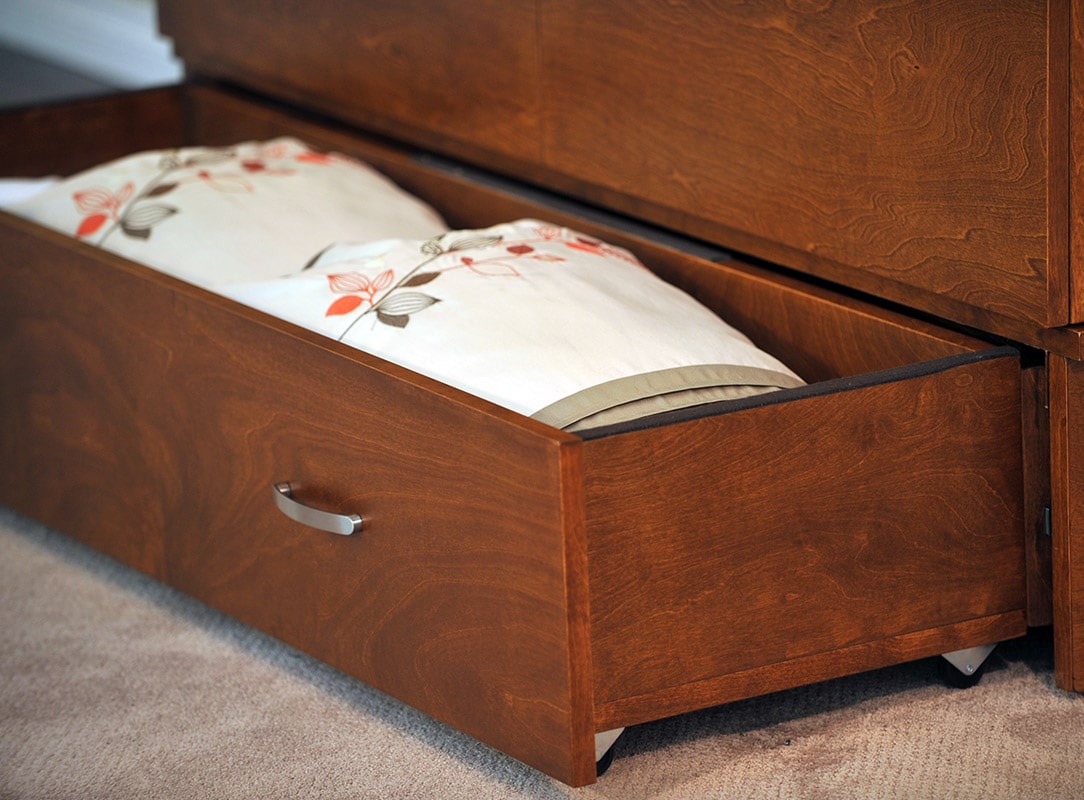 Yes, most of our compact cabinet beds include one of the industry's largest storage drawers. The roomy drawer is located along the bottom of the cabinet and most include rollers to help you easily slide them out for storing any number of items. When pulled out from the cabinet, this storage drawer actually becomes the base for the mattress.
If you feel a compact cabinet bed might be a great choice to provide an extra bed in your home, we invite you browse online through out selection of high-quality, solid hardwood Murphy chest beds.