Custom Murphy Wall Beds are Holiday Heroes
There's a perfect solution to all your holiday space challenges. We are talking about custom Murphy wall beds that take a room in your home and totally transform it into a cleverly designed and beautifully imagined workhorse. By day, your guest room or other spare room functions just as you need it and by night, it effortlessly transitions into a comfortable space for overnight guests. Here's what you need to know about custom Murphy wall beds and how they can become your unsung holiday heroes.
Ordering a Custom Wall Bed System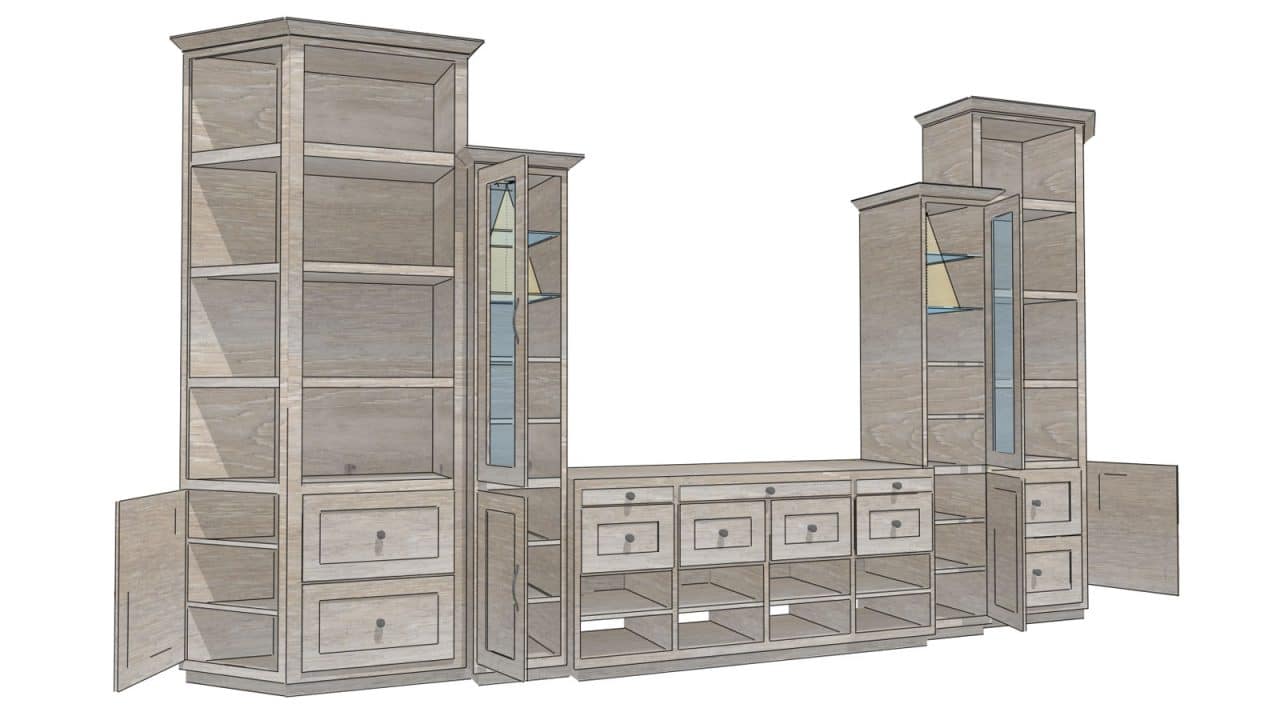 At Murphy Beds of San Diego, we specialize in getting our customers exactly what they want and need. We have staff who will sit down with you and determine the best way to design your custom wall bed system based on your personal preferences. They will travel to your home (within our travel area) and take measurements to ensure that your Murphy bed and matching cabinetry fit perfectly. We then draw up a CAD design so you can see what it will look like before you commit. And after arrival, we have a team of professionals who install custom Murphy wall beds. No matter what you can dream up, we can turn it into reality. Take a look at these ideas to give you inspiration.
Home Office/Holiday Retreat
If you mainly receive overnight visitors during the holiday season, it does not make sense to keep a spare room at the ready all year long – at least when you incorporate a traditional bed, which takes up a lot of valuable real estate. Why not ditch that traditional bed and use custom Murphy wall beds to transform the guestroom into a home office?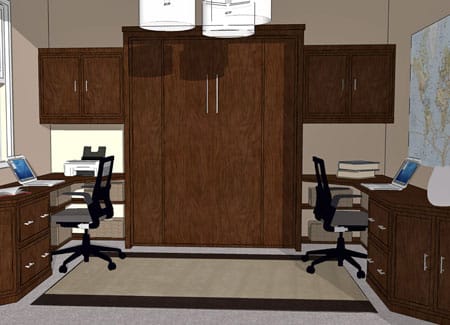 This computer rendering shows a home office wall bed system ordered by one of our clients. The couple wanted a space where both spouses could work from home or attend to projects. They wanted an integrated look throughout the room while providing separate work zones with desks, task lighting and power/USB outlets. The elegantly realized end result, including queen-sized Murphy bed, is shown here. The couple has a custom-designed space to enjoy year-round and come the holiday season, all they do is take a few seconds to pull out the Murphy bed mattress and their home is ready for overnight guests.
Play Room/Party Guest Room
No matter the age of your kids, they are always eager to have a room of their own where they can play. Whether that's video games or board games, musical instruments or craft projects, your kids are sure to love turning a largely unused guestroom into their own special space.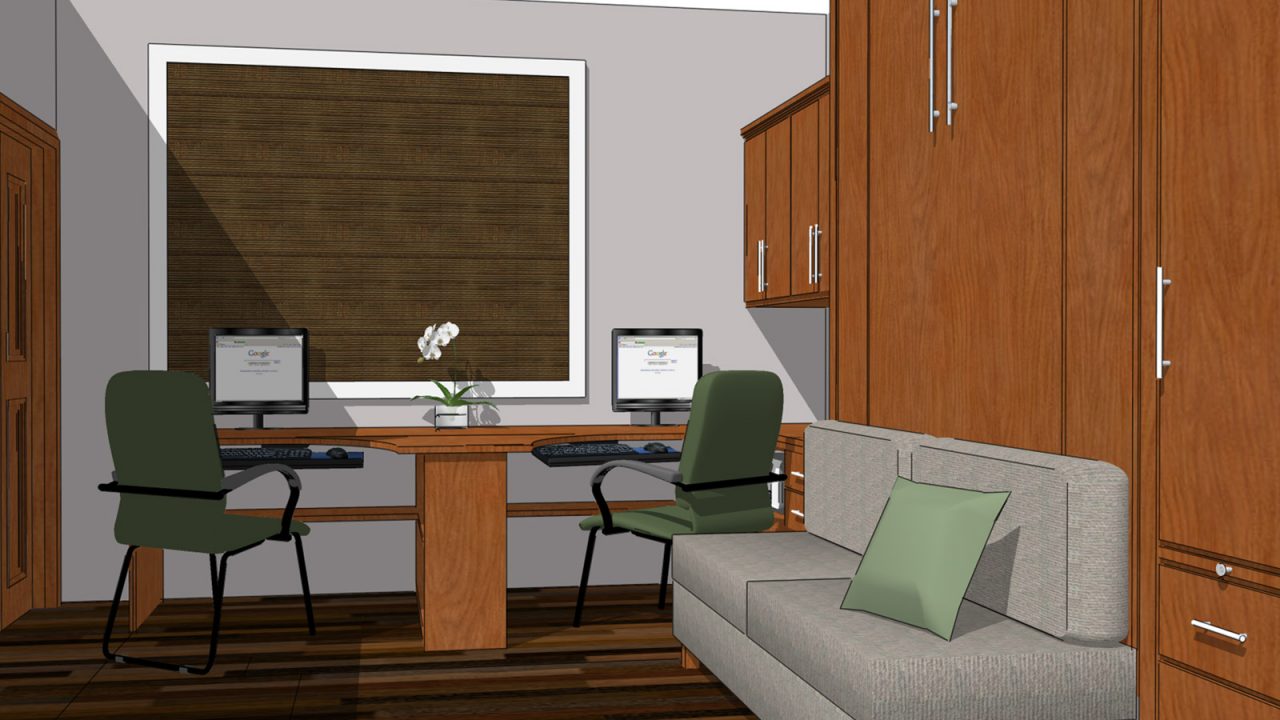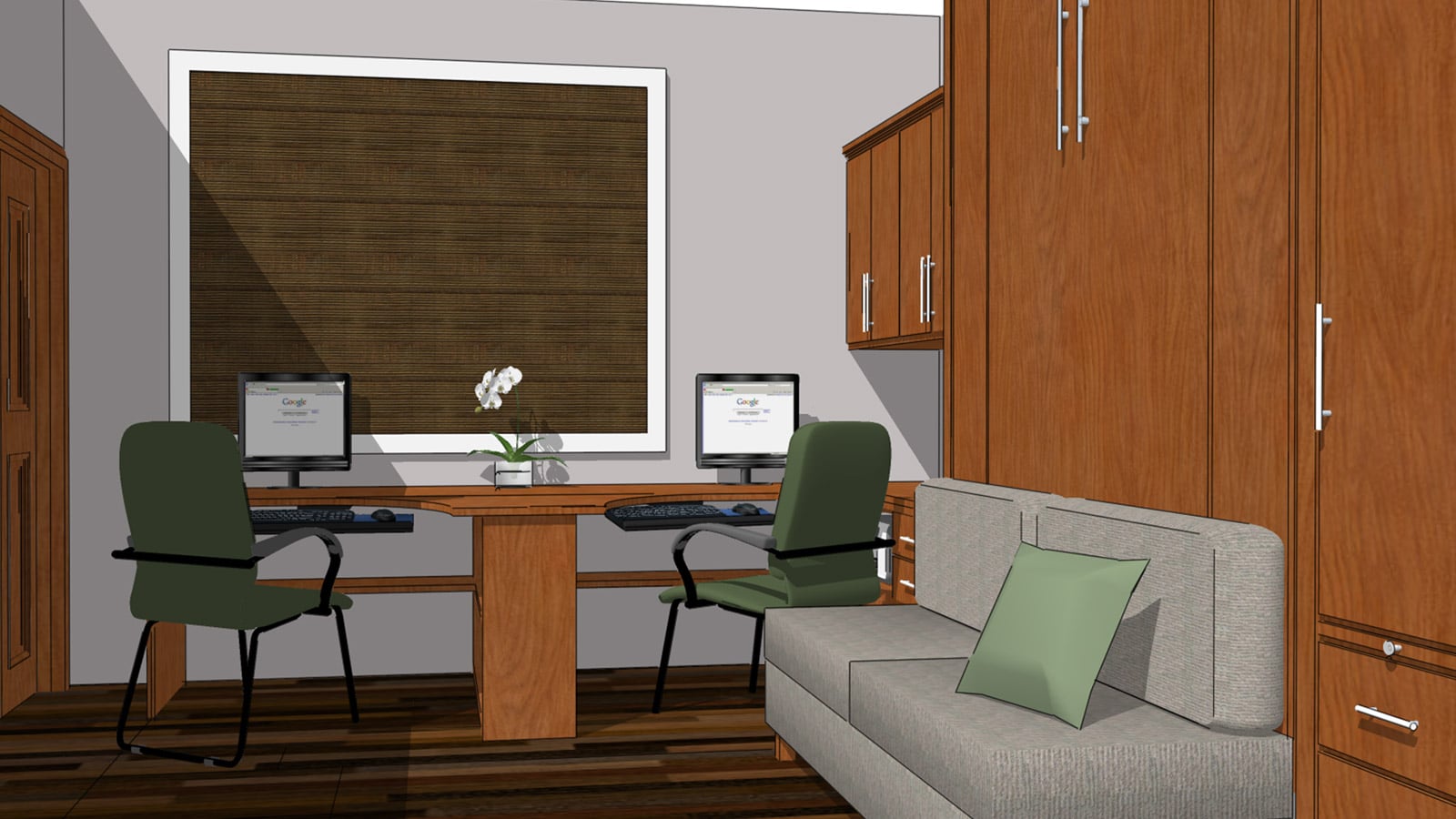 In this CAD image for another client, the room is furnished with a Plaza wall bed. Our staff designed matching cabinets and a table that is perfect for a pair of video gamers. The sofa, which is an optional addition to the Plaza Murphy wall bed, is the perfect place for kids to watch TV. The matching side pier easily lends itself to storage of board games, movies, art supplies and more. And when holiday guests arrive to spend the night, everything is already neat and tidy and the Murphy bed mattress simply pulls down and out over the top of the sofa.
Why not take back control of your entire home and add custom Murphy wall beds to make your extra room highly functional? And when it comes time to accommodate holiday guests, all it takes is a few seconds to transform the space into a cozy guestroom.