Daisy, Sagebrush and Clover are a Perfect Size Cabinet Bed
When space is limited but you still need another bed for daily or occasional use, the small footprint of a cabinet bed is an ideal solution. Here are three models that are sure to be the perfect size cabinet bed for nearly any room in your home.
Daisy Cabinet Bed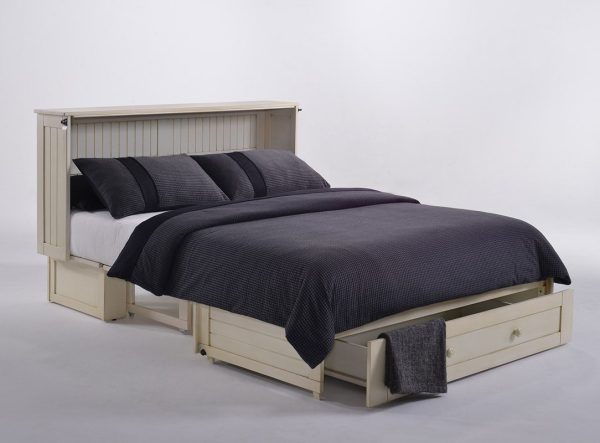 Daisy-fresh and sure to please, the Daisy cabinet bed is a great choice in a child's bedroom, guest room or home office. This perfect size cabinet bed is crafted from all hardwood and no cheap particle board to provide a space-saving bed that is sure to last. There's even a 10-year warranty included.
For a traditional or transitional décor, the Daisy is ideal. It sports a style that is easy to add to any room. The cabinet is finished in a buttercream color that provides a light touch sure to blend just as well with country décor as well as a more contemporary, breezy style.
Sleeping on a Daisy cabinet bed is pure comfort with its higher sleep platform and gel memory foam mattress of queen size.  The premium mattress easily pulls down from the cabinet to provide a great night's sleep. Underneath, there is a roomy storage drawer. The cabinet top is the ideal place for a TV or a decorative collection of items that don't need to be moved when the bed is in use. Afterward, just fold it away into the cabinet, which also includes two USB/power outlets.
Sagebrush Cabinet Bed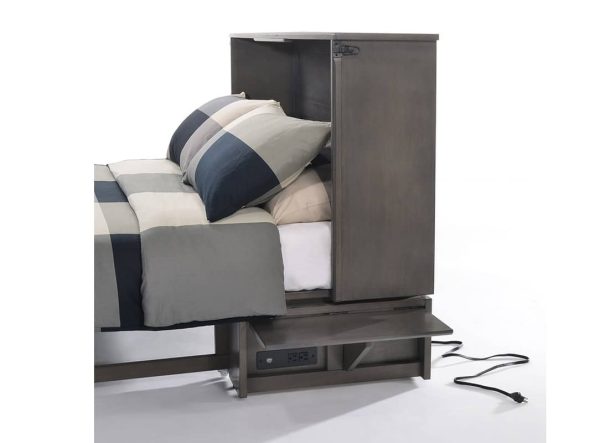 The Sagebrush is another in our collection of hardwood cabinet beds. Just like the Daisy, the Sagebrush has a space-saving design with a footprint of a mere 10 square feet (with closed cabinet). It features the same premium, gel memory foam mattress as the Daisy, too, along with the higher sleep platform. It has the same large storage drawer on rollers underneath. This one, too, is weight-rated for a television set atop the cabinet.
What makes this perfect size cabinet bed unique is a classic style finished in a stonewash color. The design looks right at home in a contemporary, transitional or traditional setting. It also features dual USB and power outlets included in the cabinet, making it easy and convenient for a guest to access them while the mattress is folded down for sleep.
Clover Cabinet Bed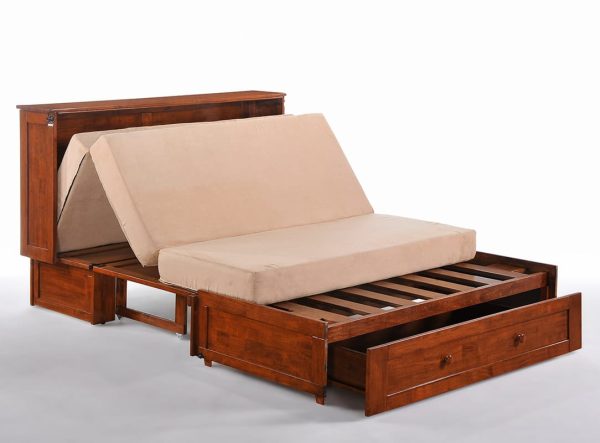 You will be rolling in the Clover – cabinet bed, that is – when you choose the last of these three popular models. Just as with Daisy and Sagebrush, the footprint of this cabinet bed measures 63.5" wide by 23.7" deep and includes a premium queen-sized memory foam mattress. This cabinet bed also features USB and power outlets in the cabinet for the convenience of your guests.
The Clover's style is best described is transitional, which means that it works nicely with any type of decor in any room, whether that's a home office, guest room or other room. If you want to customize it slightly, you can change out the drawer knobs; the Clover comes with two options.
Daisy, Sagebrush Clover – Brilliant, Space-Saving Design
Sometimes a Murphy bed just isn't the right choice for your home. In that case, a smaller, perfect size cabinet bed such as the Daisy, Sagebrush or Clover may be ideal. This is a great way to solve the problem of adding an extra bed to your home without adding extra room.