5 Things You Didn't Know About Hidden Wall Beds
Hidden wall beds, aka Murphy beds, have been a staple for homes with limited space for well over a century. However, you may not be aware of the various ways the ingenious design of wall beds help you create fully functional spaces within your home. Here are the top five facts about wall beds that most people do not know – and why they are important to you and your home.
Wall Beds are Not Just for Bedrooms
Not everyone has a separate room to use when accommodating overnight guests. But that's not a problem when you consider the ultimate versatility of wall beds. They easily fit into almost any room of your home, including a family room, game room, great room, basement, living room or even a large open space, such as a loft or crafting area.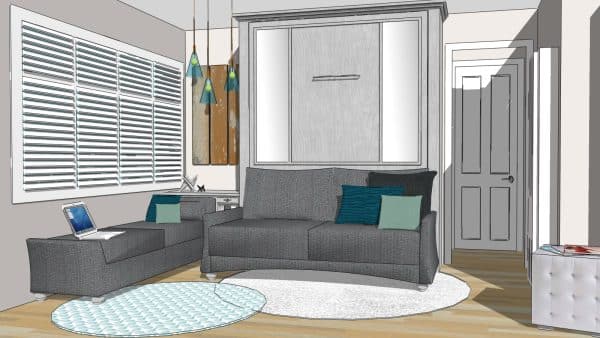 Take a look at this wall bed located in a living room. It features a comfortable sofa fronting the cabinet which encases the bed. It creates a convenient seating area by day, while transforming into a supportive bed by night.
All-Hardwood Wall Beds are Extremely Durable
A high-quality wall bed is an investment in a piece of furniture that doubles or even triples the space in your home while providing a safe and comfortable night's sleep. So the last thing you want to do is purchase a wall bed that is flimsily constructed and made out of particle board or MDF. Instead, opt for any of the wall beds we feature here at Murphy Beds of San Diego. The majority of them are made from 100 percent hardwood which is sustainably forested in North America. The open/close mechanisms are warranted for a lifetime so there's no need to worry about safety in these Murphy beds that will last for many years to come.
Hidden Wall Beds are Perfect for Kids' Bedrooms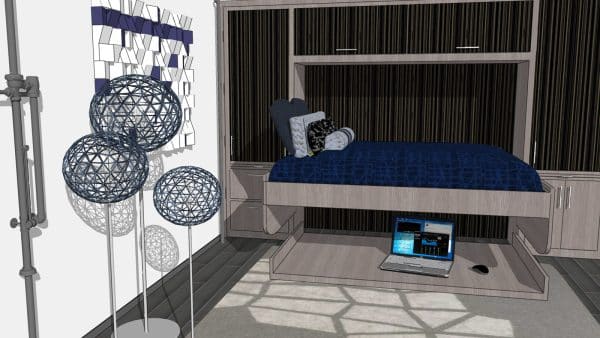 A child's bedroom is one of the most perfect spaces for hidden wall beds. They free up a ton of space so your kids have plenty of room for play, exercise and projects. Order a wall bed with a desk and it provides a functional space for homework by day and a place for your child – or a sleepover guest – to sleep comfortably at night. You can also customize the wall bed and add side piers to store books, toys, collectibles and even clothing.
Super Simple to Operate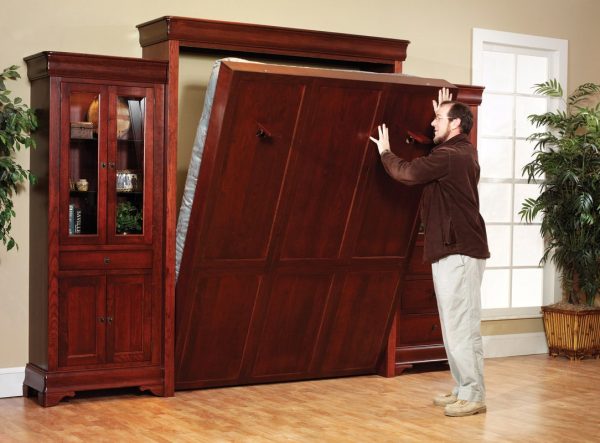 Did you know? It takes only seconds and minimal effort to pull a wall bed down from its cabinet. Many of our models with desks allow you to keep all your work on top of the desk in place while you pull the mattress down over the top. That's a super simple, easy and convenient way to produce hidden wall beds when they are needed. No matter your age, size or physical abilities, opening a wall bed is bound to be within your capabilities.
The Style and Functionality of Hidden Wall Beds is Nearly Unlimited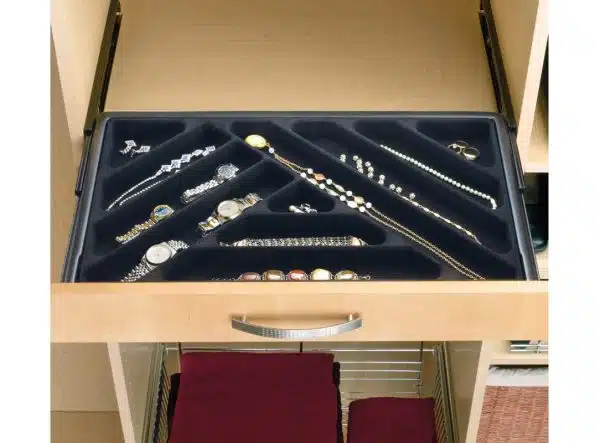 Here's another fact of which you may not be aware: we can customize your wall bed system to include nearly any type of feature or function you desire. Truly, the sky is the limit in terms of size, side piers and even custom cabinetry that continues around the room for a fully coordinated look. Whether you want a wall bed to accommodate your crafting, business, artistic, collecting or wardrobe needs, we can make that a reality.
Hopefully this article has shed light on some things you might not have known about hidden wall beds.