Got Plenty of Space? 5 Reasons You Still Need a Murphy Wall Bed
At Murphy Beds of San Diego our articles often focus on all the ways that Murphy beds can help conserve space in your home and make the perfect sometime bed for overnight guests. However, they do so much more than that. Even if you have plenty of space, here are 5 reasons you still need a Murphy wall bed.
1. Home Office Helper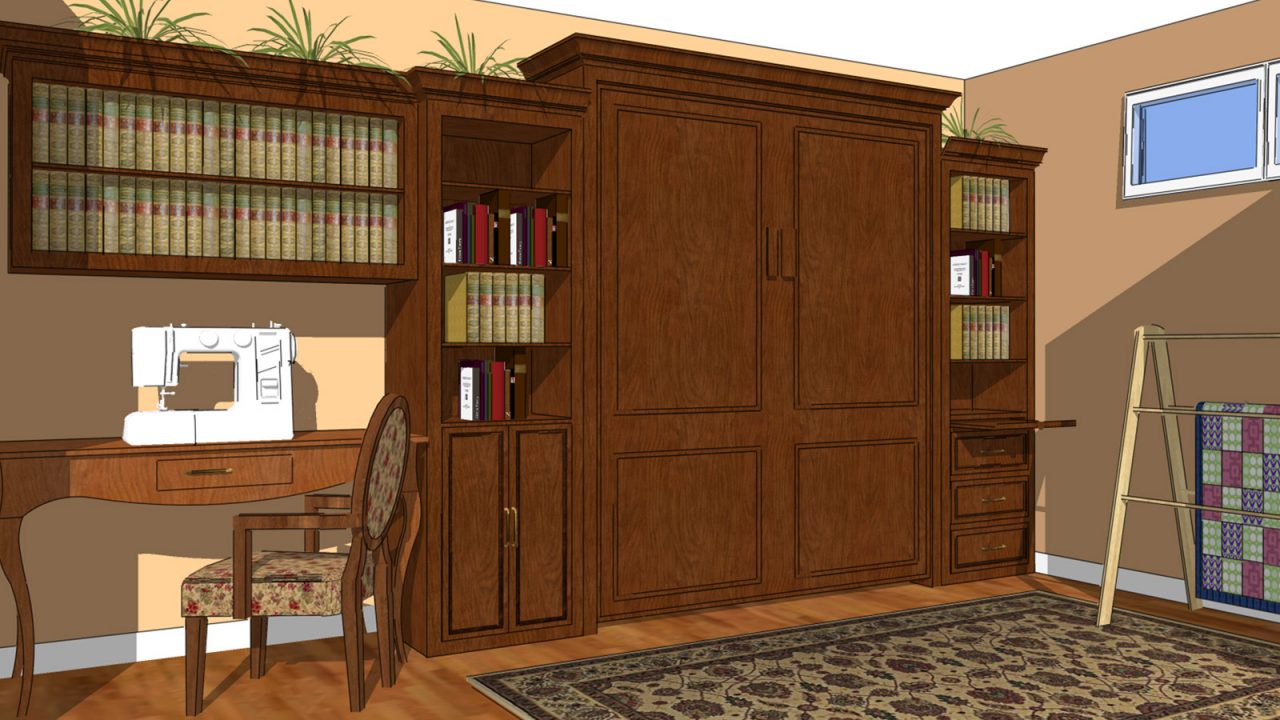 In the past year, so many of us were working from home and looking for ways to transform our household space into something resembling a well-equipped office. But where do you start if you do not have any office furnishings or accessories? Perhaps the best answer is with a Murphy wall bed with desk and side piers. This makes your extra room do double duty by providing a highly functional workspace during the day and a comfortable pull-out bed at night. The side piers can be configured with your choice of options, including file drawers, bookshelves, pullout printer drawer and plenty of storage for paper, computer accessories, office supplies and more. If you have a large room with which to work, we can even design custom, matching millwork throughout the room, as shown in the illustration above – just ask us to help you design the home office of your dreams.
2. Add a So-Nice Sofa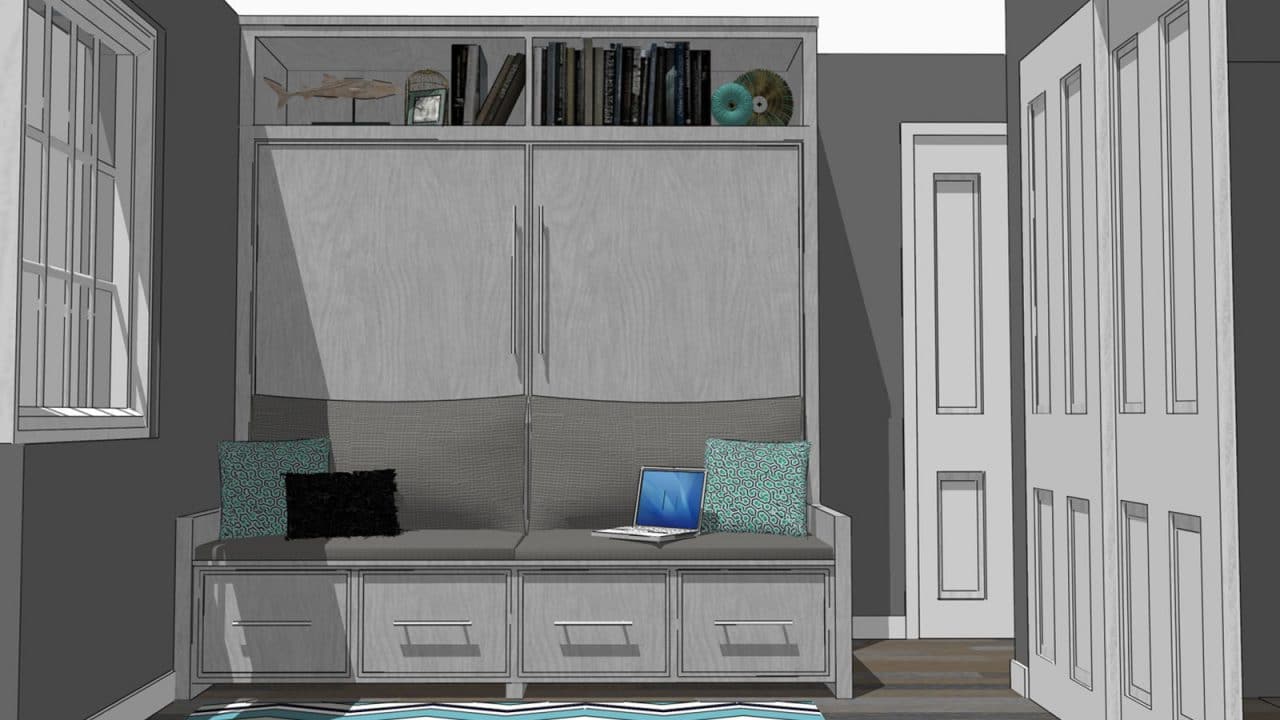 When you wish to use your extra room, basement, or rec room as a place to relax and enjoy TV or gaming, a Murphy wall bed with sofa is a natural addition. The transitionally styled sofa is out in plain sight when you are using it as a comfortable seat but gets covered up at night when you wish to plan a teen's sleepover, accommodate a holiday guest, or even move your college-age child into his own space.
3. Plenty of Play Space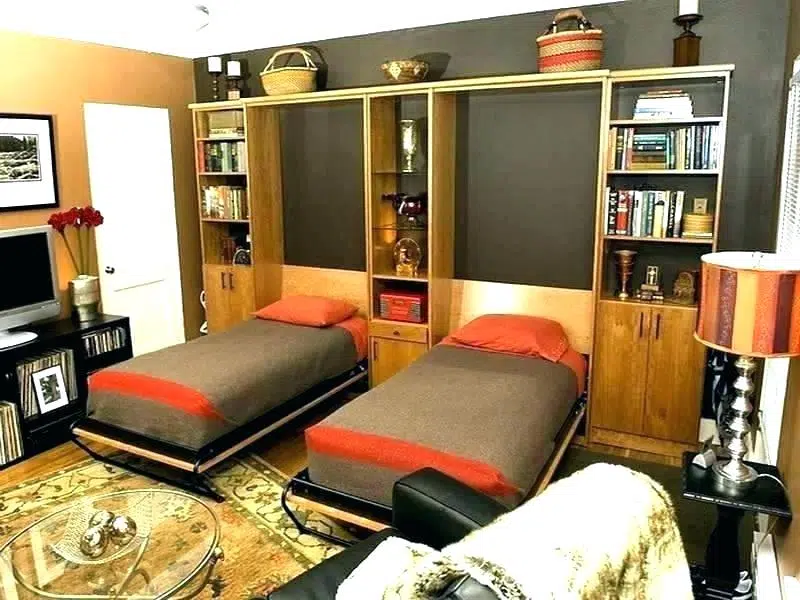 For those families with young kids, a large room is a natural place to carve out play space. But why limit the room as a catchall for toys and games? Adding a Murphy wall bed is ideal even when you have plenty of space. It makes sense because it helps with organization, and the wall bed can serve as an extra bed when your child hosts a sleepover. Add side piers with cupboards and storage bins to provide all the organizational aids necessary to neatly stow away coloring books, games, stuffed animals, and toys.
4. Workout Room Wow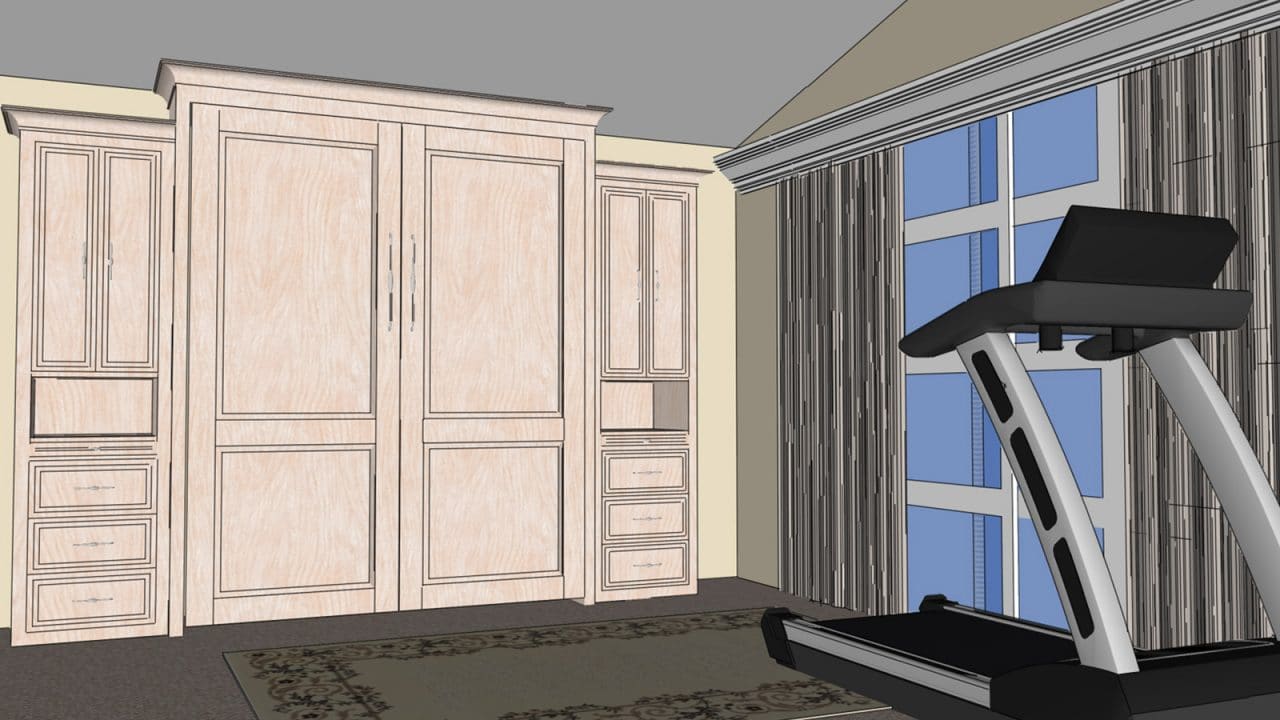 If you are an exercise buff, consider including a Murphy wall bed with ample storage. One of the side piers can be configured as a wardrobe, which makes a great place for hanging workout gear, towels, and sneakers. Configure the other side pier with cubbies or drawers where you can easily store resistance bands, yoga mats, and free weights. You can even opt for a custom Murphy wall bed system and include space for a small refrigerator to keep bottles of cold water on hand and mirrors along the front of the cabinet. Plus, the Murphy bed frees up square footage in the middle of the room, so you have plenty of space for doing downward facing dog poses or sweat-inducing cardio workouts.
5. Great Guestroom Extras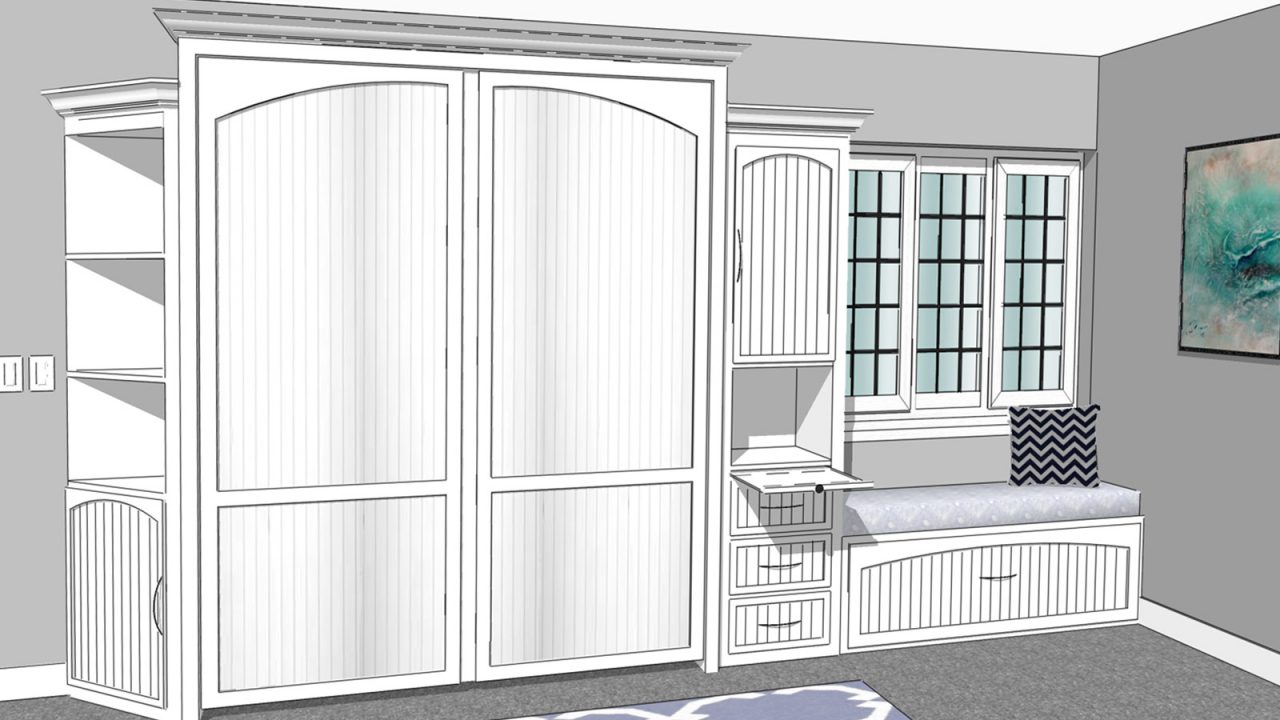 Finally, if you have plenty of space in your home, the guestroom could probably stand an update to make it more comfortable. A Murphy wall bed adds to the overall design and utility of the room. Include side piers with small, slide-out tables for nightstands. Add a wardrobe where guests can empty their suitcases. Drawers for extra bedding would be appreciated, as would built-in lighting, electrical outlets, and USB ports. Your guests are sure to love the way a wall bed makes a room look lovely and provides everything they need for a comfortable overnight stay.
Got plenty of space? You still need an amazing, versatile Murphy wall bed in your home.