Magical Murphy Wall Bed Designs
Murphy beds are quite an ingenious invention. Not only are they rising in popularity, they can even be described as magical furnishings due to their extreme functionality, good looks and space-saving features. Here are just some of the ways you can use magical Murphy bed designs in your home.
Magically Erase Visual Clutter
One of our favorite features of a Murphy wall bed is the way it incorporates ingenious storage space via side piers. Particularly for today's urban dwellers, who often live in space-deprived homes, it is essential to have plenty of storage for everything you own and use. Stacks of books and papers, toys, exercise equipment, linens – when left out in the open, they all produce a lot of visual clutter.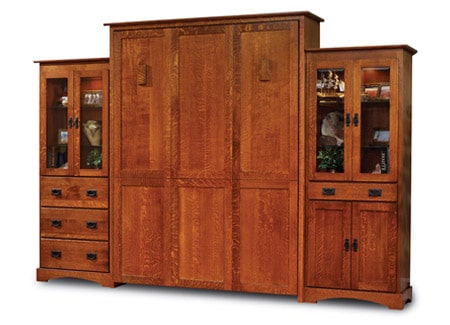 Adding side piers that match the bed in style and finish and you've got a completely coherent look in any room that also provides tons of storage in just the configuration you need. With a customized Murphy wall bed system, not only do you get an extra bed, you can design side piers that cleverly hide clothing, office supplies, workout equipment, jewelry, files, crafting supplies and more. We have even created a wall bed system for a client that included a pet bed tucked into the bottom of one side pier. Just imagine what type of drawers, cubbies, cabinets and closets that would benefit you most and we can turn your dreams into reality.
Magically Add a Table, Sofa or Desk
In a perfect world, we would all have plenty of space for eating, drinking, sleeping and working, perhaps even one room dedicated to each of those pursuits. But most of us are not that lucky. We need to combine functionality in any given room.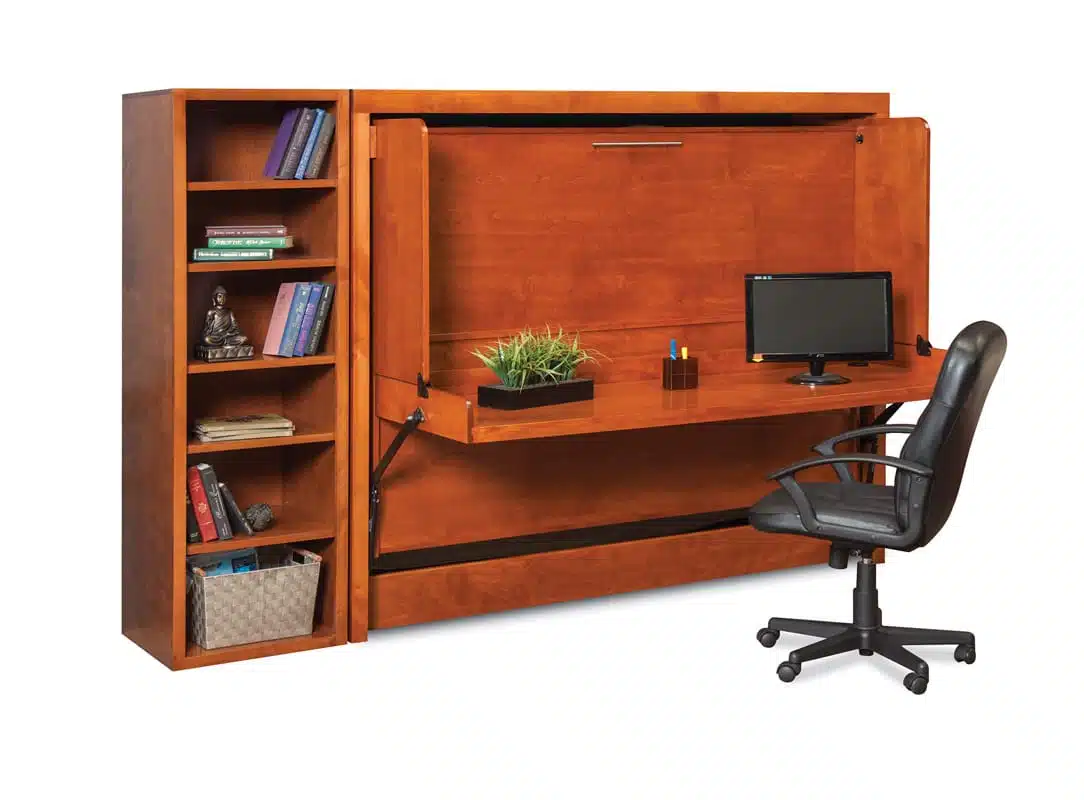 Magical Murphy Wall bed designs to the rescue! Simply order your Murphy bed with an attached table, desk or sofa and you instantly multiply the functionality in any room. Add a Murphy bed with desk to a child's room so it helps him get his homework done by day but also provides a bed for sleepover friends at night. That same wall bed with desk is also perfect in a home office. Use a Murphy bed with table in a living room, rec room or kid's room – it provides a great surface for working on crafts or playing games. With a sofa as part of your magical Murphy wall bed designs, this super functional piece of furniture works exceptionally well in a family room, game room or guest room.
Magically Transform Your Space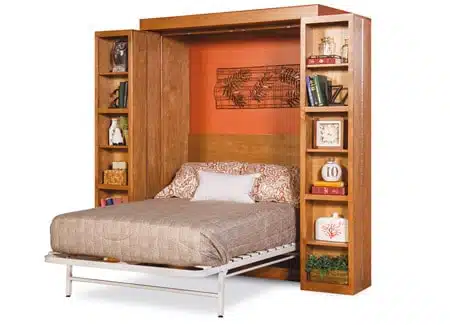 No matter what type of magical Murphy wall bed designs you choose, there is bound to be at least one – or more- rooms in your home that could use the extra bed, storage and functionality they provide. With both horizontal and vertical configurations, wall beds can fit against nearly any empty wall space, whether that's in a family room, spare room, guestroom, kid's bedroom or even a multi-purpose great room.
We invite you to look around your house and imagine the possibilities. Where could you use the power of magical Murphy wall bed designs in your home?