Meet Our Newest Cabinet Beds
If you have not browsed through our online inventory lately, you may not be aware that Murphy Beds of San Diego has added some new items for our customers. In this article, we would like to introduce you to two of our newest cabinet beds: Austin and Colton. Here's what you need to know about these beautifully designed, space-saving pieces.
Austin Queen Cabinet Bed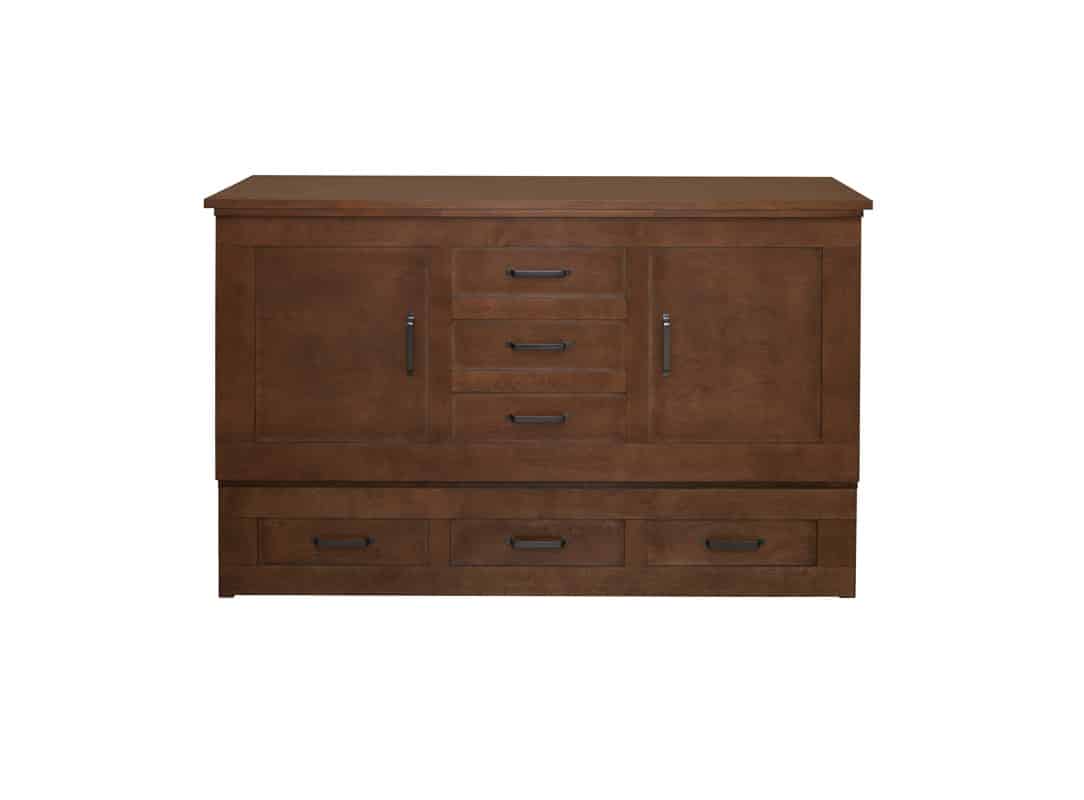 Is it a solid wood dresser? Or is it a gorgeous cabinet that holds a comfy mattress perfect for accommodating overnight guests? While it may look like the former, the Austin Queen Cabinet Bed is definitely the latter. As a freestanding unit, it is sure to enhance any room it enters, with its transitional style, multiple drawer pulls, and handsome finish in your choice of Cojoba brown or Shadow Black hues.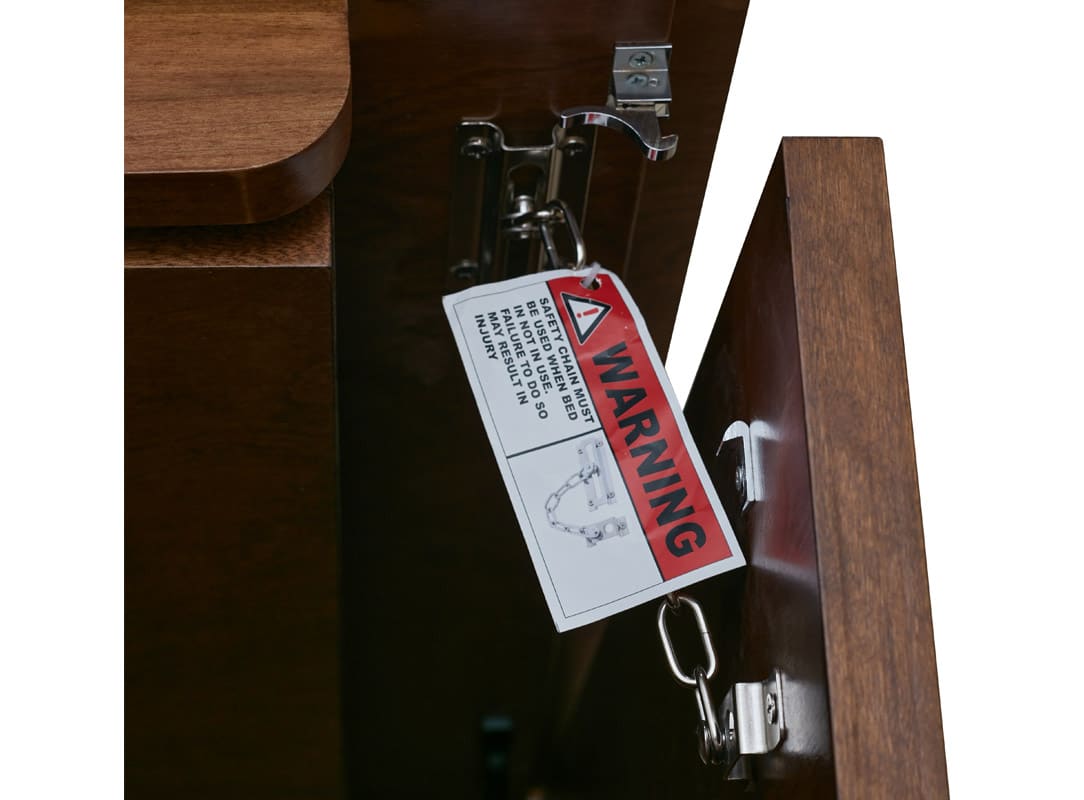 The Austin cabinet bed is a high-quality piece of furniture that is made from solid birch plywood. No cheap particle board or MDF materials are used to craft this lovely cabinet bed. The patented mechanism used to open the cabinet and pull out the mattress is strong and reliable. The premium hardware and hinges are made to last. And even though it is finely crafted and made of solid birch, it only takes about 10 minutes to install in your home. A cabinet bed is easy to move, too, if you decide to place it in an alternate location.
Let's talk about the mattress that comes with this newest cabinet bed. It is queen-sized and trifold. The Austin cabinet bed's mattress is made from gel-infused memory foam and covered by bamboo upholstery that makes it breathable and durable. The cabinet bed supports a sleeper up to 500 pounds.
Colton Queen Cabinet Bed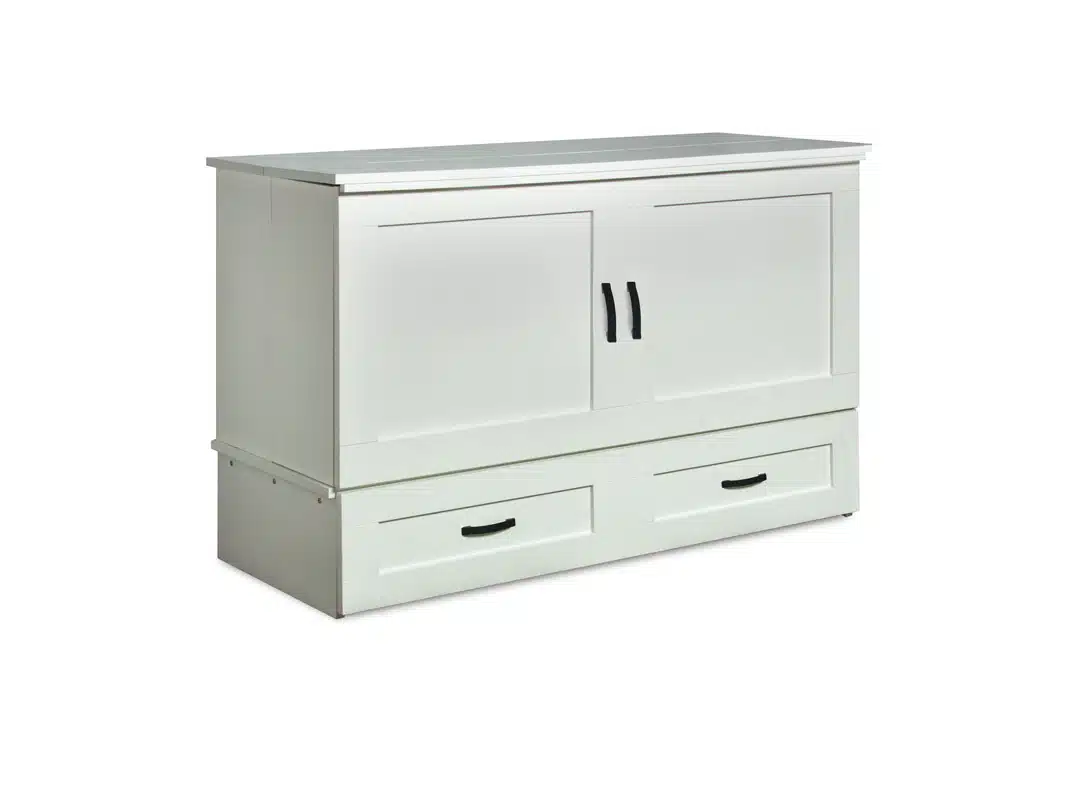 Another of our newest cabinet beds is the Colton model. Like its brother, Austin, the Colton cabinet bed is encased in a solid birch plywood dresser. Its unassuming style means it will look great in any room you decide to place it in. The white finish is offset by ebony drawer pulls for interest. The top of the Colton's cabinet is a great place to put a television set as it will easily hold a screen of up to 60 inches.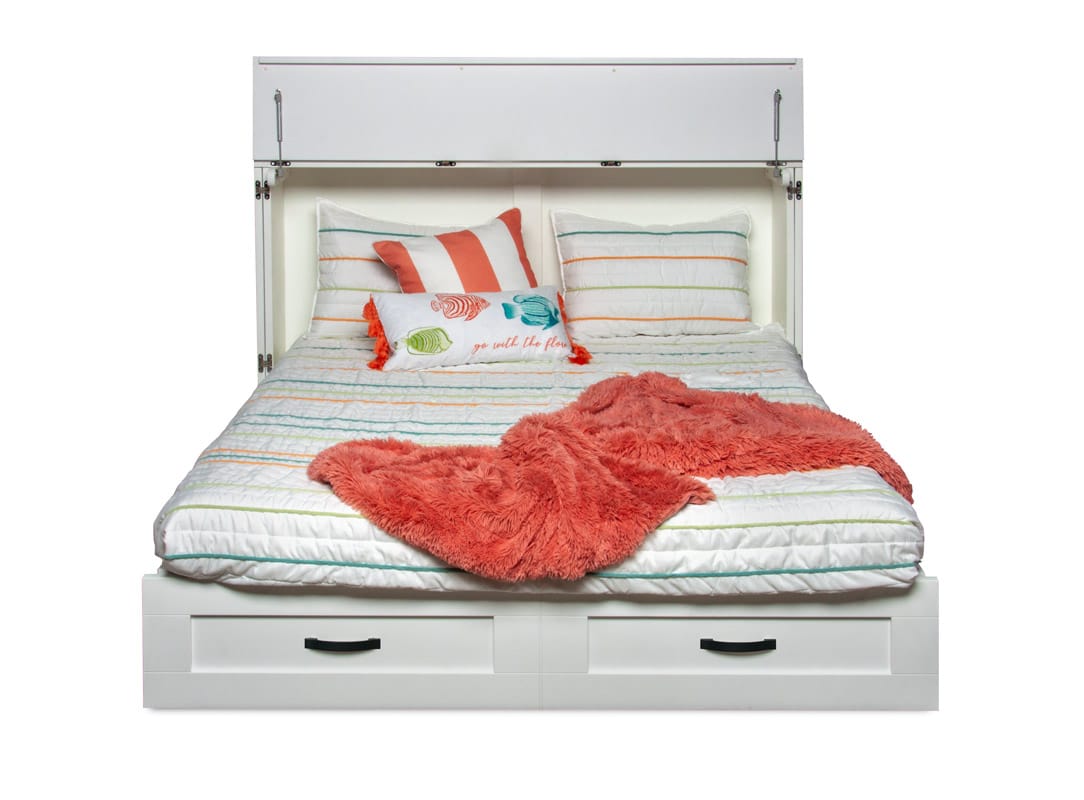 And just like Austin, the Colton cabinet bed features a trifold, Certipur gel memory trifold mattress with bamboo cover. This model is manufactured by CabinetBed. This company uses only certified foam material that meets rigorous testing standards for performance, durability, and emissions. The Colton cabinet bed is made in Canada, so it does not need to be shipped from overseas, making it an eco-friendly choice.
Along with the handsome design and premium mattress of this one of the newest cabinet beds, Colton features a handy pair of USB and power outlets located along the front of the cabinet. This makes it easy for your overnight guests to charge their electronic devices or use them for entertainment. And it only takes about 30 seconds to transform the Colton cabinet bed from a lovely piece of furniture to a comfortable sleeping platform.
We hope now that you have had a chance to meet two of our newest cabinet beds, you have the perfect spot in your home for either one of these space-saving and innovative furnishings.