Micro Sized Spaces Need Space Expanding Cabinet Beds
One thing there is a lack of in any major urban area is new or existing real estate square footage. In the San Diego area, there is a dearth of available housing and the market is extremely competitive. This often results in those who are looking for a new home settling for something that is less than spacious. So called "micro housing" is a fairly recent term to describe the available options in San Diego County and one that is gaining in popularity, especially for transitional living quarters. If you opt for a micro sized space, the one thing that is absolutely necessary to provide all the comforts of home is using multi-functional furniture and especially space expanding cabinet beds.
Space Expanding Cabinet Beds are Trending Now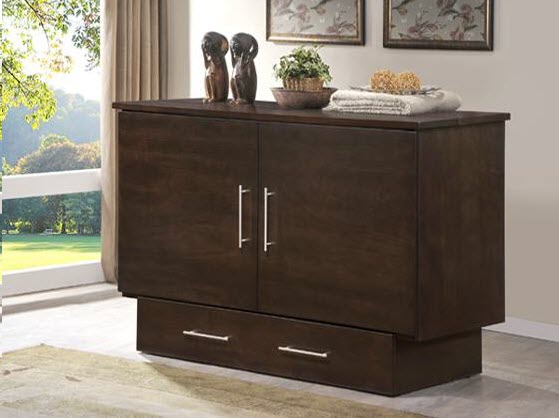 Just as the market for micro housing is expanding, so are online searches for versatile, space saving cabinet beds. While there are many applications where cabinet beds are an ideal solution, they are a perfect fit for small space living. And with that increased demand comes a wider availability of styles, finishes and features. Today it is easy to find space expanding cabinet beds that are beautifully designed and even come with a few "custom" options.
Save a Few Feet and Open Up Prime Real Estate in Your Home
It is really amazing the difference a few feet can make. Try using this visual: mark out an area on your floor with masking tape that measures 60" by 80". That's the minimum space required for a queen-sized bed and doesn't even take into account a headboard and/or footboard.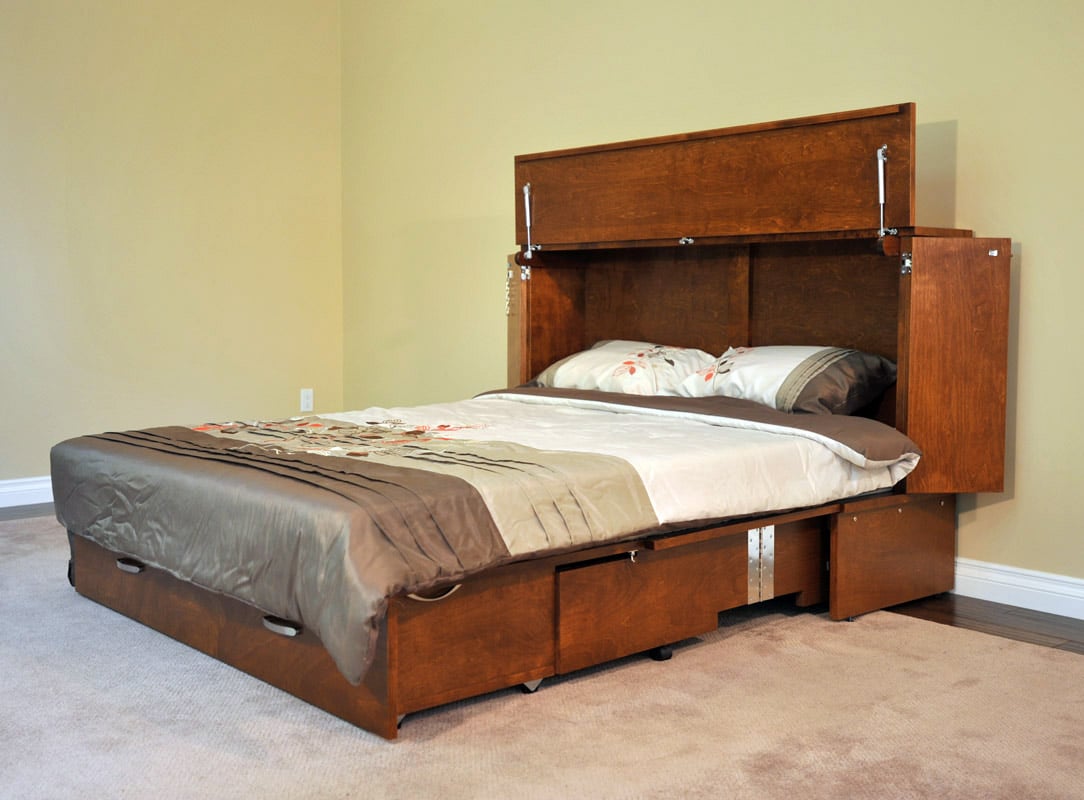 Within that space, right up next to the wall, measure out an area 25.25" in depth by 61.5" inches wide. That's a very common size for a cabinet bed that includes a trifold gel memory foam queen mattress for super supportive sleeping. Using that visual, it is very easy to see just how much difference a third of the necessary square footage for a standard bed helps open up prime real estate in your micro sized home. Even a sofa bed would require 36 inches of depth to accommodate it – not to mention the notoriously lump, uncomfortable mattresses that come standard with a sofa bed.
Features That Add Up to Comfort and Style
By day, a cabinet bed looks like a gorgeous piece of solid hardwood furniture. Space expanding cabinet beds can be ordered in your choice of finish colors, everything from a glossy white or black to cherry, oak, espresso, grey and more. An extra set of drawer pulls are included with many of our cabinet bed models, as well, so you can select the hardware style that looks best with the rest of your furnishings.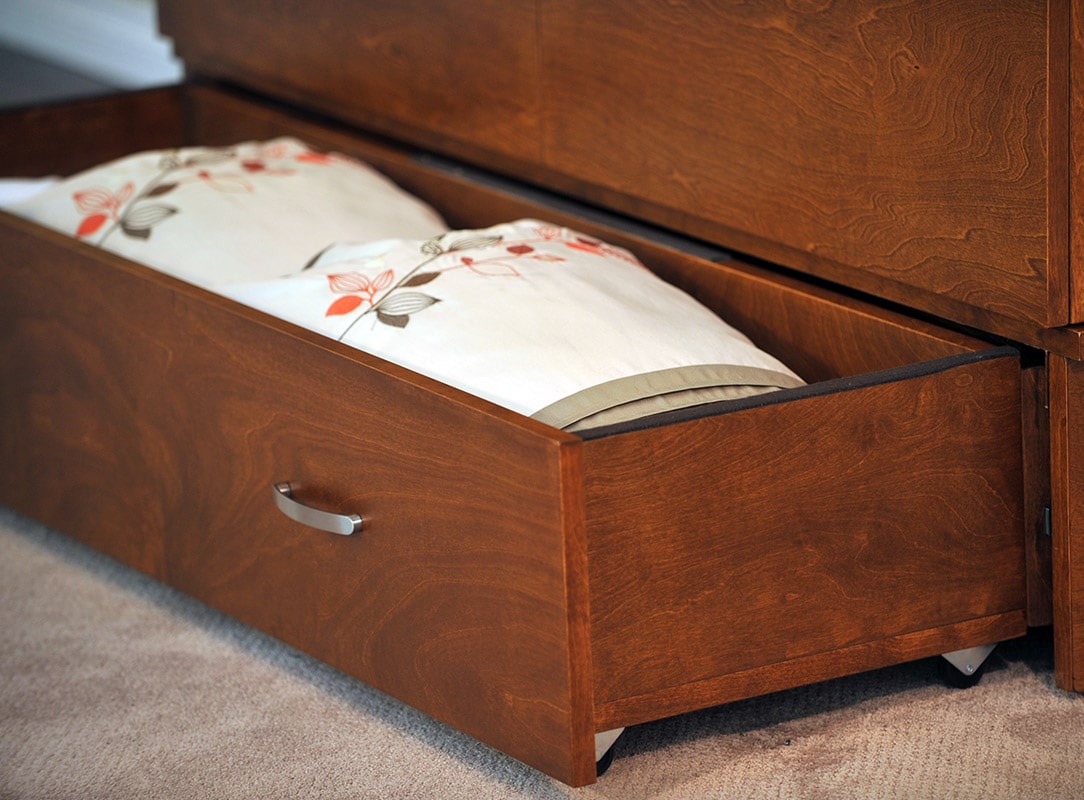 In addition to the top of the cabinet, which is the perfect place to put a television set of up to 60", our space expanding cabinet beds come with a large storage drawer along the bottom of the cabinet. This drawer will become your go-to space for storing extra linens, out-of-season clothing, your collection of magazines, pet toys or any other number of items.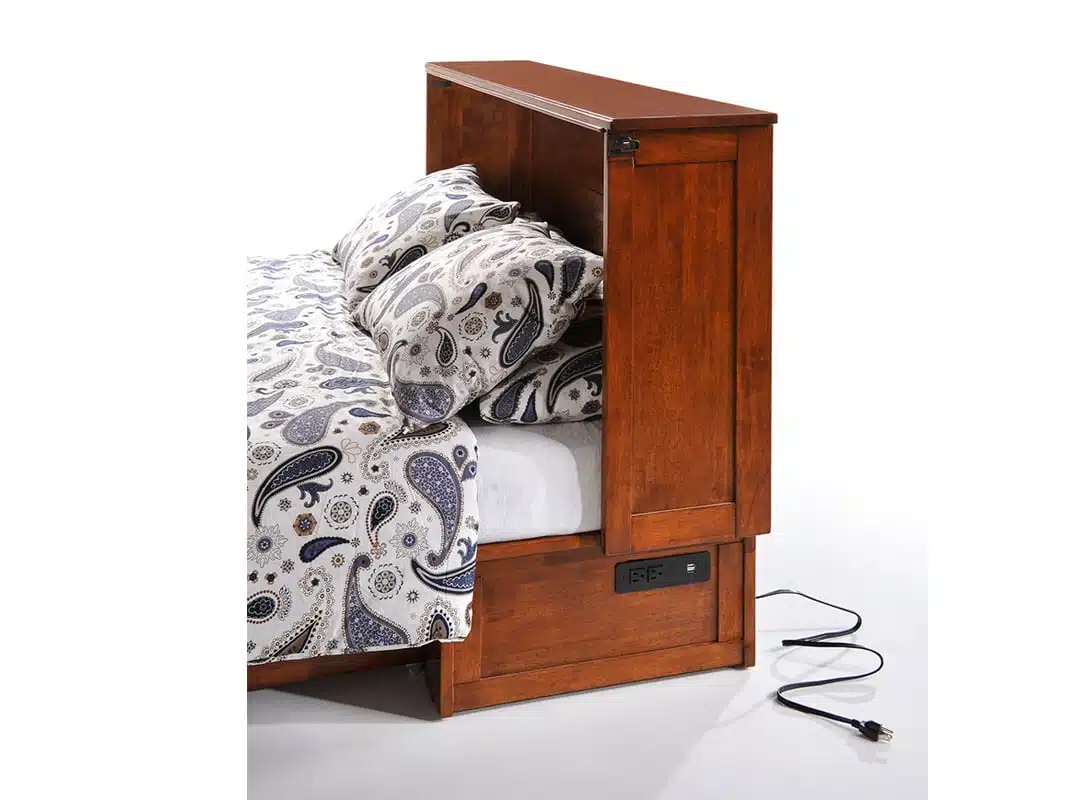 In some of our solid hardwood cabinet beds, such as the Clover cabinet bed pictured above, you will also find the handy feature of a dual USB/power outlet. These outlets are located along the bottom of the cabinet, easily accessed when the mattress is pulled out for a good night's rest. Go ahead and charge your electronics and use the plug for a nearby light fixture, or as another charging port. How convenient would that be in your micro sized house?
Space expanding cabinet beds plus micro housing are truly a match made in heaven!