Movable Cabinet Beds – Are They Comfortable?
One of the most common questions we get here at Murphy Beds of San Diego is, "How comfortable are your movable cabinet beds and wall beds?" Apparently, many of our customers still have a mistaken concept about pull down beds being good only for the occasional overnight visitor. They think they are not comfortable enough to sleep on every night. We'd like to take this opportunity to disprove this theory.
About Movable Cabinet Beds
First things first: movable cabinet beds are just that. They can be moved from one room to another since they are not permanently affixed to a wall. Murphy beds, also called wall beds, are affixed to the wall for a more permanent solution. It depends on your needs as to which you prefer. Bear in mind that a movable cabinet bed can go with you when you sell or move whereas a Murphy bed stays behind and adds value to your home.
Comfortable Cabinet Bed Mattresses
Here's another thing that's different between the two types of pull-out beds: the mattress for a wall bed is sold separately (or you can use your own) while all of our cabinet beds are sold with a mattress included in the price.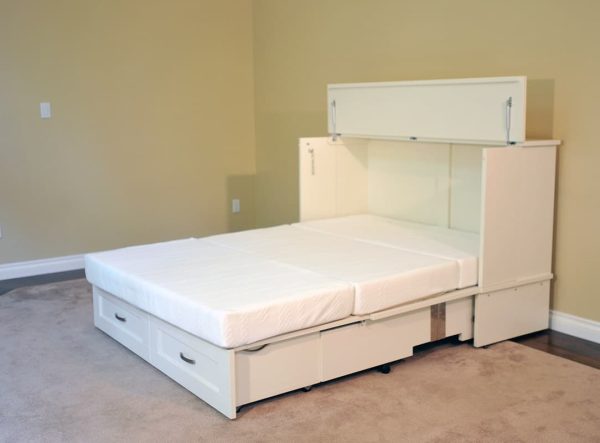 The standard mattress that comes with cabinet beds is a Tri-Fold Premium Memory Foam Mattress. This mattress is made from flexible polyurethane foam that does not incorporate dangerous chemicals such as formaldehyde and phthalates. They are also considered low-VOC. The mattresses are infused with cooling gel to provide ultimate comfort, night after night. Our movable cabinet beds include these premium mattresses in standard full or queen size. All come with a three-year warranty.
Sturdy, All Wood Construction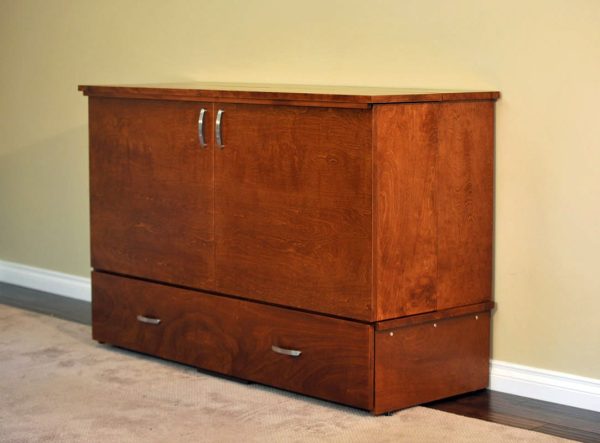 Another factor in the comfort of movable cabinet beds is how well they are constructed. A flimsy cabinet made with particle board, such as many of our competitors offer, cannot withstand repeated usage. Nor can they accommodate a sleeper of up to 500 pounds or hold a large screen television set on top of the cabinet. When it comes to comfort, craftsmanship is important. And that's why all of our movable cabinet beds are made with solid hardwood such as sustainable birch, sourced from North America.
Additional Features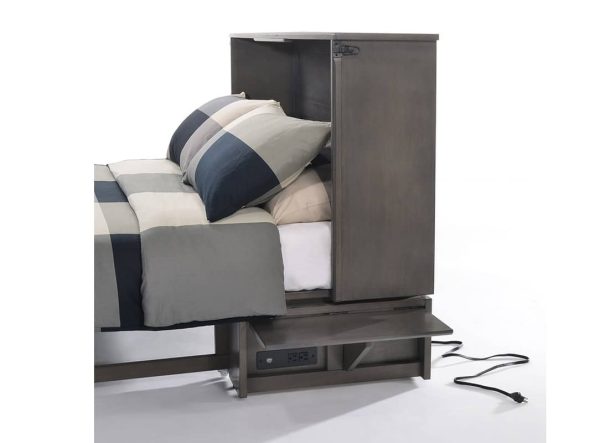 In addition to that premium memory foam and gel mattress, along with hardwood construction, our movable cabinet beds incorporate handy features to make them even more comfortable. For instance, many of our cabinet beds have USB and power outlets built right into the bottom of the cabinet. They are easily accessed when lying on the folded out mattress to plug in cell phones and other devices. A roomy storage drawer beneath the cabinet is a great place to stow extra bed linens or an overnight guest's belongings.
Comfort is King
We know that when it comes to the bed you are sleeping on, comfort is the most important factor. And that's why our movable cabinet beds feature premium memory foam mattresses, superior construction and little features that make life easier. So now you know – when it comes to cabinet beds, they are indeed comfortable enough to sleep on every single night.