Murphy Chest Beds Comparison
What is a Murphy chest bed? And what are the chief differences between the various styles? This informative article will answer those questions and more. Read on for this Murphy chest beds comparison so you can more easily decide which model is right for your home.
Difference Between Chest Beds and Murphy Wall Beds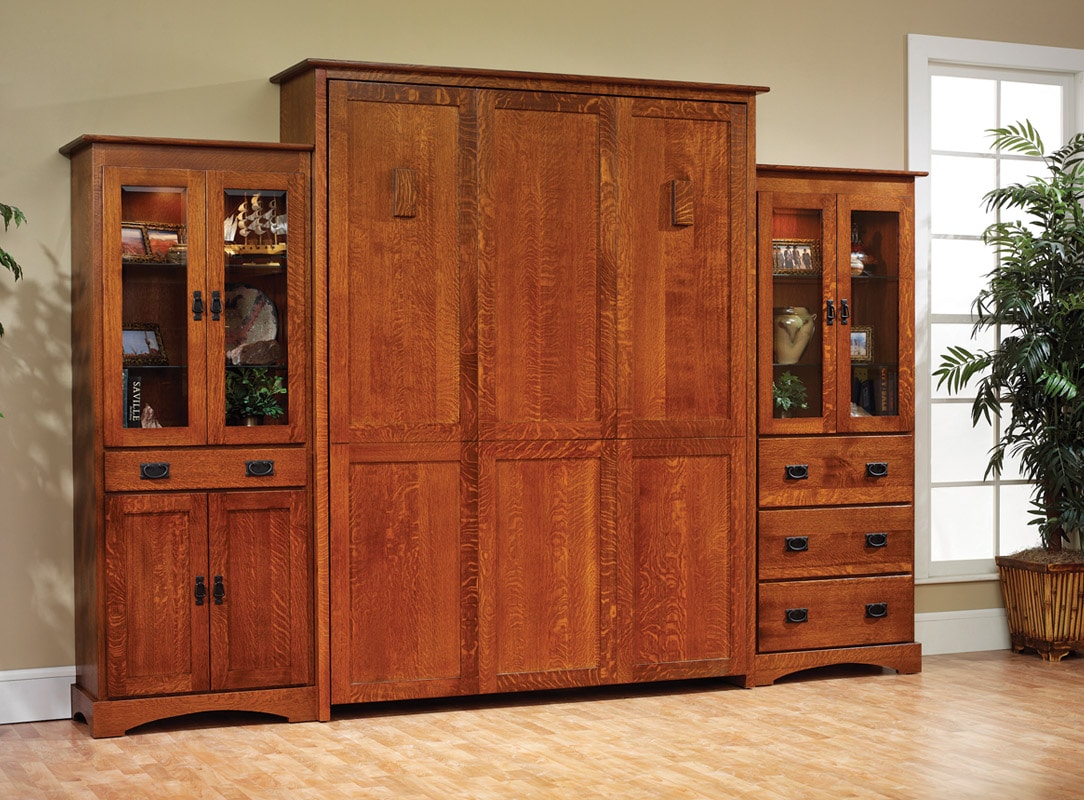 Of the two types of hideaway beds, the Murphy wall bed is the more famous. This is more than likely because the early 20th century invention received more press and was even the star of an old comedy movie or two. Wall beds must be securely attached to a wall. A mattress of nearly any size folds up into the frame on the wall. Installing a Murphy wall bed means that it becomes a semi-permanent part of the home.
Murphy chest beds are smaller in size and usually feature a full- or queen-size mattress. Unlike wall beds, Murphy chest beds, also known as cabinet beds, are not a permanent fixture in a home. They can be moved like any other furnishing. Their footprint is a mere 10 square feet or so these fold up guest beds can fit nearly anywhere.
Murphy Chest Beds Quality
Just because cabinet beds are smaller and portable does not mean their quality is compromised in any way. Our Murphy chest beds are crafted from solid wood and do not use any cheap particle board to ensure they are both sturdy and durable. In fact, most of our cabinet beds feature a 10-year limited warranty.
Let's look at some of the most popular Murphy chest beds and the features that distinguish each.
Metro Cabinet Bed with Wall Unit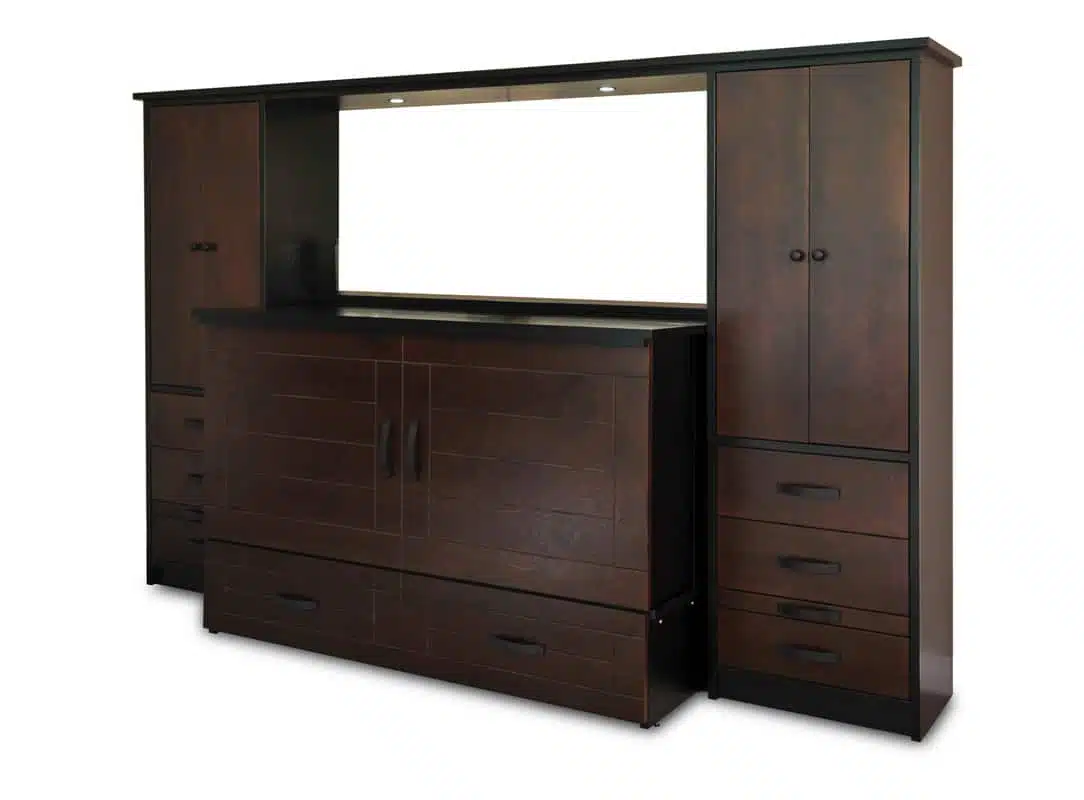 We are pulling out the big guns first in this Murphy chest beds comparison. If you have enough room, a Metro Cabinet Bed with Wall Unit is the way to go. This handsome, transitionally styled cabinet bed has lots of storage, from the spacious drawer along the bottom of the cabinet to the drawers and shelves in each side of the wall unit. The wall unit arches over the top of the cabinet and includes handy puck lighting. This Murphy chest bed is nearly as large as a wall bed with side piers but still takes up less floor space.
Clover Chest Bed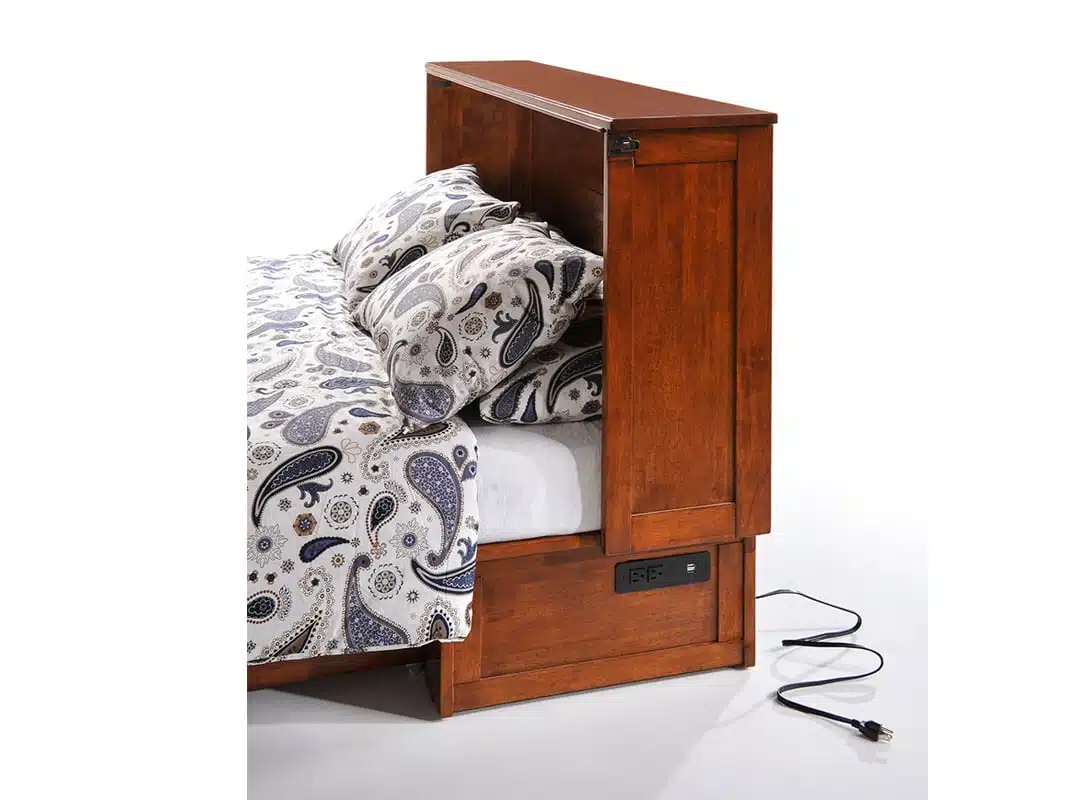 The Clover Chest Bed is one of the first models to become quite popular with consumers. Its solid wood frame is offered in three different finish colors (white, dark chocolate or cherry). One of its handiest features is the USB and electrical outlets located near the head of the bed when the mattress is pulled out for sleeping. It has a style that will fit nicely in nearly any type of room or area and a cabinet top that is rated to fit a good-size television set. This model is particularly popular in kids' rooms or smaller guestrooms.
Cube Murphy Chest Bed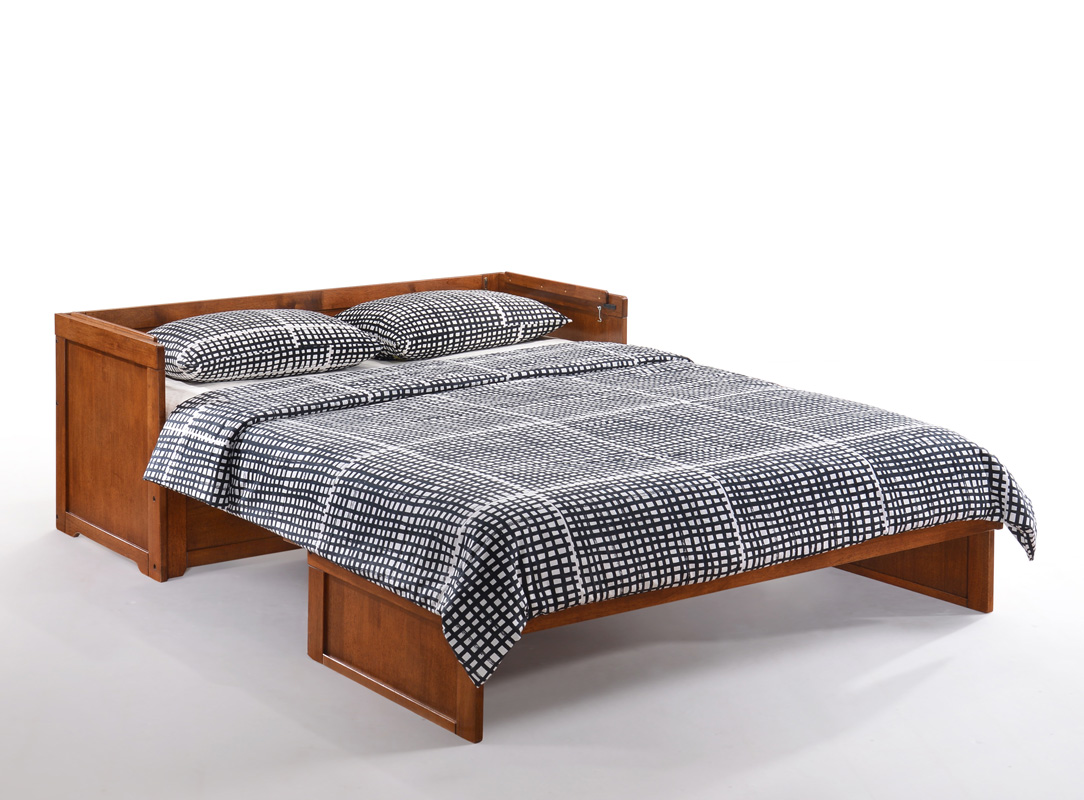 Even smaller and offered at a lower price point is the Murphy Cube Cabinet Bed. This one is lacking the roomy storage drawer beneath the cabinet but that also makes it more compact, with a lower height. The top of the cabinet is used to support the mattress so it cannot accommodate any decorative items. The Cube is designed with an alternate open/close system, as well, but it still comes with a 10-year limited warranty on the cabinet, which is available in four different finish colors.
This Murphy chest beds comparison allows you to examine the features and differences so you can find the perfect fit for your home and your needs.