Now You Can Have the Home Office and Guestroom of Your Dreams
Are you tired of putting up with a single extra room that is supposed to be your home office but also needs to accommodate overnight guests – and it does neither one particularly well? Luckily, there are plenty of options to change that. It all starts with a multi-functional desk wall bed that not only adds beauty to the room, it makes everything you need the room for work as it should. Here's how to get the home office and guestroom of your dreams.
Set Up Your Home Office with a Desk Wall Bed
First, get down to business – the business of setting up your home office, that is. Because this is the most important function of the room, take some time to think about what you'd like in your workspace. A desk? For sure. Bookshelves to stow books, papers and office supplies? Check. File drawers? Probably. The good news is that you can get a handsome desk wall bed that incorporates all of these features and more.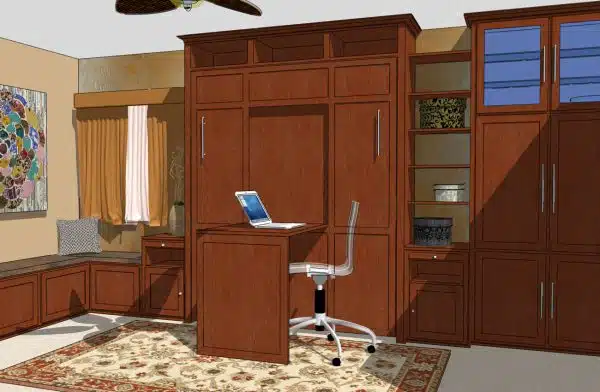 For instance, take a look at the Cromwell Desk Wall Bed. It features an ingeniously designed desk that folds up when not in use. The cabinet is made from fine alder hardwood and is 100 percent American made so you know the Cromwell wall bed is constructed with quality in mind. Add side piers to this desk wall bed – bookcases or storage drawers – and you've got your complete home office setup.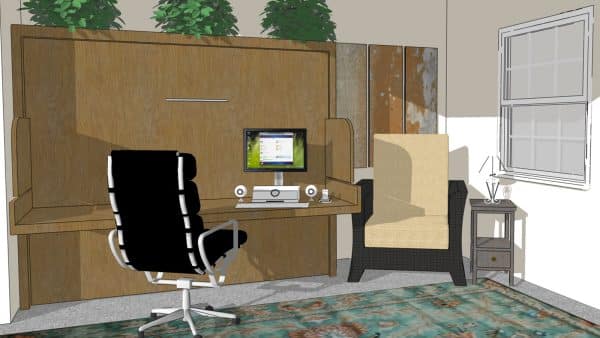 The Mirage Desk Wall Bed is another great option. The model shown here is configured horizontally, which may be the best way to take advantage of the space in your extra room. The nice thing about this wall bed is that it folds down over the desk, allowing you to keep your laptop and your work materials in place while the bed is being used for sleeping. You can easily opt to add a side bookcase and you can also place a few items along the top of the cabinet, such as the plants shown here.
Set Up Your Guestroom
Of course, when this room also has to function as a guest bedroom, you need to consider comfort and practicality in that regard, too. Your guests should have everything they need in addition to the items in your home office.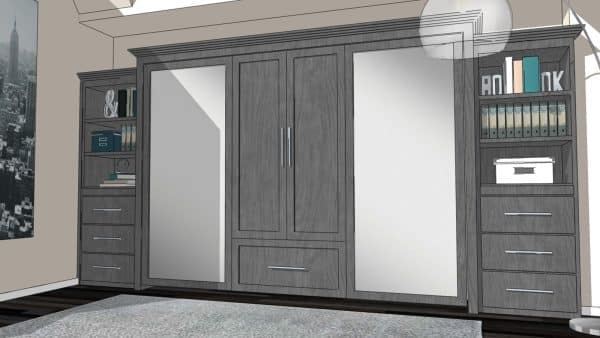 For a multi-functional guestroom, you may want to consider this Mandalay wall bed. The one shown here features two side wardrobes with mirror doors to make it easy for your guests to get ready for the day, as well as side piers with storage and open shelving. Closet space and drawers are ideal. To make sure it works well for your home office, don't forget to add an optional desk, too.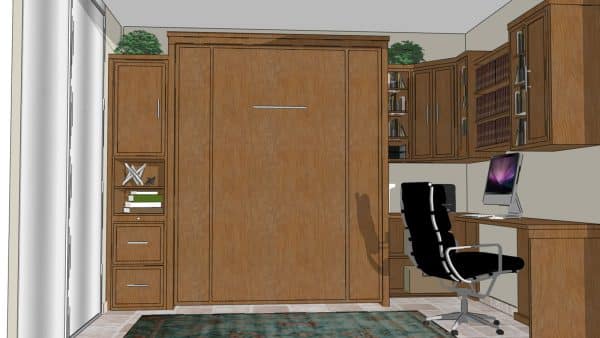 The Plaza Wall Bed might work well in your space. This one is available with optional desktop work space for your home office while the side piers can be customized as closet space, drawers, file cabinets or bookshelves. Why not make one side the place to store all your home office supplies while the other side pier is for your guest's clothing and toiletries?
Yes, It's Possible to Have It All
These are just some of the ways you can turn your home's extra room into both a functional home office and a comfortable guestroom all at the same time. The secret is adding a wall bed that maximizes both space and functionality.