Small Space Problems Solved with Feature Rich Wall Bed Systems
Most of us have some space issues in our homes, as in lack of space. Even in a large house, the room you do have isn't always used efficiently. No matter where you live, nearly any room can be transformed thanks to feature rich wall bed systems that free up square footage and provide room for storage and organization.
Small Space Problem #1: No Room for Overnight Guests
If your home has a large great room and no extra bedroom, finding room for overnight guests is difficult. Many of us resort to the old tried-and-true solution of adding a sofa sleeper to the living room. The problem is that most sofa sleepers are uncomfortable, large and heavy and collect dust bunnies.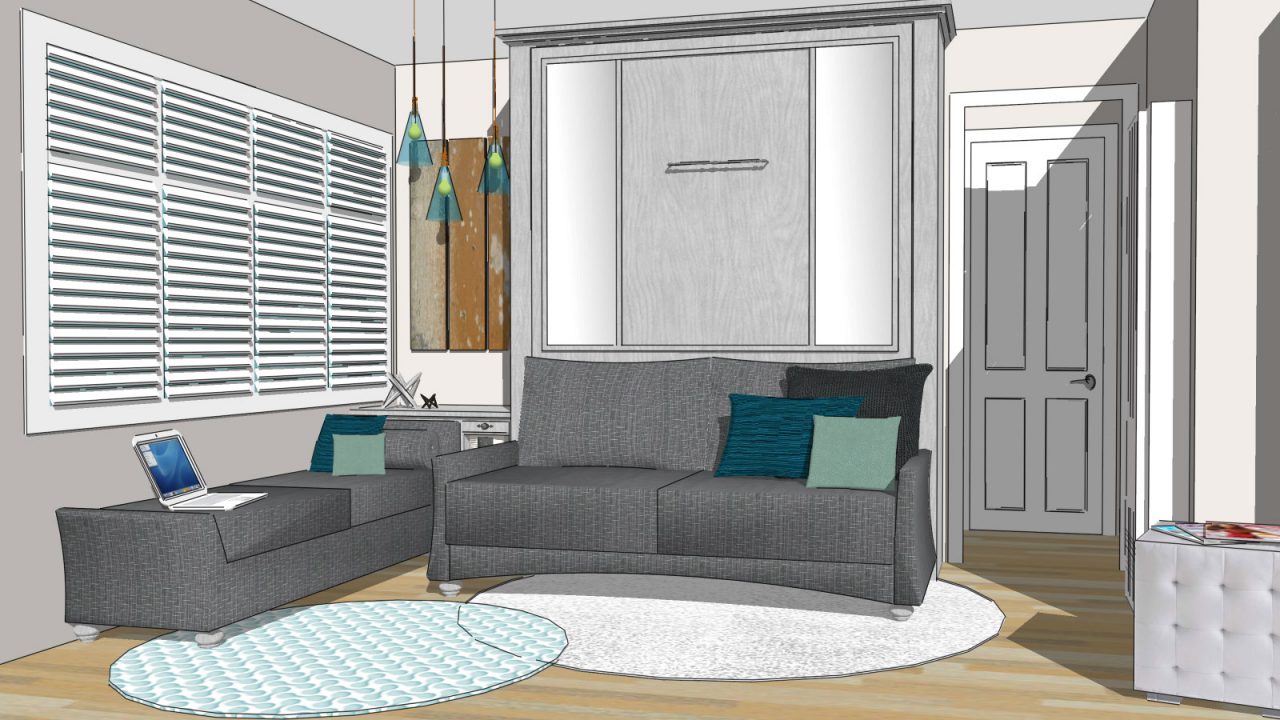 The solution? Feature rich wall bed systems that function as seating area plus more. We have wall beds with an attached sofa that provides ample room for watching TV or playing video games. But when night comes and you have a guest who needs to sleep, simply pull the bed down over the sofa. Make this a wall bed system by adding side piers with shelves, cabinets or drawers for storing things like games, movies, electronics equipment and more. 
Small Space Problem #2: Tiny Master Bedroom / Tiny Closet
If your master bedroom is not as roomy as you might like or it is part of one large space in a studio, the best solution to this small space problem involves feature rich wall bed systems. You don't want to sacrifice comfort and room in your main bed and there's no need to do so. By using a wall bed with a mattress in your choice of size (anywhere from twin to king) and material, you free up tons of space but still have a supportive bed to sleep in each night.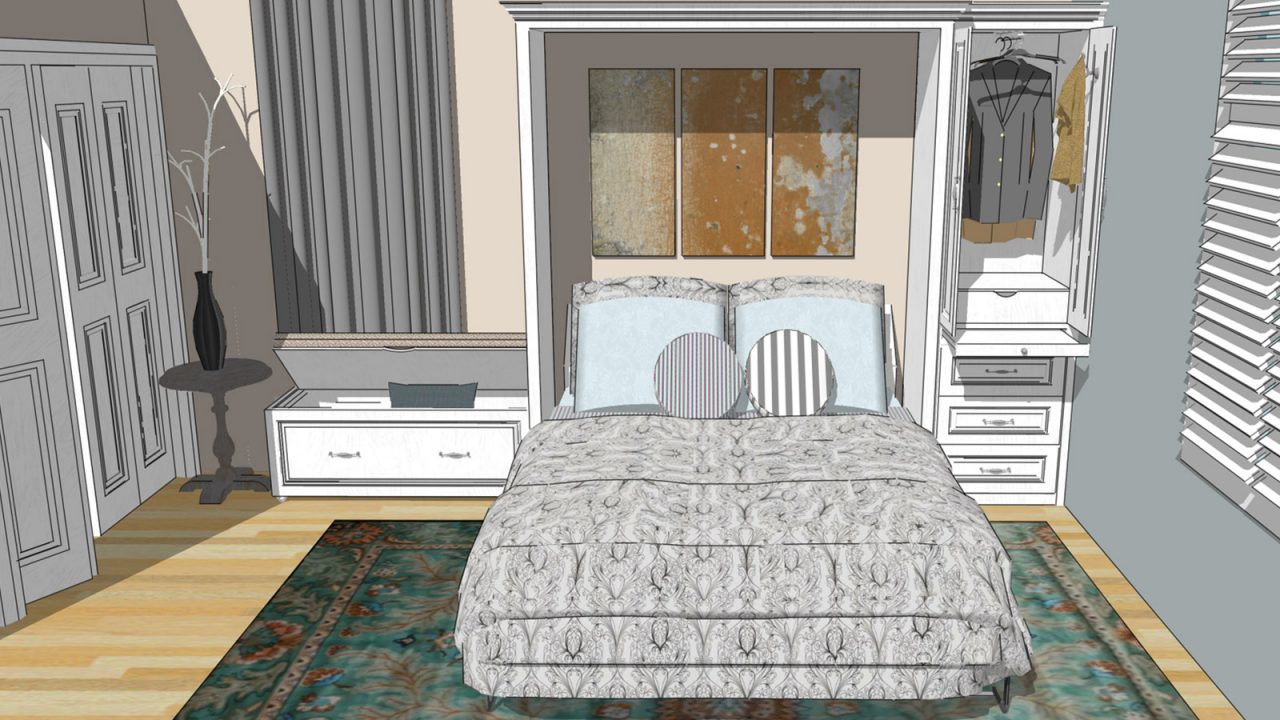 Feature rich wall bed systems can include things like a wardrobe to augment a tiny closet (or no closet at all), drawers for linens or clothing, bookshelves, cubbies or cabinet doors. In fact, if you opt for a custom built wall bed system, we can include just about anything you request, finished in matching millwork.
Small Space Problem #3: Only One Extra Room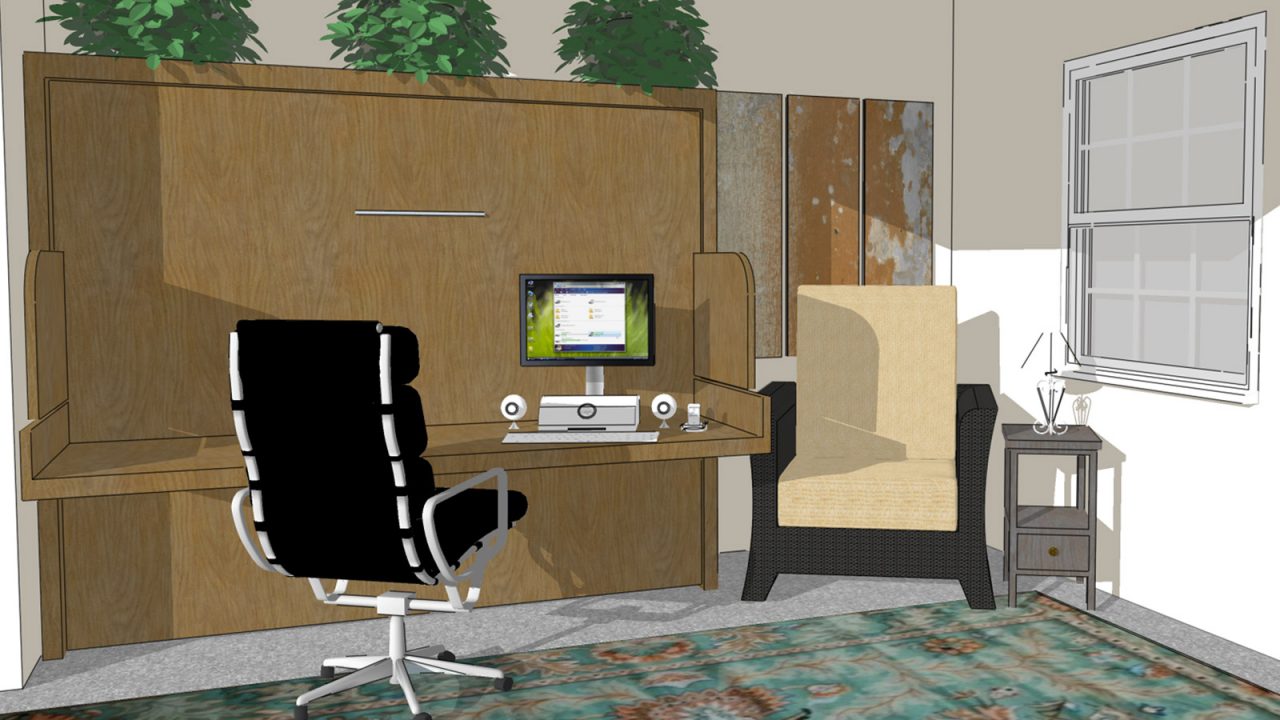 Many of us live in homes with only a single extra room. That one room often has to function as a play area, exercise room, home office, craft room and guestroom. How can you possibly fit all that into one space? Feature rich wall beds systems come to the rescue. They provide an extra bed for sleepover guests while taking up very little square footage. This frees up plenty of floor space for play mats, yoga mats, multi-purpose tables and more. Opt for a wall bed with desk and you'll have a built-in place for homework or business. Add side piers with storage and you've got the ideal system to turn one extra room into a multi-functional workhorse. 
With feature rich wall bed systems, small space problems are no longer an issue in your home. Whatever functionality you can dream up for your wall bed and side piers, we can make happen. Just contact any of our sales professionals today and we'll design the wall bed system of your dreams – and help your home feel as if its space was doubled.