Spring Cleaning? Use the Empress Wall Bed to Make Your Space More Efficient
Spring has nearly sprung and with the change of seasons, many of us are thinking about ways we can clean our space, unclutter our lives and maximize the efficiency of our homes. It's time to shake off the chill and gloom of winter and say hello to freshness and the rebirth of nature.
Along with that desire to clean and unclutter, it makes sense to strip everything from those under-utilized rooms, such as a guest room or hobby room, and take a critical look at the ways you could use this space. Unsurprisingly, adding an Empress wall bed – one that has lots of nifty features – is an excellent way to accomplish all you want from a home that is completely refreshed.
How a Wall Bed Helps to Declutter
Are you tired of seeing an extra room that has become nothing more than a storage space? Perhaps it has to function as a home office along with housing overnight guests. Or maybe it's a room where you indulge in a favorite hobby but also serves as overflow storage for items such as linens or groceries.
If this sounds like your home, we've got a solution: wall beds to the rescue! You can configure a wall bed, such as the Empress, with side piers (standard or full length) that handily hold all those items that need to be stored in your extra room. We're talking wardrobes for clothing, cabinets with doors to hide nearly anything and shelves to display those items deemed "show-worthy."
This creates a neat storage system that can be designed to go nicely with your existing décor – from the wood finish to the hardware options you select. Stylish and tidy, an Empress wall bed with side piers is an ideal storage solution.
Wall Beds Free Up Space
Rooms that are not filled with furniture and cluttered with knick-knacks always look cleaner and tidier. An expanse of open flooring also makes the room look bigger in addition to freeing up space for other uses.
This is where a wall bed comes in handy, once again. Because it is a true Murphy bed which hinges and folds up into a wall cabinet, the Empress wall bed has a small footprint, taking up only 20 inches of depth, no matter the mattress size. And that allows you to keep a lot of your floor space clear, neat and tidy when the bed is tucked away.
Wall Beds are Efficient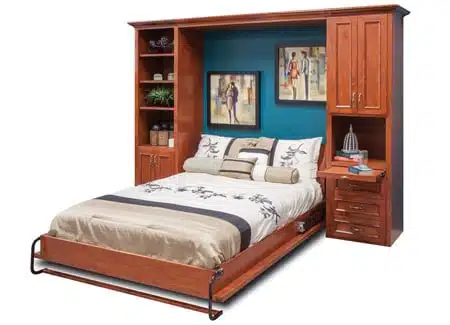 Decluttering and cleaning go right along with efficiency, particularly efficiency of space. And that's exactly what you get when you incorporate the Empress wall bed into any room of your home.
This beautiful, hardwood wall bed can be configured with a desk and bookshelves, lighting and power outlets, for your perfect home office. Or you can add a wardrobe or cabinet to store hobby supplies and add a table to work on projects.
The Empress Wall Bed is Your Best Spring Cleaning Tool
With all the ways that a Murphy bed can help you declutter, free up space and use any extra rooms more efficiently, it's clear that the Empress wall bed should be included in your spring cleaning agenda.