Storage Cabinet Beds Keep Your Home Neat and Organized
We may be biased, but we think one of the niftiest pieces of furniture to come along in quite some time are storage cabinet beds. Not only do they function as a guest bed for overnighters, they have plenty of space to hold all sorts of items. Here's everything you need to know about storage cabinet beds and what they can do to improve organization in your home.
What to Expect in Storage Cabinet Beds
First things first – let's take a look at the features and details offered in every quality cabinet bed offered at Murphy Beds of San Diego.
For one, our storage cabinet beds are constructed from hardwood; they do not use any flimsy particle board or cheap MDF. The wood comes from North America and is sustainably harvested. Our cabinet beds are not foreign made, so you can expect superior quality craftsmanship and a handsome, durable piece of furniture that is designed to last. Finally, all our storage cabinet beds come with a tri-fold, premium memory foam mattress for ultimate sleeping comfort.
So Much Storage
Now, onto arguably the most important feature of these fantastic fold-away beds: storage. Each one of our storage cabinet beds features the industry's largest storage drawer beneath the cabinet. It is 59" wide and plenty deep, so it offers ample room for lots of items. The drawer is sturdily constructed, and rollers help you easily pull it out and push it back in as necessary. And since the storage drawer is located at the bottom of the bed's cabinet, it is stable enough to store heavier items with ease.
What could you store in the drawer of a cabinet bed? If your storage cabinet bed is in a guest room, consider these uses:
Extra bed linens
Out-of-season clothing
Amenities for your guests
Guest belongings
Books, magazines and puzzles
Exercise equipment
Crafting supplies
Maybe your extra room is used as a home office. In that case, consider stowing these types of items in the storage drawer of your cabinet bed:
Office paperwork
Books and binders
Supplies, such as printer paper, ink cartridges, etc.
Small electronics
More Storage on Top
But wait…there's more. Because our storage cabinet beds are so sturdily constructed, the top of the cabinet is rated to hold up to a 60-inch screen television set.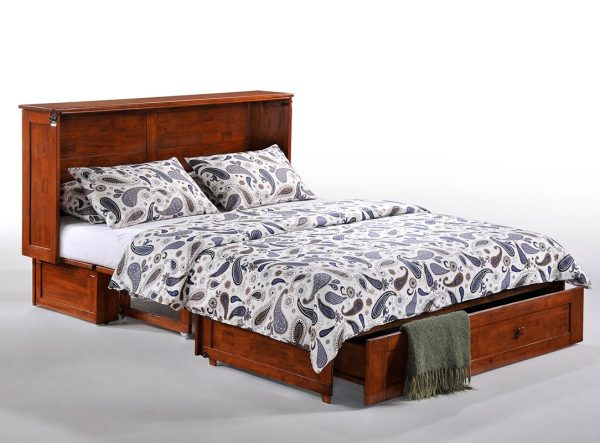 Of course, that's just one idea. You could also use the shelf formed by the top of the bed's cabinet to hold a row of books, figurines or collectibles, cloth storage bins or family photos. Or, it could be the perfect place for guest amenities, such as a pitcher and glass of water, magazines, a stack of towels, candles, an alarm clock or a valet box for jewelry.
With storage cabinet beds, there will be plenty of space to organize lots of little things in your home. The added bonus is that you also get a guest bed that neatly folds into a handsome cabinet by day while providing a comfortable mattress for sleeping at night. Now that's a win-win.