Tips and Considerations When Shopping for a Cabinet Bed
Have you gotten on the Murphy cabinet bed bandwagon yet? These useful pieces of furniture are small enough to fit nearly anywhere yet always ready to provide a comfortable night's sleep when you have overnight guests. But before you make a decision when shopping for a cabinet bed that is best for your home, consider these facts and features.
Best Mattress for a Cabinet Bed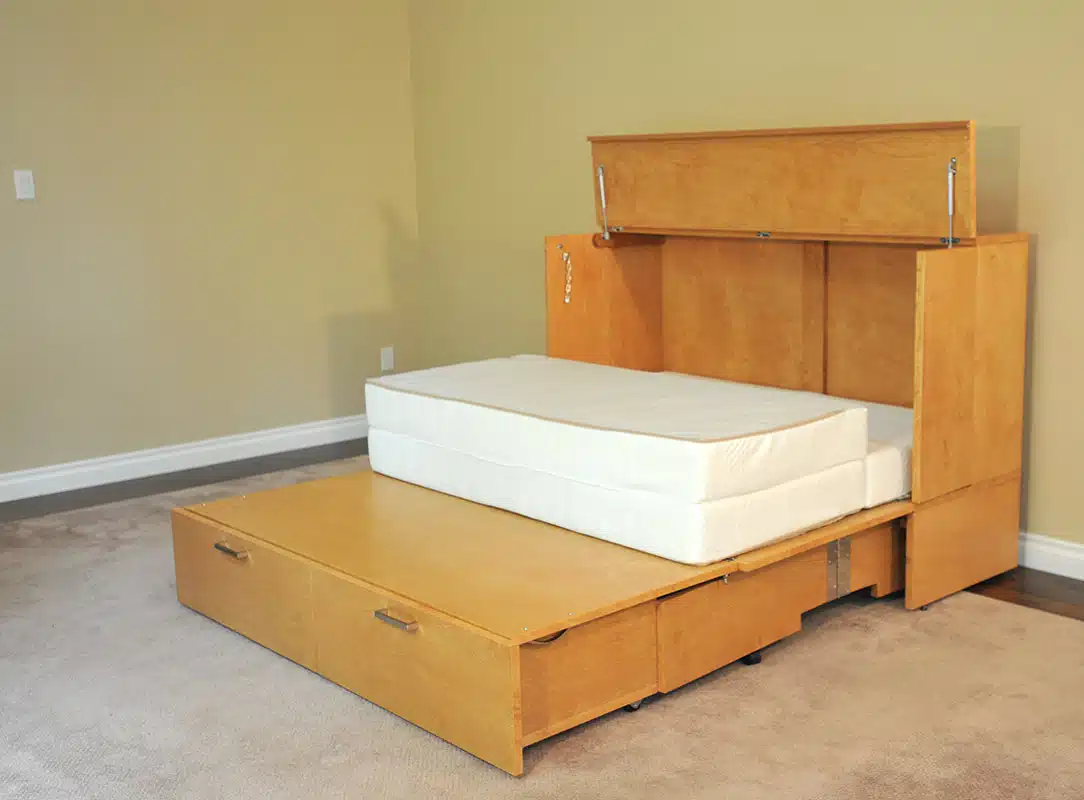 The number one most important feature to consider when shopping for a cabinet bed is comfort. After all, you wouldn't want your guests to be tossing and turning all night due to a thin or lumpy mattress. We suggest always buying the best quality mattress available. At Murphy Beds of San Diego, all our cabinet bed mattresses are made from premium memory foam that is CertiPUR-US® certified to be free of emissions (made without ozone depleters, PBDEs, heavy metals, phthalates or formaldehyde) and perform at its optimum. Both durable and comfortable, these trifold mattresses are an excellent choice.
Cabinet Bed Features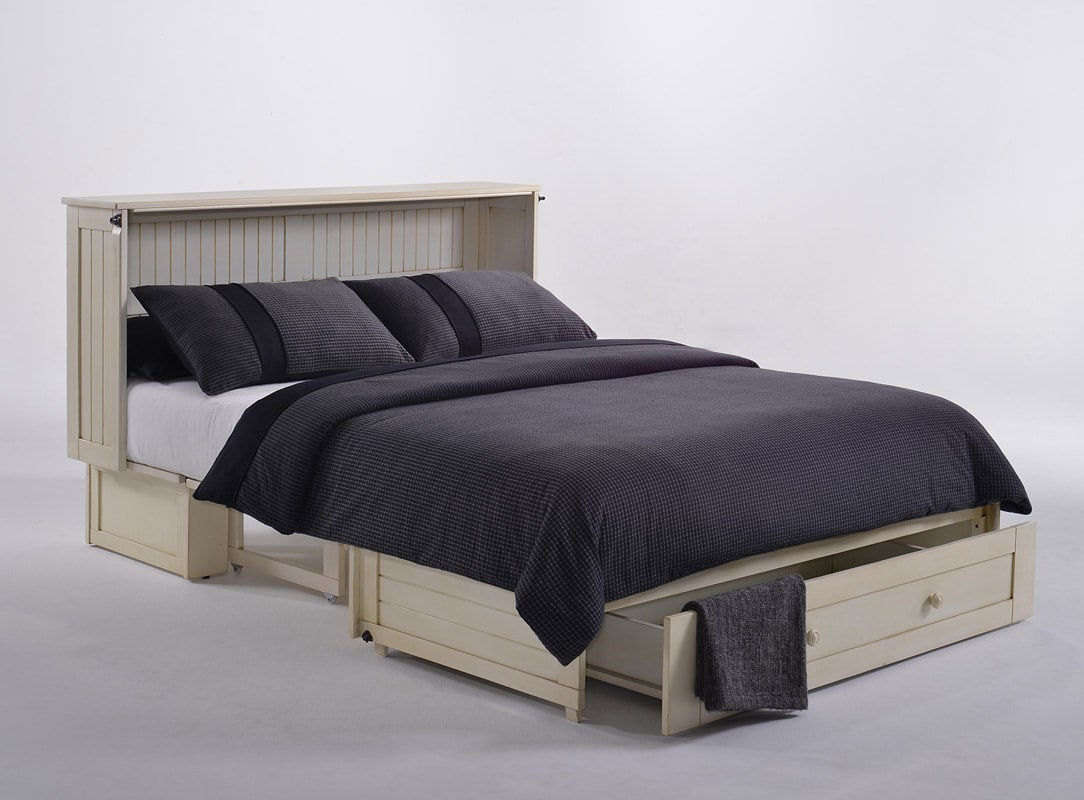 Perhaps next in importance as you are shopping for a cabinet bed are the available features. For one, your cabinet bed should have plenty of storage; all our models with the exception of the Cube come with a roomy storage drawer located along the bottom of the cabinet. This is a handy place to stow extra linens for your overnight guests or an area they can use for unpacking their suitcases.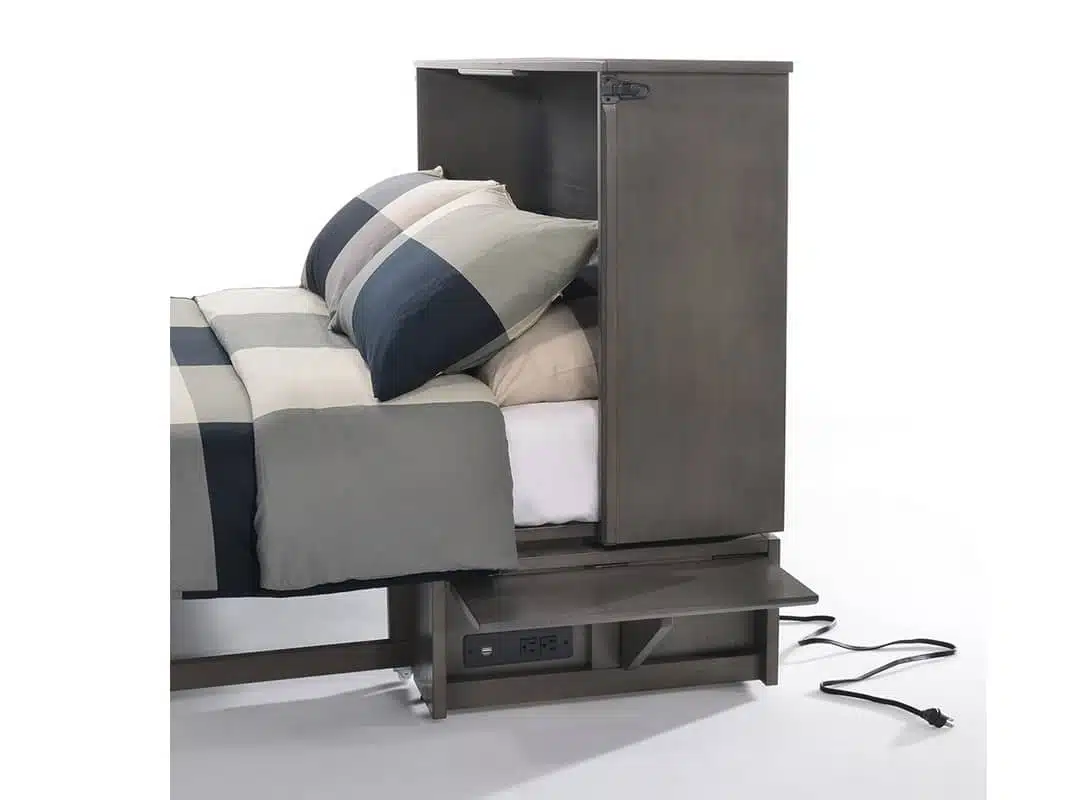 Another great feature you will find in most of our cabinet beds is a useful little fold-up table along the front of the cabinet. This is a great place for a bottle of water or a cell phone. Underneath the table is a USB port and a pair of electrical outlets which make it very convenient for your guests to charge their electronic devices or plug in a reading lamp.
Size Considerations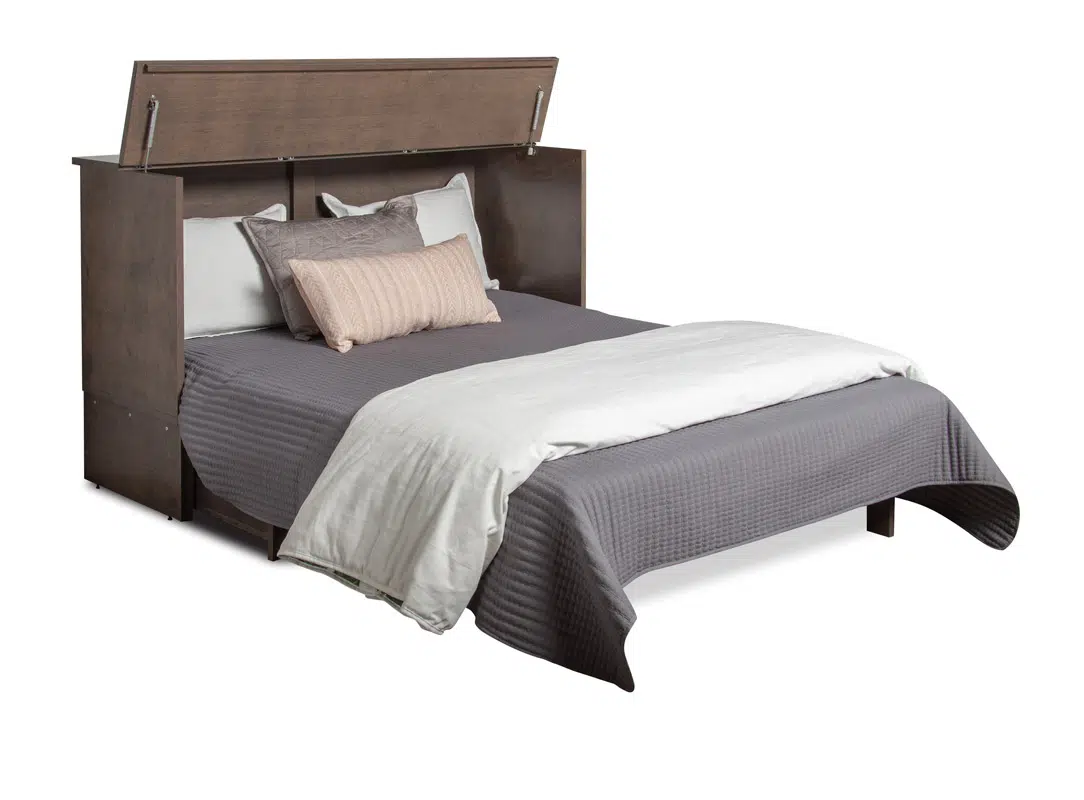 Some cabinet beds are available with your choice of mattress size. Although this can make the cabinet narrower, we prefer shopping for a cabinet bed with a queen-sized mattress for ultimate comfort unless space is truly limited. Most of our premium quality cabinet beds have a footprint of a mere 10 square feet which makes it easy to ensure there is adequate space for it. Remember, as well, that the area in front of the cabinet needs to be free of anything that will get in the way when you pull the mattress out for sleeping; the extended length will be about 83".
Cabinet Bed Looks and Finish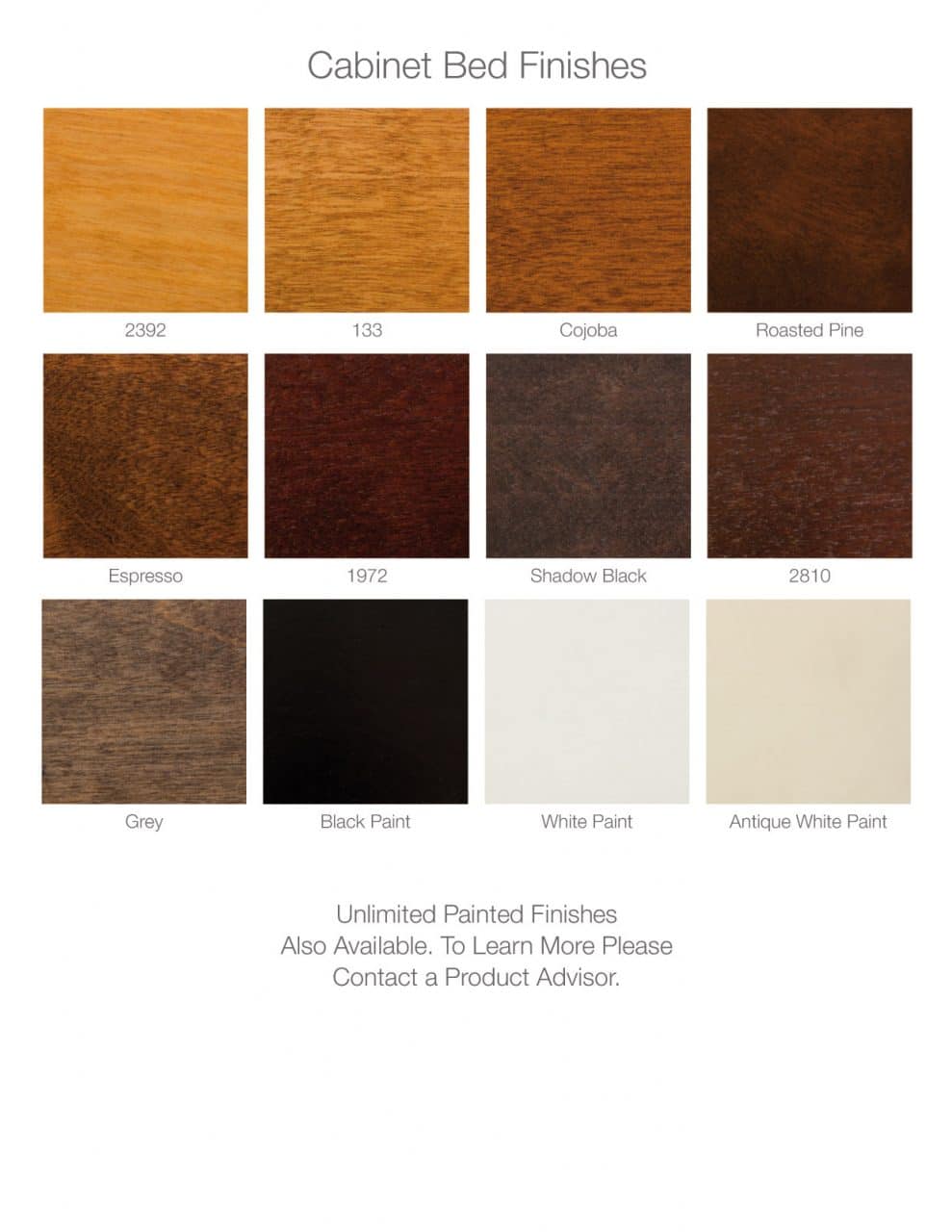 Finally, more important features to consider when shopping for a cabinet bed are looks and finish. There are some cheap models on the market that are manufactured overseas and use varnishes and paint that contain chemicals and give off fumes. Look for a non-VOE finish that is available in your choice of colors so that it is easy to blend in this furnishing with the existing room décor.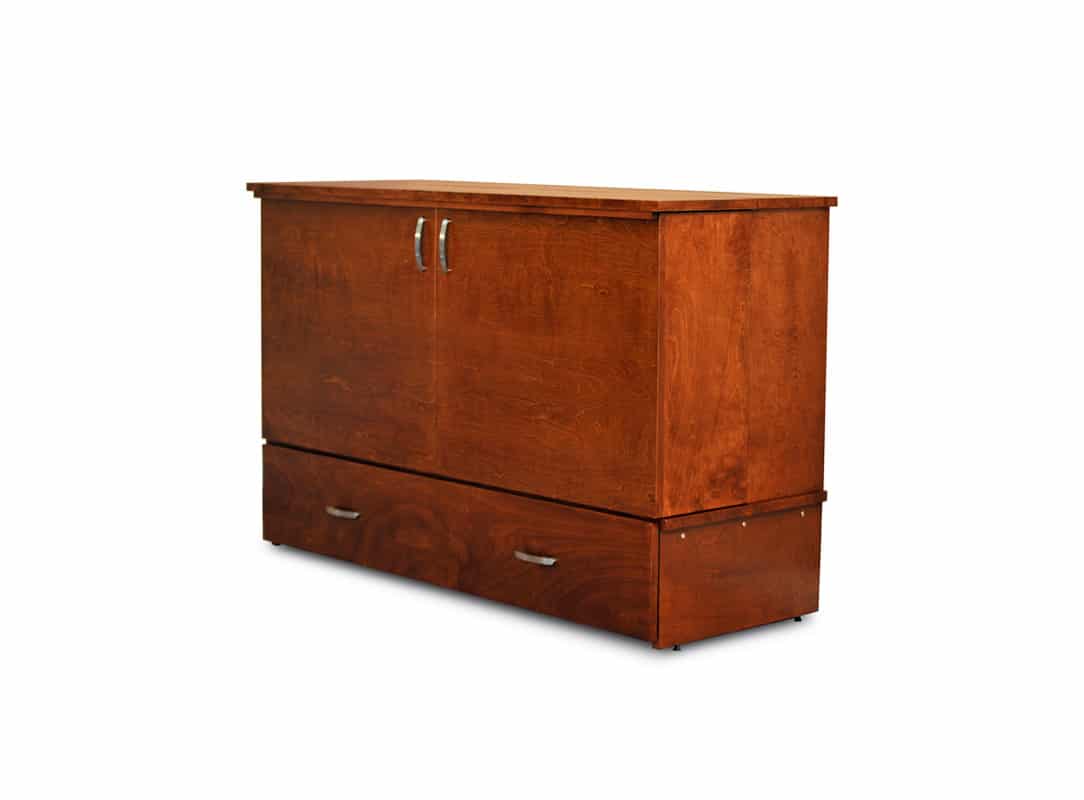 Related to the cabinet bed's looks is the ability to switch out the hardware. Some of our cabinet beds, such as the Clover Murphy Cabinet Bed, come with two sets of drawer knobs in either a wood or metal finish. This allows you quickly and subtly change the looks of your cabinet bed as desired.
Shopping for a cabinet bed needn't be difficult. Before you make a purchase, keep these considerations in mind so you can find the ideal piece that will free up space in your home and always provide a guest bed when needed.