Top 10 Reasons to Install a Cabinet Bed in Your Home
Murphy cabinet beds are quite the ingenious and versatile furnishings. They look good and can go nearly anywhere you could use an extra bed. But beyond that, there are plenty of reasons you need to install a cabinet bed – or even several – in your home.
An Extra Bed
Seriously, have you ever thought to yourself, "I have more than enough beds to accommodate overnight guests." Who couldn't use another bed? A cabinet bed is perfect for kids' sleepovers, in-law visits, out-of-town friends, dinner guests and holiday events. And the premium tri-fold gel memory foam mattress ensures a good night's sleep.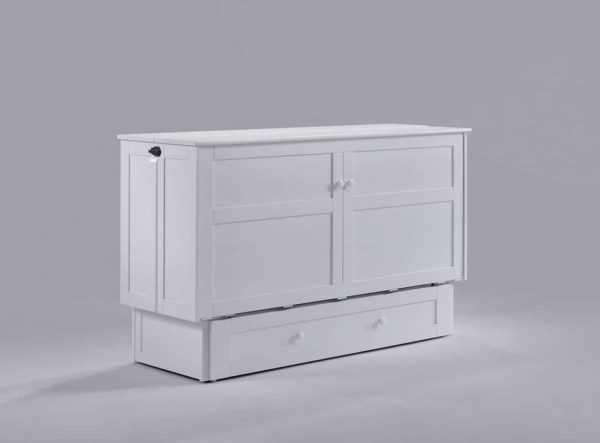 Space-Saving Genius
One of the best features of a cabinet bed such as the Daisy, Clover or Sagebrush is that it saves precious space. These beds take up only about 10 square feet of space, about a third less than a traditional bed. That frees up a lot of square footage to use any way you wish.
Use Your Extra Room for Anything
When you install a cabinet bed in that extra room and get rid of the traditional bed, you can turn it into a room to do just about anything you wish. How about an exercise studio? A home office? Arts and crafts area? The possibilities are limitless – and a trim cabinet bed helps you take back that extra room.
Add Storage Space
All of our North American made, solid hardwood cabinet beds come with an expansive storage drawer on rollers. This is the ideal place to stow extra linens, toys, workout equipment or just about anything else that fits. You can also use the top of the cabinet to hold a TV or other heavy object. For even more storage, add optional wall units to the sides of your cabinet bed.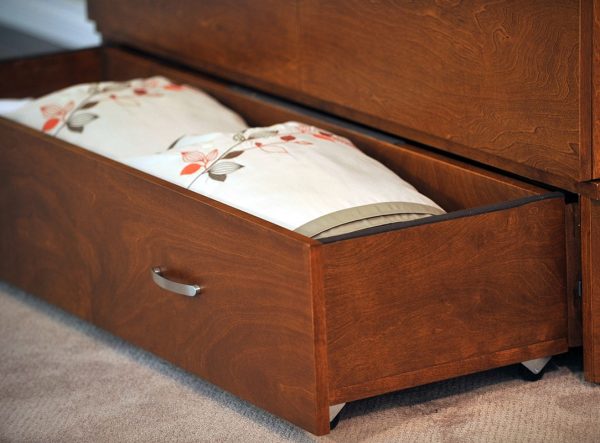 Perfect for a Child's Bedroom
When your child hosts a sleepover, a cabinet bed sure comes in handy. But even when your child doesn't have any overnight guests, the cabinet adds storage space (see #4 above) for books, collectibles or a shelf for a television set. Some of our cabinet beds come with a built-in desk, which makes them perfect for doing homework or crafts.
They Look Good
Since all of our cabinet beds are made from 100 percent hardwood – no cheap particle board – they are made to last and look good for years. Choose from a variety of finishes; there is sure to be one that looks beautiful in your room. And the transitional style looks right at home in any type of décor.
Ready to Install a Cabinet Bed
Install a cabinet bed in just minutes! Our cabinet beds come fully assembled. Just unpack your cabinet bed from the box and it's ready to use right away. Install a cabinet bed in just minutes!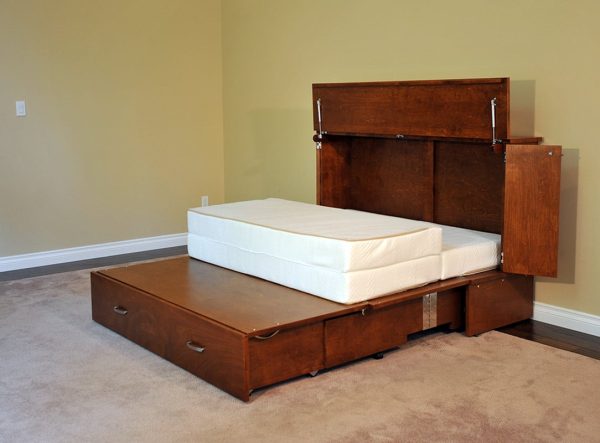 Super Easy to Use
Did you know you can transform this gorgeous piece of furniture into a bed within seconds? Almost anyone can pull down the front of the cabinet and reveal the premium memory foam mattress, ready to sleep on, quicker than you can microwave instant soup.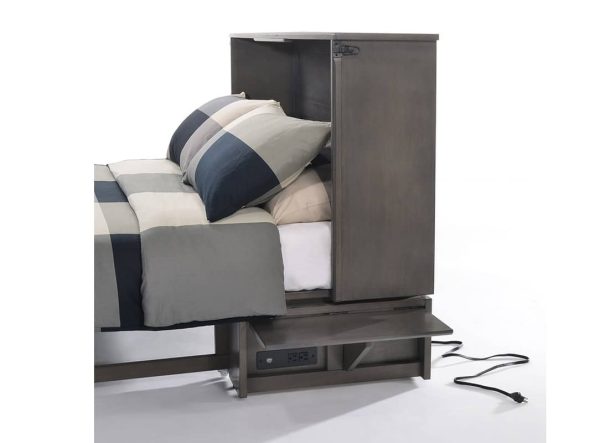 Techno-Friendly
The Daisy, Sagebrush and Clover cabinet beds all come with dual USB and power outlets installed right in the cabinet, at the head of the bed. This makes it easy to plug in before winding down.
Great Value
At Murphy Beds of San Diego, we offer a price match guarantee on all our high quality cabinet beds. They are also covered by a 10 year warranty on the cabinet and a three-year warranty on the premium mattress. This is a value you can't beat.
Now, where will you install a cabinet bed in your home?