Top 10 Reasons You Need a Murphy Wall Bed in Your Home
Should a versatile, functional, space-saving Murphy wall bed be on your Christmas list this year? We'd like to think so. And here are the top reasons you need a Murphy bed to further convince you.
Handsome, Solid Hardwood Furniture
Besides saving space and adding functionality to any room of your home, the Murphy beds we offer all use high-quality construction from solid, North American hardwood. They are beautiful pieces of furniture made to last and stay with your home, increasing its value. And added bonus is that our wall beds come with a lifetime warranty on the mechanism.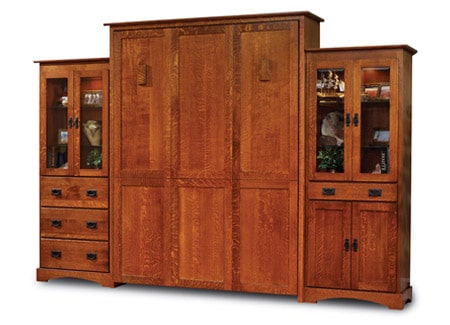 So Many Configurations
When it comes to the size, shape and configuration of your Murphy wall bed, the sky is the limit. You can choose from a wall bed that is horizontal or vertical, with one or two side piers or matched to a complete roomful of cabinetry. You decide the dimensions and we'll find a wall bed or custom design one that fits perfectly.
The Perfect Home Office
Do you work from home, either occasionally or every day? Then a well-equipped home office is a must. And if space is an issue, then it makes sense to design a Murphy wall bed with desk, bookshelves, power outlets, filing cabinets and anything else that makes your work-at-home tasks easier.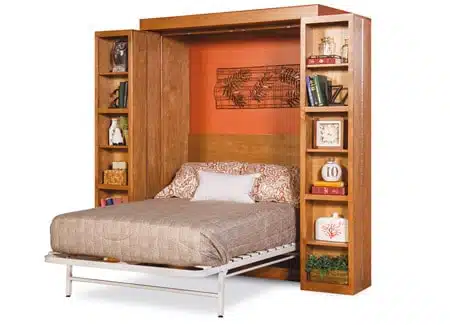 Perfect Addition to Any Room
Well…almost any room. A Murphy wall bed is a natural addition for a guest room, rec room, child's room, home office, home gym, library, basement or walled-in garage. In other words, any extra space in your home where you would like to accommodate overnight guests is the perfect fit for a Murphy wall bed.
Side Pier Super Functionality
One of the best ways to make your Murphy wall bed do double, triple – or more – duty is by adding side piers. Most of our Murphy beds are available with side piers configured in several different ways – with shelving, lighted display, glass front doors, cabinets and more.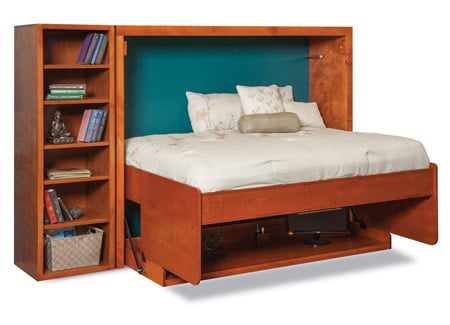 Uber Easy to Use
You don't need any special skills, strength or physical ability to open a Murphy wall bed for sleeping. Simply pull down the front of the cabinet to expose the mattress on its sturdy platform. If you can stand and reach, you can open a Murphy bed.
Technologically Savvy
A Murphy wall bed is more than just a piece of furniture. Add USB ports or electrical outlets to the cabinets or side piers and it's ready to power all your mobile and technological devices.
Murphy Wall Bed Can Match Your Décor
We sell Murphy wall beds in a wide variety of styles. There is sure to be one that looks great in your contemporary, traditional or transitional room. You can also select the finish color and hardware style you desire. Or, if you want a built-in that fills your room and increases the value of your home, we can custom design an entire wall bed system.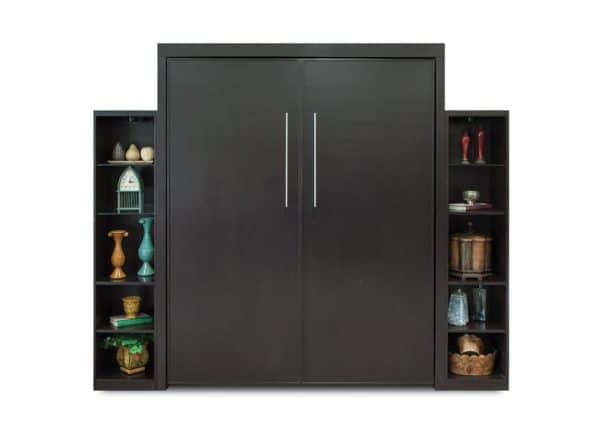 Double or Triple the Space
If you have limited space in your home to enjoy all the things you love doing, then a Murphy wall bed is the ideal solution. These furnishings have a small footprint, yet they can be used to store your exercise equipment, hang your out-of-season clothing, work on your hobby, house your collection of books or showcase your collectibles. Free up valuable floor space and add room for what you love.
Ultra Versatile
The number one reason our clients purchase a Murphy bed for their homes is versatility. You can choose to buy a Murphy bed pre-configured with desk, storage space or drawers. Then again, you can imagine anything and everything you'd like to incorporate and we will custom design a wall bed system. We even provide a CAD rendering to show you what your custom Murphy bed will look like and ensure that it will fit into your available space.
Whatever you need or want, we can open the possibilities with a Murphy wall Bed.