Transform Your Basement Into a Cool Hangout with Cabinet Beds
If you are fortunate enough to own a home with a basement, then you know how handy having this extra space can be. But rather than your basement ending up as a big room filled with clutter, cleaning supplies and boxes, why not transform it into a cool hangout? Take a look at these basement design tips for turning this big extra space into something both useful and well-designed using cabinet beds.
Turn It into a Kids' Play Room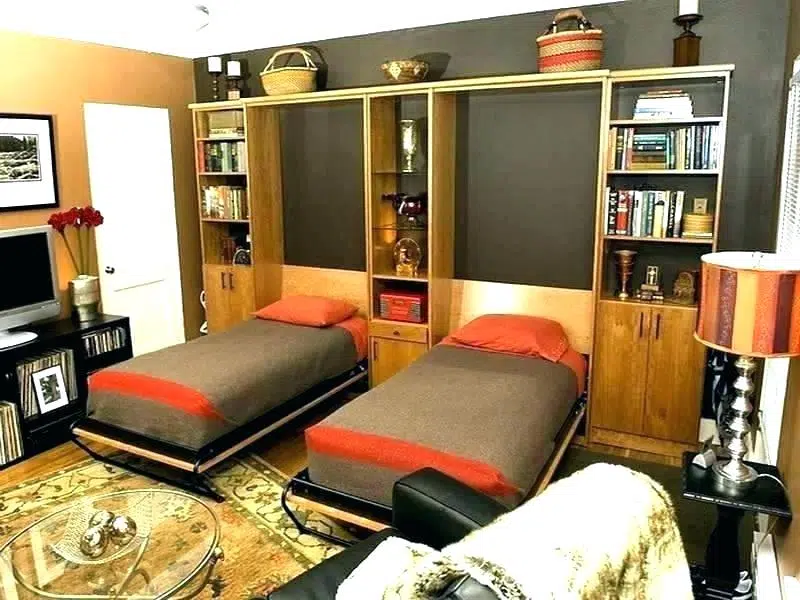 As many kids who grew up in the Midwest know, the basement is the best play room. With just a few high, narrow windows, or no windows at all, it is easy to blackout the entire area and pretend you are an astronaut in deep space, prehistoric cave dwellers or time travelers sucked into a wormhole. The basement is also the perfect spot to pretend you are camping without all the hassle of leaving your warm home, comfy bed and a shower.
Of course, after a long afternoon of playing make believe, kids love to have their friends spend the night. Give them a comfortable place to sleep by adding a couple cabinet beds to the basement. The cabinet beds can be kept along one wall or tucked into a corner until ready to use. The kids themselves can easily pull up the top of the cabinet, then pull the mattress down to get the bed ready for sleeping. The beds are safe and do not need to be anchored to the wall.
Turn It into a Hip Storm Shelter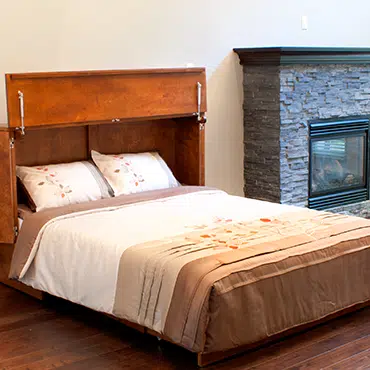 Another common use for a basement is shelter from a raging storm. Many homeowners make the basement a place to store candles, bottled water, backup power sources, canned food and flashlights.
But just because it is a safe spot to take the family during severe weather doesn't mean it can't be cozy and comfortable, however. This is one of our favorite basement design tips: be sure to keep lots of blankets and pillows in the basement. Two or more cabinet beds could also come in quite handy. Not only do these space-saving furnishings take up only 10 square feet or so of floor space, the roomy storage drawer is the perfect place to keep extra linens and clothing. When your family hunkers down in the basement to stay safe, just pull down the mattress from a cabinet bed and snuggle up inside. Our cabinet beds come complete with trifold, premium memory foam mattresses that provide comfortable support during the storm.
Turn It into the Party Place
Here is one more of our basement design tips to turn it into a cool hangout. Your basement is a natural choice for a party spot. Deck it out with a bar and stools and make sure it is well stocked with a variety of mixers, glasses and drink accessories. A surround sound system keeps the party going; keep a large area in the basement clear for dancing. Club chairs and occasional tables provide space for party goers to take a breather.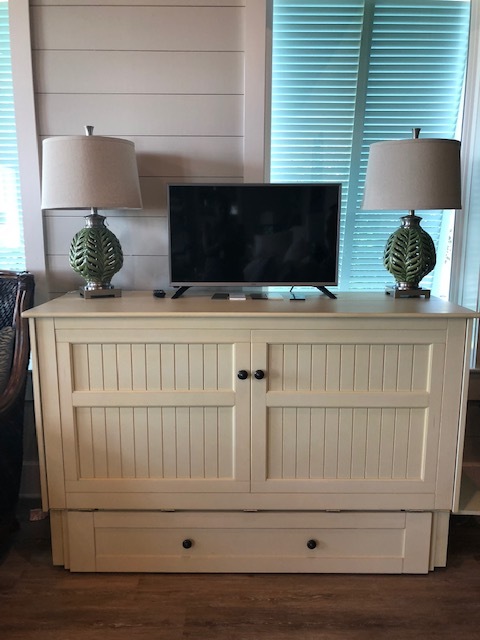 It's always a good idea to have provisions for guests who overindulge in alcoholic beverages. A cabinet bed fits the bill nicely. Keep a TV on top of the cabinet when not in use, but simply pull the mattress out for sleeping when one of your guests needs to spend the night.
Don't let your basement be a dark and dingy hall of horrors. Transform it into a cool hangout and include cabinet beds to help it reach its full potential for fun with these basement design tips.