What Could You Do with a Built to Order Wall Bed?
There are plenty of wall beds on the market today from which to choose – everything from a standard Murphy bed to those with side piers and even a desk along the front of the cabinet. But did you know you can also opt for a built to order wall bed? Made to your specifications, these handy furnishings are sure to solve a myriad of storage and functionality problems throughout your home.
Have the kids moved out? Do you have a spare bedroom that only gets used occasionally for overnight guests? Here's just a few ways that a built to order wall bed with custom cabinetry can transform that room and make your life easier and more organized.
Home Office
Even if you don't telecommute regularly, having a home office is a handy way to keep things organized with a dedicated space for files, warranty papers, tax returns and the like. It also provides the perfect place to browse the net with your computer, pay bills and print photos.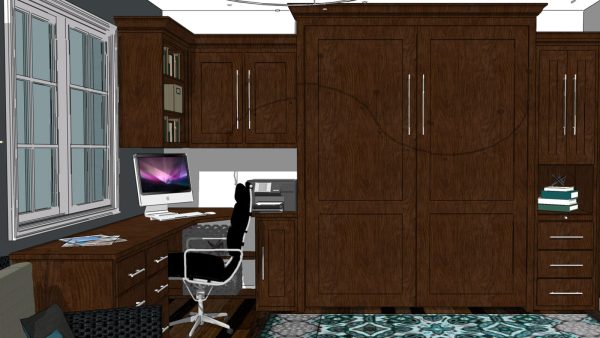 With a built to order wall bed, you can easily take a Murphy bed, which ingeniously adds a hidden bed for the occasional overnight visitor, and make it the workhorse of your home office.  Start by adding desk – either attached to the front of the wall bed cabinet, or alongside it. Then add side piers configured for your needs. They might include a second desk, bookshelves, filing cabinet, printer cabinet, paper storage or more. For ultra-functionality, make sure there are plenty of USB ports and power outlets included in strategic places. Built-in task lighting is another useful option.
Fitness Center
Are you like many of our customers and wish to add a dedicated space for exercising? This is one of the most common requests we hear, especially at the beginning of the year and right before summer. We all have grand plans to get fit, but lack of space often gets in the way of our healthy resolutions.
Our solution is to add a built to order wall bed to your spare room. With custom side piers or even a full roomful of custom cabinetry, it's easy to organize all your fitness equipment. You may want to start with a wall of mirrors opposite the Murphy bed, with or without a barre. Add lots of drawers for places to store shoes, yoga mats, towels, resistance bands, foam rollers and such. A built-in wardrobe makes a neat place to hang your workout clothes. Take your built to order wall bed a step further by incorporating a small refrigerator or wine cooler to stow cold bottles of water.
Crafting or Scrapbooking Room
If you are passionate about crafting, scrapbooking, photography, sewing or another hobby, then you know how much space the tools and accessories for your passion often take. A built to order wall bed is an excellent solution to the problem of where and how to store those items.
Knowing that the sky is the limit, why not outfit your Murphy bed with matching cabinetry that includes some or all of the following: work table, cubbies for storage baskets, wardrobe for hanging unfinished projects, corkboard to hang tools, file drawers for papers and fabrics, roll-out bins and a whiteboard to plan out your projects.
When it comes to designing a built to order wall bed, let our experienced design staff help you incorporate everything you want and need in a handsome Murphy bed plus matching cabinetry.