When to Choose a Cabinet Bed over a Wall Bed
Cabinet beds or wall beds – which is the better choice? There are plenty of great features associated with both. As you decide when to choose a cabinet bed over a wall bed, do take into consideration these factors.
How High is the Ceiling?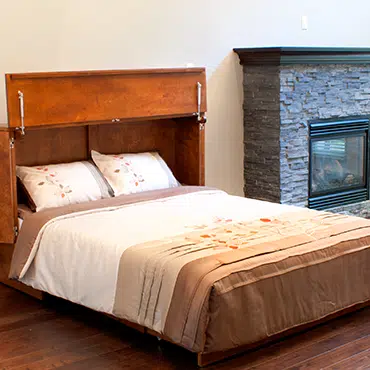 Murphy wall beds are usually vertical, and they must be securely attached to a wall. That rules out using a wall bed in a tight space and especially a room with a low ceiling. Wall beds are generally around 7' – 8' in height while cabinet beds are somewhere around 3.5' tall. That means a cabinet bed will easily slip into a small area, such as a guest "room" carved out in the space beneath a set of stairs or even a large closet.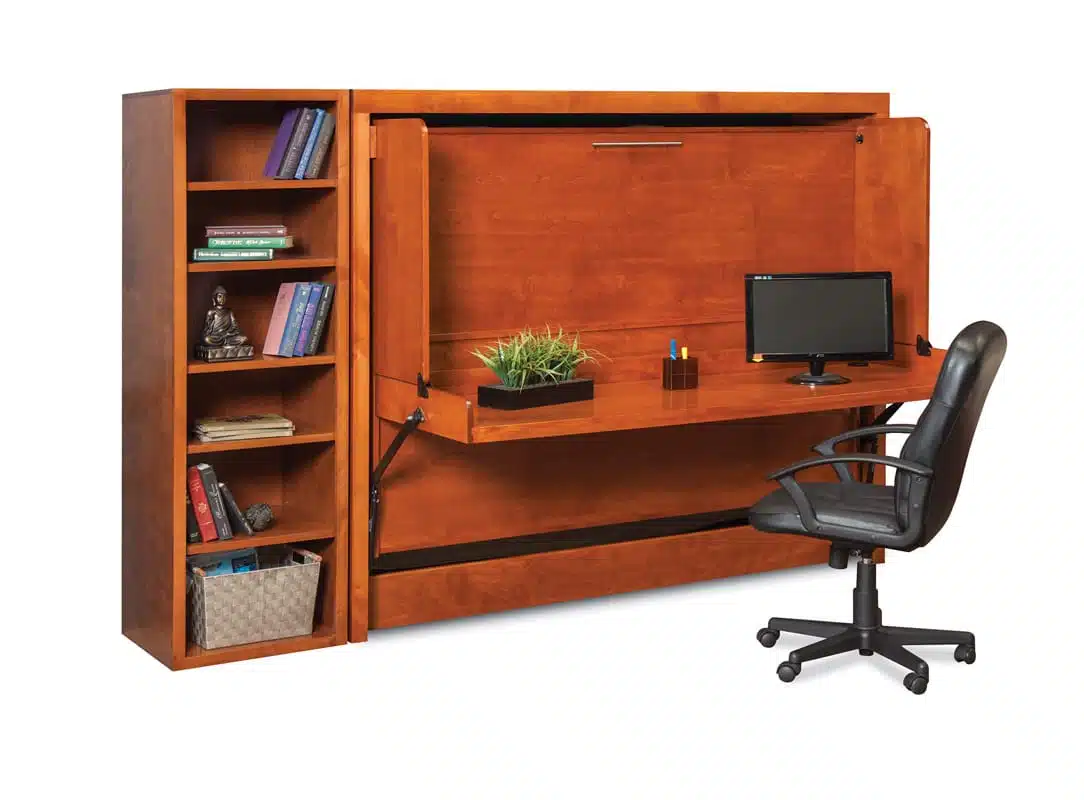 Then again, a horizontal wall bed, such as the Mirage H wall bed with desk shown above, might be ideal in your home. Coming in at a height of 6.5" or lower, this could be another option in a room with a low ceiling.
Portability vs Permanence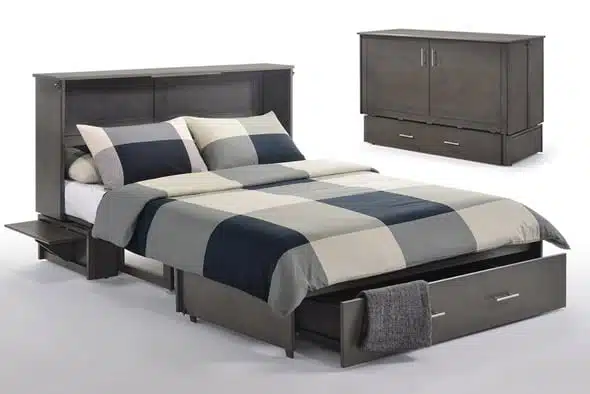 Here's another scenario to consider as you decide when to choose a cabinet bed over a wall bed: do you need your extra bed to be portable? Or would you rather have a permanently affixed Murphy bed that stays with your home when you sell it – and actually increases it value? In the first case, a cabinet bed is the perfect choice as it is just like any other piece of furniture; when you move, it moves with you.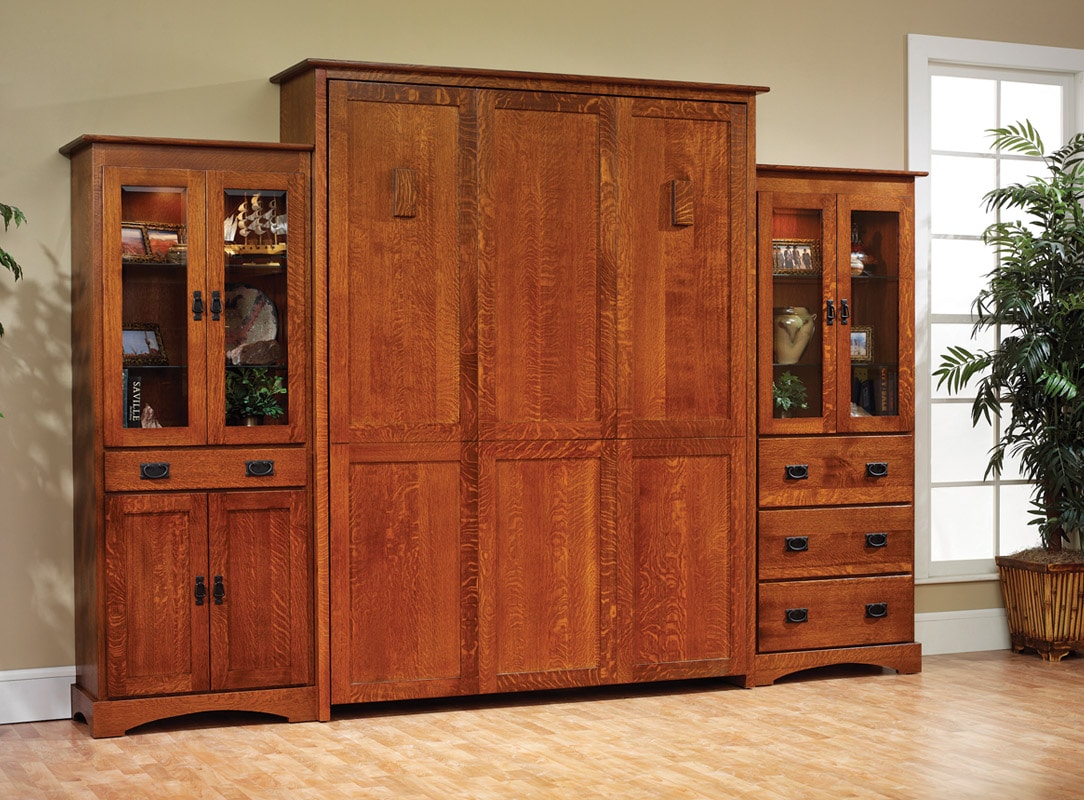 In the latter case, a wall bed is a better selection. The wall bed comes in mattress sizes from twin to king. They are available with matching side piers which provide extra storage and functionality. Plus, you can order a custom wall bed system that wraps around the entire room for a very high-end, unified look. If you have the space and wish to totally transform a room, a custom Murphy wall bed system with matching millwork truly does increase the value of your home.
An Easily Hidden Bed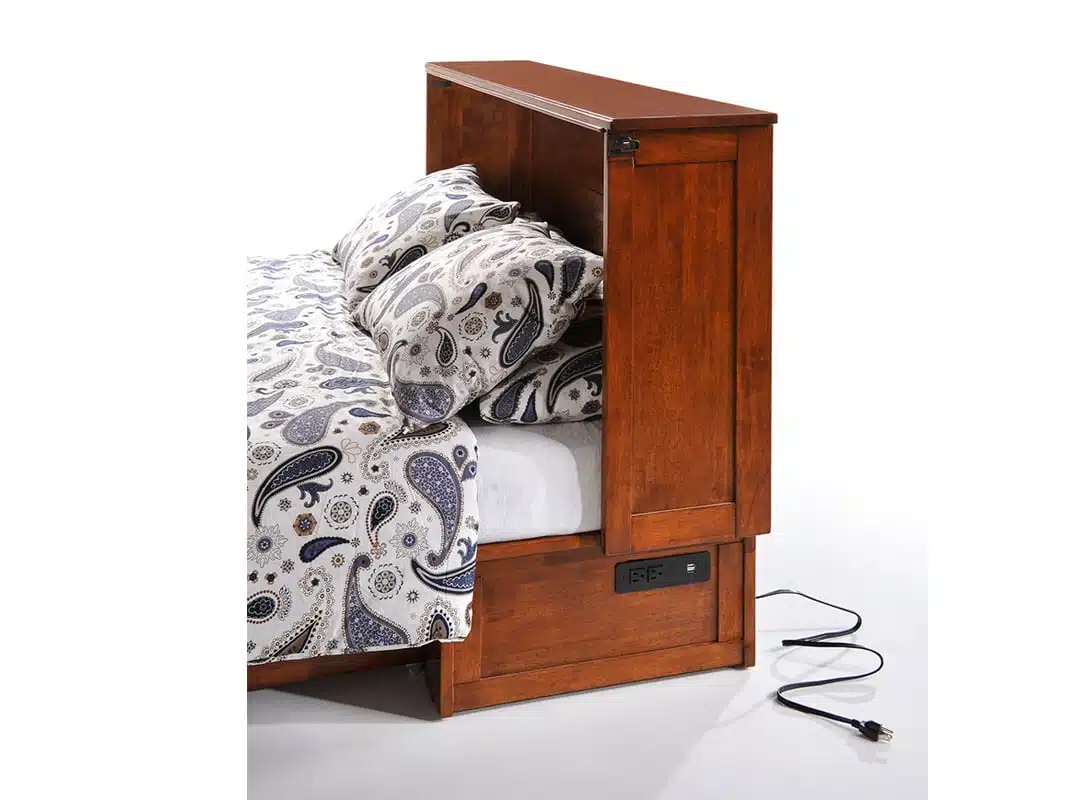 What if you want an extra guest bed that easily hides away when not in use? While both cabinet beds and wall beds fit the bill, a cabinet bed is the easier of the two to tuck away into a corner or other small space. Plus, the cabinet bed does not require any installation, yet it neatly holds a good-sized TV set on the top shelf and includes a roomy storage drawer underneath the mattress. Many of our cabinet beds also feature dual USB/power outlets along the bottom front of the cabinet along with a handy little shelf that pulls out – a nice convenience for overnight guests.
While wall beds include lots of nifty features, as well, they tend to dominate a room with their solid hardwood good looks.
So when to choose a cabinet bed over a wall bed is largely based on the space you have available and the way you wish to use this extra bed when it is not being used for overnight guests. Factor in the size of your room, the height of the ceiling and whether or not you wish to take it with you when you move and it should be apparent that cabinet beds are often the ideal choice.