Why You Need a Cabinet Bed in Your Beach House
It's summertime in California and that means it's time to hit the beach – and your beach house. But if you haven't updated the furnishings in years, it may also be time to renovate and renew. Before you order any new furniture, consider adding a cabinet bed in your beach house. Here are the reasons why it just makes sense.
Add Much-Needed Storage Space
Most beach houses are not overly large – and that means storage space is at a premium. Luckily, the small footprint of a cabinet bed (about 10 square feet in the closed position) means that it can fit into unused corners and small areas. The top of the cabinet is rated to hold a television set with screen of up to 60 inches. The roomy storage drawer at the bottom of the cabinet is an excellent place to stow unused linens, extra clothing, blankets, tablecloths or just about anything that can be folded into a drawer.
Add an Extra Bed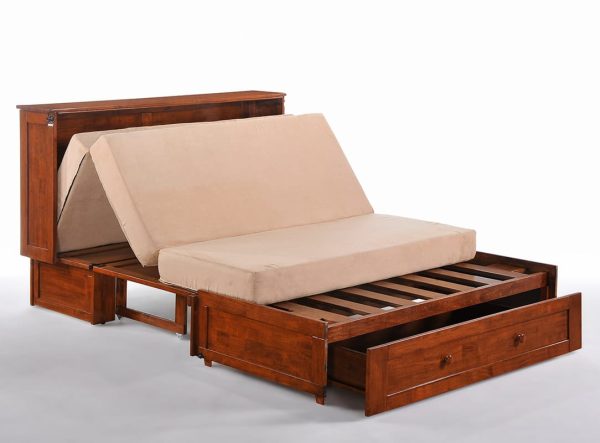 Beach houses are for vacationing, having a blast and inviting friends and family to join in. Chances are that in the past, you've invited more guests than could be accommodated in beds. That's probably the number one reason you need a cabinet bed in your beach house. You may not need that extra bed every time you visit your seaside hideaway, but that's why a cabinet bed is ideal. It functions as a useful and handsome piece of furniture until that time when the mattress is folded out from the cabinet for sleep. And the mattress is no flimsy, thin, spring-loaded pad; our cabinet beds come with a premium gel memory foam mattress for ultimate comfort.
You Can Take It With You
Unlike a Murphy wall bed, a cabinet bed is not permanently installed or fastened to the wall. It's still very safe – it can easily hold a 500-pound sleeper as well as that big screen TV – but it is not a permanent addition to your home. A cabinet bed in your beach house can move with you, if you ever decide to sell the property. And this functional piece of furniture will look just as great in any home. Because it is made of solid hardwood, you can also refinish it to match new décor.
It Fits Your Easy Breezy Style
Our cabinet beds are available in a variety of different styles and finish colors. Select from light to dark wood finishes or opt for lacquer in black or white. You can also customize them in subtle ways, such as changing out the drawer pulls. For the perfect beach house style, may we recommend the Daisy Murphy Cabinet Bed? The light color is a perfect with nautical décor. Or, the gray, stonewash finish of the Sagebrush cabinet bed, reminiscent of a stormy sky, might be just the thing.
A Cabinet Bed in Your Beach House Makes Perfect Sense
Couldn't you use an extra bed and storage space – that fits within a mere 10 square feet – to add functionality to your beach house?